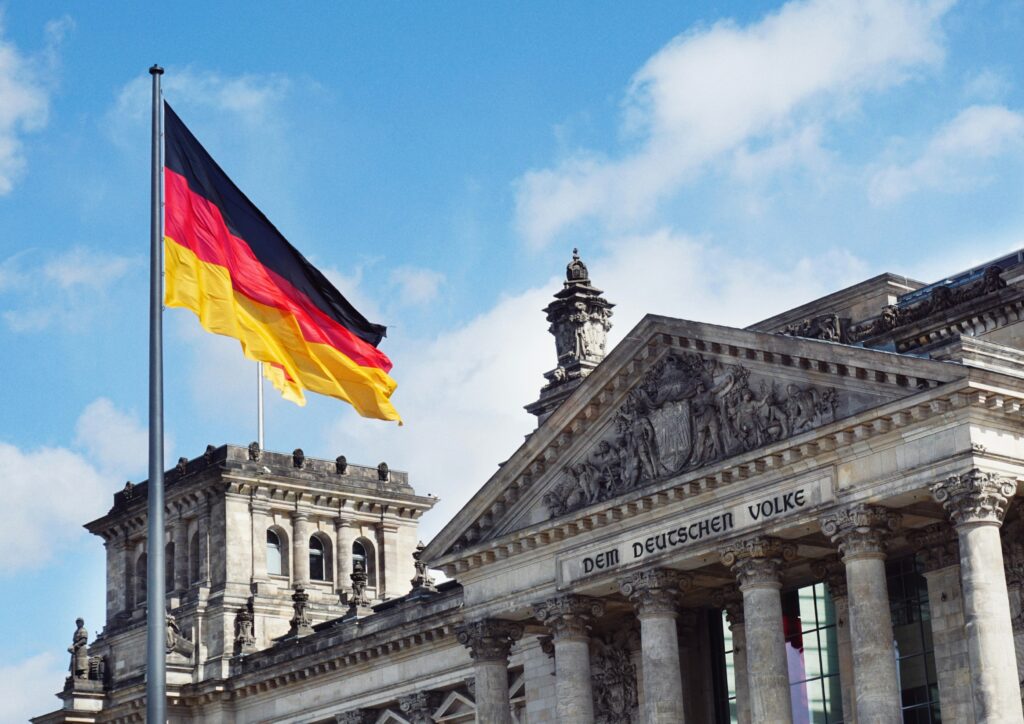 Explore First Class Flights to Germany
Germany is a premium destination for leisure and business. Its economy helps power the European Union, and several critical international companies call the country home. Many cities have lengthy histories etched in classic buildings, on display in world-class museums, and proudly preserved in festivals.
Whether it's to Frankfurt's FRA on business or Berlin's SXF to explore the capital, flying first class with the help of Business Class Experts is the only way to travel. The upgraded seats, plenty of space, and amenities make the low cost feel like a steal.
This article will explore what it's like flying first class to Germany. It's time to start planning your next adventure to Central Europe.
Fly to Stunning German Cities
Germany is a beautiful country in the heart of Europe. It's rich in history, culture, and a lifestyle distinctly different from that of other countries. Exploring any of the stunning cities within Germany is easy, thanks to the plethora of top-notch airports. Flying first-class from any airport to Germany promises friendly service, clean facilities, and excellent amenities.
Frankfurt – Northwest of Nuremberg sits the financial powerhouse city of Frankfurt. Frankfurt's airport is home to a Lufthansa hub with a first-class terminal. British Airways also has a Frankfurt terminal. Airlines with first-class luxury lounges include Air France KLM, Air Canada, Emirates, and Japan Airlines. Passengers can also purchase access to a general airport lounge.
Hamburg – In northern Germany, on the Elbe sits the gorgeous city of Hamburg. It's world-famous for its culture, canals, and cafés that dot the landscape. The airport is a Eurowings and TUIfly Deutschland hub with three primary lounges — one for Lufthansa, one for Emirates, and one general passenger lounge.
Munich – As the gem of Bavaria and a city with centuries-old buildings, excellent museums, Oktoberfest festivals, and beer houses, Munich is a quintessential German destination. It sits in southern Germany, and the airport is a significant Lufthansa hub. Other airlines also have a Munich hub, including Air France KLM, Emirates, and Lufthansa affiliates. Including high-end lounges for first-class passengers, the airport also offers lounge access for purchase.
Berlin – Berlin sits in eastern Germany near the border with Poland and is the country's capital. Berlin is steeped in history, stretching back to at least the 12th century, and is a hotspot of culture and diversity in Europe. Flights to Berlin occur most frequently on Condor, TUIfly Deutschland, and Eurowings. Lufthansa also has a lounge in Berlin, and the airport has a general airport lounge as well.
Düsseldorf – On the western border of Germany and on the Rhine sits Düsseldorf. The city is world-renowned for its art, fashion, and streets dating back to the 1300s. Düsseldorf's airport is a hub for Eurowings and offers lounge access for Lufthansa and Emirate first-class passengers. A general airport lounge is available for a charge.
While Berlin is the largest city in Germany, the airport isn't the largest nor the most traveled. That honor goes to Frankfurt, then Munich. It's also important to remember that Lufthansa is the largest airline in Germany but not the only airline. KLM France, Emirates, and even United Airlines offer first-class flights in and out of the country.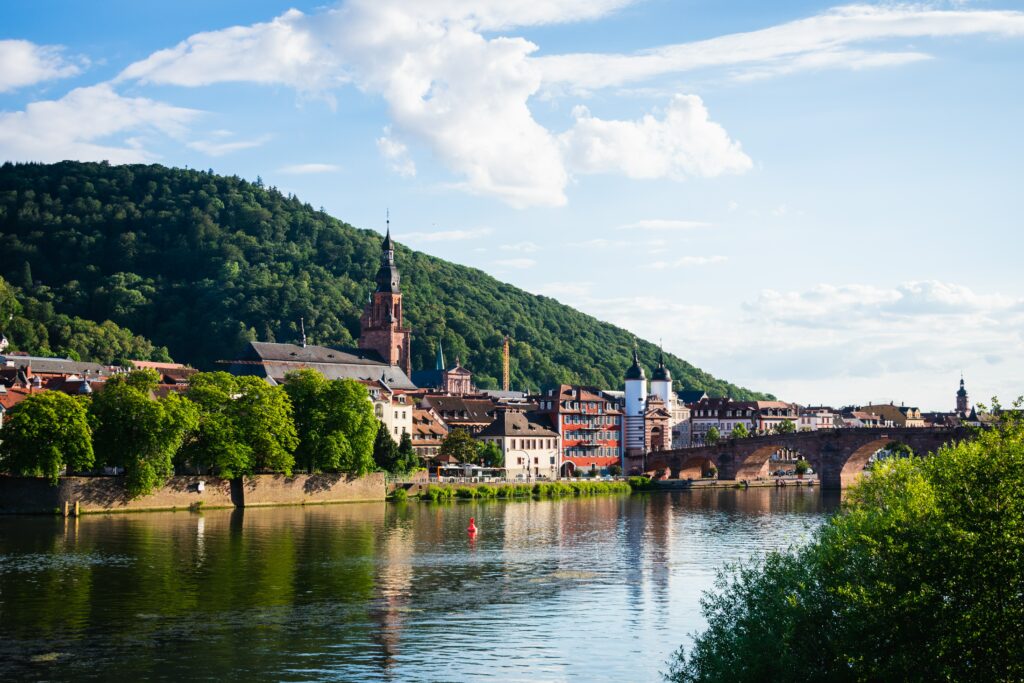 Compare First Class Flights to Germany
Many airlines offer first-class flights to and from several airports in Germany. With so much to see and do, plus the overwhelming number of airlines, booking a flight can be stressful. It's essential to keep a few things in mind when comparing first-class flights to Germany.
Location, Location, Location – Germany isn't a large country and has plenty of transportation options, but flying to the airport closest to where you'll be most of the time is ideal.
Cost – Flying with Delta over Lufthansa saves a few bucks. So does flying into larger airports like Munich, instead of smaller ones like Nuremberg. Consider baggage fees for oversized or extra luggage. These costs can add up quickly.
Amenities – Airlines offer amenities to provide comfort and to help build loyalty. Amenities are a vital factor when comparing first-class flights to Germany. They can include things like menu options, lounge access, WiFi, and first-class seats.
Loyalty Programs and Rewards – Credit card companies, airline miles, and perks are also factors for picking a first-class flight. Whether you get to use points to pay for the flight or rack up miles for the future, loyalty programs certainly make a difference.
Not all first-class flights offer the same when it comes to quality. Spending a little more often yields an overall better experience, but a flight deal is excellent when they come along. With the help of Business Class Experts, you can book with confidence, knowing you'll get the lowest price and the best airlines.
Your First Class Adventure
Your first-class adventure to Germany will bring a lifetime of memories, not just because the country is lovely! First-class flights are an entirely new airplane adventure. Here's what you can expect from your first-class experience.
Booking Your Trip
Flying first class starts with the intention of booking a high-end flight experience. If it's your first time booking a first-class ticket, let Business Class Experts help guide you through the process. During the selection process, you'll be able to select your seat, discover perks, and apply discounts to lower the overall cost.
Checking In to Your First Class Flight to Germany
Once your travel date arrives, you'll be anxious to check in to your first-class flight to Germany. Flying first class starts with dedicated terminals from large airports worldwide, including New York's JFK, Los Angeles' LAX, Paris' CDG, and Washington, D.C's IAD. Check-in for first-class also includes expedited security and generous baggage allowances.
After check-in and security, first-class passengers can kick back and relax at any one of the luxurious lounges. First-class lounges provide beverage service, pre-flight meals, and workspaces. Plus, first-class travelers find themselves secluded from general aviation passengers to unwind before long-haul flights.
First Class In-Flight Experience
Flying first class isn't for the airport amenities but rather the in-flight experience. Many first-class flights have lay-flat seats, large flight entertainment displays loaded with media, fine dining menus paired with fancy wines or changes, and world-class flight attendant service.
Long-haul round-trip flights provide even more comfort with amenities kits and welcome glasses of champagne. Some airlines even give passengers mementos of their flights. Regardless of the airlines, flying first class is absolutely the best way to fly to Germany.
Find First Class Flights to Germany with Business Class Experts
Exploring Germany is a life experience. Taking a first-class flight to Germany is also a life experience. Luckily, there are plenty of stunning German cities with airports equipped for first-class flying. Plus, several airlines provide locally inspired menus, premium wines, and in-flight amenities that put economy class to shame.
Thanks to Business Class Experts, finding first-class flights has never been easier. With help, you can find cheap business class flights to Germany with the best amenities, highest-quality interiors, and exclusive lounge access. Start planning your getaway to one of Europe's best destinations today!