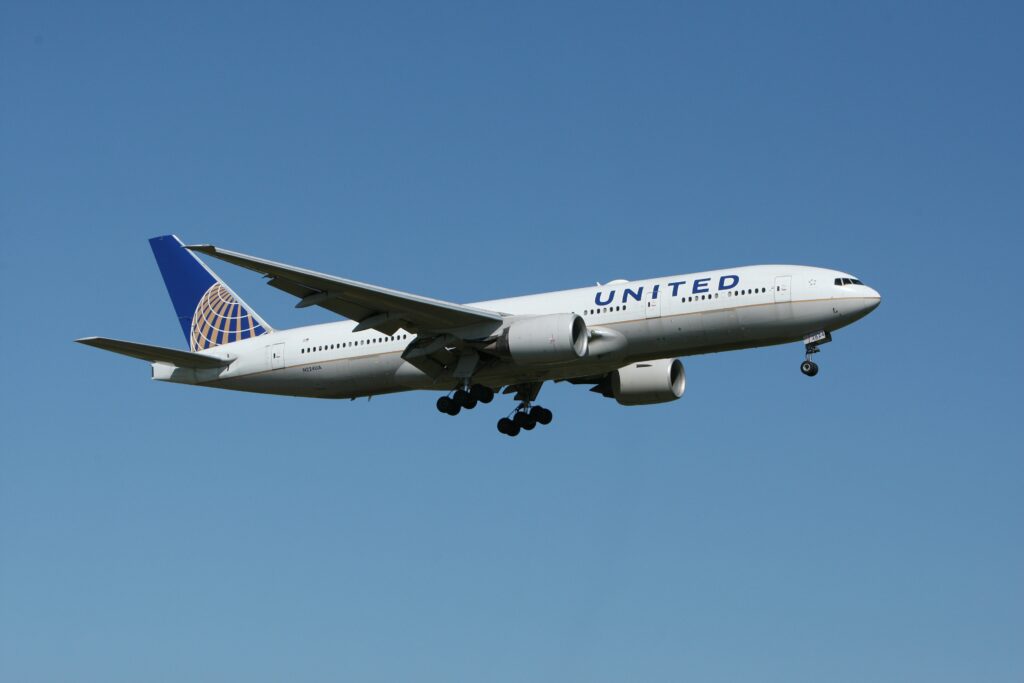 You deserve to travel in style and luxury. United Business® has got you covered when flying between the U.S. and Europe and anywhere else in the world.
When traveling internationally from the U.S., United Business and United Polaris offer the most premium and luxurious experience. United Airlines has phased out its First Class for international flights, but United First® is still available for flights throughout the U.S., including Alaska, Hawaii, and Canada.
If you want to enjoy perks and discounts, priority check-ins and baggage arrivals, extra baggage allowance, lounge access, and world-class in-flight entertainment, then consider United Business and United Polaris.
Book your business class flight with us and get the best deal on international business class. Experience the ultimate lounge and premium cabin service that you deserve.
What are United Business and United Polaris?
First things first — what is the difference between United Business and United Polaris?
United Airlines describes its premium business class offerings in two ways:
United Business refers to the premium travel class for short-haul international flights and some transcontinental ones.
United Polaris is for long-haul international flights that offer a luxurious experience — new Polaris seats that are spacious and can turn into lie-flat beds, Saks Fifth Avenue bed covers, a sleek and newly retrofitted cabin, world-class dining experience, in-flight entertainment, and connectivity.
Most, if not all, of United's international business class tickets are now branded as Polaris. However, United is still transitioning some of its long-haul transcontinental flights to offer the complete Polaris experience — lounges and new retrofitted cabins included.
Source: Fortune
If you're considering the United Polaris experience, Business Class Experts can help you determine whether a particular flight will have superior Polaris seats.
You can also tell whether the flight offers United Polaris by the cabin's layout. United Polaris has a 1-2-1 or 1-1-1 configuration. The old business class premium cabin has two columns on each side, with the middle ones alternating between facing the aisle and facing forward.
You can also check the Polaris tracker to be 100% certain about the seats.
Booking a United Airlines Business Class Flight
When booking United Polaris, there are things you need to know about seat selection and how you can take advantage of perks and discounts.
Seat Selection
United's business class passengers get a free choice of seat. MileagePlus members can also get better seats when booking flights.
Some seats are better than others, even when talking about a premium, sleek, and majestic cabin.
Here are some power tips for you to make sure you have the best in-flight experience and privacy:
While most elements of a Polaris cabin are identical, there are subtle differences across fleets. United's 777-300ER has 60 seats in a 1-2-1 configuration, including 28 seats in front and 32 at the back of the cabin. The newly retrofitted 777-200s have 50 Polaris seats — 32 in front and 18 in the rear.
If you're a private person traveling on your own, you should go for the window seats with odd numbers as they are closer to the windows and offer more privacy. You won't be sitting directly next to anyone in these seats. Note, however, that 7A and 7L do not have a window.
Some even-numbered seats also have no windows, such as 12A, 12L, 16A, and 16L on the 777-300ERs.
If you're a solo traveler looking for the most spacious seats (more leg room), you can choose the bulkhead window seats at 1A, 1L, 9A, and 9L.
Let's talk about rows D and G. If you're booking for a couple who want to interact on the flight, pick the odd-numbered seats. However, even numbers in this row must be avoided if you want privacy or a window.
787-10 has 44 Polaris seats with 11 rows. Solo travelers who want privacy are better off picking window seats at odd numbers, while couples can choose the middle seats in rows D and F.
Forward seats and the rear of the cabin are high traffic areas as they are located near lavatories, the bar, and galleys.
All the aforementioned is valid for 787-8s and 787-9s, except for its Polaris cabin split between the main cabin and a smaller one just past the second exit doors.
The smaller 767s have 30 or 46 Polaris seats in a 1-1-1 configuration.
Traveling with a partner and looking for affordable airfare? Find 2 for 1 business class flight deals with Business Class Experts.
Perks and Discounts
United offers several different programs to make booking flights easy. As a Star Alliance member, you can book United Polaris Business Class using its own MileagePlus, Air Canada's Aeroplan, Singapore's KrisFlyer, and Avianca's LifeMiles.
You can use your United MileagePlus awards if you have adequate miles to cover the business class flight you're planning to book. If you're a MileagePlus elite member, you can also use some of the points to upgrade to business class (or even upgrade for free, depending on your status).
If you don't have any of the programs mentioned above yet, don't worry. Business Class Experts can find you affordable airfare while still accessing the business class services offered by United.
Checking In For Your Flight
With a United business class boarding pass in your hand, you can enjoy an upgraded experience when you step into the airport.
When you fly business class with United, you can benefit from the following Premier Access® services from check-in to baggage claim. This ensures you have access to priority lanes at the check-in counter, security, boarding, and baggage claim area.
Baggage Allowance
As a United Polaris traveler, you can check up to two standard-sized bags free of charge. You can also have up to 70 pounds (32 kilograms) of the maximum weight for each bag as a business traveler, compared to the economy's 50 pounds (23 kilograms).
There are also perks for being a MileagePlus Premier member. Depending on your status, you and your travel partner can check bags at no cost:
If you think you'll be carrying more bags than stated in the table, you can use United's baggage calculator to calculate any service charges for oversized and extra bags.
Lounge Access
The airline is targeting to open nine United Polaris lounges worldwide. To date, there are five in the US: Chicago (ORD), Newark / New York (EWR), San Francisco (SFO), Houston (IAH), Los Angeles (LAX), and Washington Dulles (IAD).
The Polaris lounge has various features that make it a great place to relax before your flight. The lounge has comfortable seating, plenty of outlets for charging your devices, and complimentary Wi-Fi. There is also a full-service bar and restaurant — including an extensive buffet of hot and cold selections and an extensive list of wines, premium spirits, craft brews, and handcrafted cocktails.
Other amenities include a spa-like shower suite complete with personal care products and tucked-away Quiet suites with daybeds and soft lighting.
To access this premium lounge experience, you must be flying United Business® on a premium transcontinental flight and have a same-day boarding pass.

Infants and Small Children Passengers
If you're traveling to Europe (and anywhere else internationally) with an infant under the age of two, you must buy a ticket subject to infant fares and taxes.
However, if you're booking a domestic flight, your child does not require a ticket if they are two years old or younger.
In terms of baggage allowance, you may check in one stroller/folding wagon and one car seat for free in addition to your standard baggage.
Complementary bassinets are also available, though for a limited number. Make sure you can include this in your booking.
Changing tables are found on Boeing 787, 757-300, 767, 777, and specific 757-200s.
What to Expect From In-Flight
As a business class passenger with United Airlines, you can expect a comfortable and enjoyable flying experience. From spacious and comfortable recline seating to amenity kits, and delicious in-flight meal service, United's business class cabin is sure to exceed your expectations.
Amenities
United Airlines has got you covered with inflight entertainment and connectivity with the following:
United Private Screening, which includes main screen, seatback on-demand, and personal device entertainment services, offers complimentary access to hundreds of movies, TV shows, and exclusive features from entertainment partners.
DIRECTV is complimentary access for United Business travelers to over 100 live television channels and freshly released films.
Audio entertainment spans pop music stations, meditation and relaxation playlists, and many more.
United Wi-Fi℠ is available for purchase on most aircraft.
Hemispheres is the in-flight magazine, the perfect break from the screen. It has articles on sports, food and drink, culture and style, etc.
Meals and Drinks
Enjoy a restaurant-quality in-flight dining experience from entrée to desserts and snacks, as well as a wide range of complimentary in-flight beverages — from a cup of illy coffee to a carefully curated selection of wine and spirits.
Fly in Style with Business Class Experts
If you're looking for a luxurious and comfortable experience when flying, check out United Airlines' business class.
With plenty of legroom, delicious food options, and attentive service, book a seat in United's business class.
Contact Business Class Experts today for quotes if you need help booking your next trip in style. We can help make your travel dreams a reality!
Popular European Destinations From the United States
Business Class Flight Deals