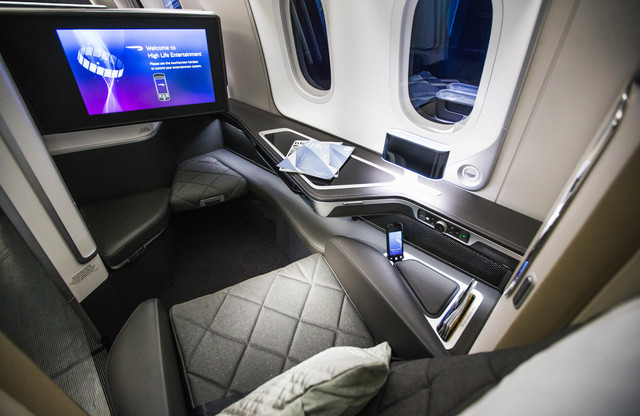 British Airways has several classes of travel designed for the comfort of business travelers. Travel within countries, say within the USA or short flights inside Europe, are generally not as luxurious as long-haul international flights. On international flights, however, the new club suites in the brand new business class Airbus A350 -1000 might just set a new industry standard.
British Airways Business Class Options
British Airways business class seating as Club Europe for flights within the UK and Europe, Club World for international flights, and Club World London City for flights between London City and JFK airport in New York.
British Airways Club World Suites (Club World London City)
British Airways recently launched its brand new 'Club Suite' – a radical redesign of its business class seating. The new concept of seating is part of an $8.3 billion upgrade investment. Each suite offers direct aisle access, a door you can close for privacy, and a contoured lie-flat seat with luxurious bedding.
The new suites will offer direct aisle access to every passenger, a door for greater privacy – a first for BA – a 'luxurious' lie-flat seat and an 18.5-inch TV screen.
In lie-flat seat position, you get a full 6ft 6in of comfort with seats set in in a 1-2-1 configuration for maximum privacy. Seat features include:
Dedicated business class cabin
40% more personal storage space
A vanity area with a mirror
WiFi and PC/USB power
High-definition 18.5in screen with entertainment options
Luxury bedding designed by The White Company
Dedicated support team for all your travel needs
The White Company's Restore & Relax Spa collections amenity kit
Gourmet menu options include:

On London City flights, a delicious hot or cold dining served on real china, full bar service and signature afternoon tea
On flights from New York City, gourmet pre-flight full meals in the lounge, or cocktails and a light snack, hot breakfast, or take-away alternative
a range of snacks and treats to choose from throughout the flight
In addition to all the comforts of private flight experience, Club World ticket holders get pre-clearance of US immigration on flights to New York, extra baggage allowance over economy seating, and access to elegant departures lounges at most airports.
New routes are being added featuring Club World Suites as the new aircraft roll out. Check back to see if a luxury suite is available for your upcoming flight!
British Airways Club World Seats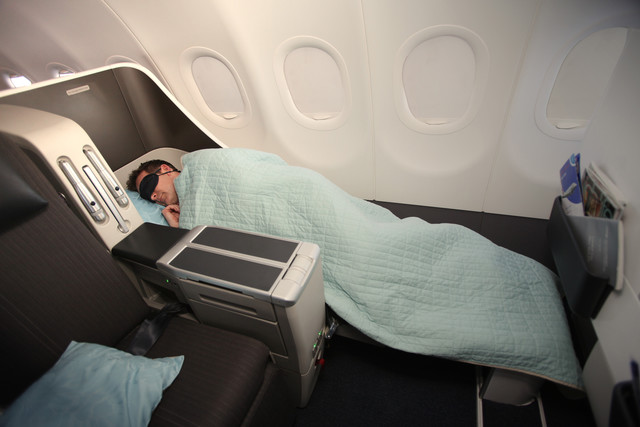 When you book a Club World ticket, the convenience begins long before you board the flight. You'll enjoy dedicated check-in desks and fast-track security at three airports: London Heathrow, London Gatwick, and New York JFK.
From there, you can relax and rejuvenate at one of our premiere airport lounges, where you can indulge in a luxury spa treatment from Elemis, enjoy delicious global cuisine inspired by award-winning chefs, take a shower, or simply relax in a comfortable club chair with a cocktail, fine wine, or coffee.
When it's time to board, you'll get priority boarding, and sown to the Club World cabin by a dedicated flight attendant. At your seat you'll find:
Seats arranged in a 1-2-1 configuration with privacy partitions
12'' Flat screen with on-demand entertainment on most flights
Noise-canceling headphones
Wi-Fi
Lie-flat beds and sleeper service (on select flights)
Inflight meals and refreshments
Three-course meal including fine wines and champagne
All seats are either window seats or have direct aisle access
Club Europe – Flights within the UK and Europe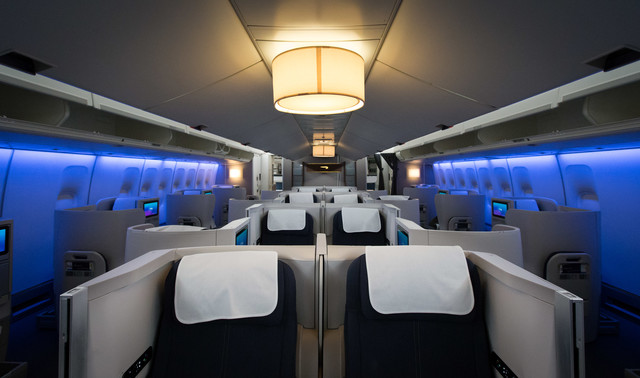 You may be on a short hop, but you don't have to settle when it comes to comfort. Club Europe offers you a window or aisle seat at the front of the plane, with plenty of personal space for working and relaxing.
Your Club Europe Business Class seat features:
Contoured leather seats designed to maximize your personal space. Width varies by aircraft and ranges from 17in to 18in.
Adjustable headrests
Magazine storage and complimentary newspapers on most flights
Upgraded menu options and beverage service
British Airways Luggage For Business Class
Hand Luggage Allowances (also called Carry-on or Hand Baggage)
British Airways cabin baggage allowances apply to your British Airways Business Class and BA City Flyer tickets.
Free carry-on baggage allowance for adults, young adults, and children:
1 handbag or laptop bag
1 standard carry-on bag
Size and Weight Restrictions:
Personal item (purse or laptop bag): 16 x 12 x 6in (40 x 30 x 15cm), up to 51lb (23kg)
Standard carry-on: 22 x 18 x 10in (56 x 45 x 25cm), up to 51lb (23kg)
At check-in, your bags must fit completely into the baggage gauge (including handles, pockets and wheels).
Each bag must be under the weight limit. A light bag cannot make up for a bag that exceeds the weight limit.
Your bags must be light enough for you to handle by yourself. You must be able to lift your bags into the overhead locker and retrieve them on landing.
You will always be able to carry your handbag or laptop size bag with you in the cabin.
The number of carry-on bags will occasionally exceed storage capacity, and British Airways booking agents may ask you to check a carry-on at the ticket counter. As long as it is within the size limitations for carry-on allowance, you won't be charged extra. Make sure you have no valuables or essential medication packed in this bag.
Duty free shopping bags and other airport purchases count as hand baggage. If you have more than your free allowance, any extra bags will be checked into the hold and you'll be charged a baggage fee.
Carry-on bag allowance for infants and toddlers (under 2) riding in your lap
1 carry-on bag for items required during the flight.
Size and weight restrictions: Up to 22 x 18 x 10in (56 x 45 x 25cm), maximum weight: 51lb (23kg)
Note: Your baggage allowance may be different if you're flying on a British Airways partner airline for the longest part of your trip.
Exclusive AirPort Baggage Service
British Airways offers exclusive AirPortr service to pick up your bags from your London location and check them in before your flight. Available in the wider London area for flights departing from Heathrow and Gatwick (excluding flights within the UK), AirPortr + Bag Check-In service makes your trip back to the USA smoother and easier before you even leave home. Use the time you save to relax at home or spend it getting a treatment at the luxurious Elemis Spa.
British Airways Business Class Checked Baggage Allowances (Club Europe, Club World, First, Club World London City)
Each checked bag can be up to 35.5 x 29.5 x 16in (90 x 75 x 43cm), including anything that sticks out, like the handle, pockets and wheels. The maximum weight for any bag is 70lbs.
Adults and young adults (from 12 years) are allowed 2 checked bags
Children (2-11) are allowed 2 checked bags, plus:

Up to two items selected from the following:

Fully collapsible stroller
Car seat
Travel crib
Carry harness (baby carrier)
Infants (under 2) are allowed 1 bag, up to 22 x 18 x 10in (56 x 45 x 25cm), maximum weight: 51lb (23kg) plus:

Up to two items selected from the following:

Fully collapsible stroller
Car seat
Travel crib
Carry harness (baby carrier)
Silver and Gold Executive Club Members (and equivalent members in other Oneworld frequent flyer programs) are allowed extra bags.
British Airways is setting a new standard for luxury business class experience. If you're interested in booking a luxury flight at the cheapest price, contact us today!
British Airways Pros and Cons
Pros
Brand new planes on select routes.
Eramis Skincare Spa at hub airports.
Full suites with closing doors available.
Plenty of versatile menu options before and during your flight.
Great reputation for being on time.
Business class has dedicated cabins on most flights, separate from economy and premium economy.
Cons
Seats are considerably narrower than other business class airlines.
Amazing lounges, but only located in a few airports. In other airports, you use OneWorld partner lounges.
Privacy seating arrangements only available on some flights.
Some connecting flights on codeshare partner airlines do not offer business class seating.
You're limited to one carry-on and one personal bag
British Airways USA Airport Hubs
John F. Kennedy International Airport, New York, New York (JFK)
Newark Liberty International Airport, Newark, New Jersey (EWR)
Miami International Airport, Miami, Florida (MIA)
British Airways also Flies in and out of:
Charlotte (CLT)
Dallas (DFW)
Houston (IAH)
Las Vegas (LAS)
New Orleans (MSY)
Philadelphia (PHL)
Phoenix (PHX)
Seattle (SEA)
Washington (IAD)
British Airways Airline Hubs in England
London Heathrow located in London, England (LHR)
London Gatwick located south of London center, in West Sussex (LGW)
London City Airport, located in the London Borough of Newham (LCY)
Popular British Airways Business Class European Destinations From the United States
Business Class Flight Deals