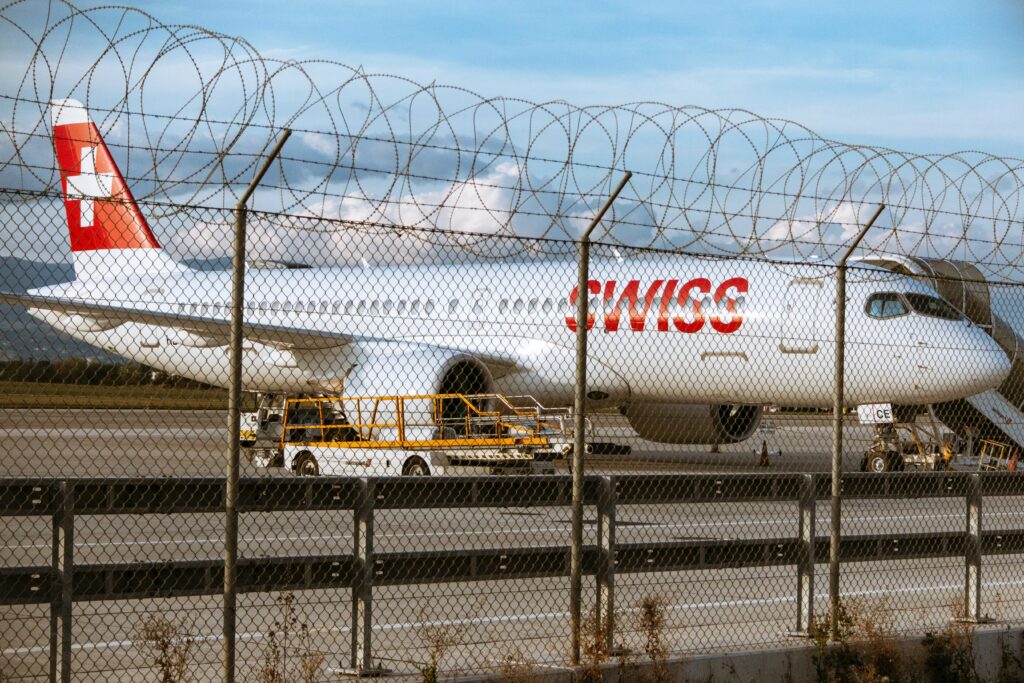 Swiss Airlines operates out of the Zurich airport and Geneva, Switzerland. These hub cities provide access to a world of destinations, including Hong Kong, New York's JFK, Los Angeles' LAX, and Dubai. Zurich's ZRH provides the most extensive lounge access, but partners within the Star Alliance, like Air Canada and Turkish Airlines, also offer lounge access.
Powering the long-haul flights is a fleet of Airbus A330-300 and A340-300. Joining the Airbuses is the Boeing 777-300ER, which is the flagship aircraft. Inside, passengers can book flights in one of four main cabins. These cabins include economy, economy plus, business class, and first-class.
Flying from ZRH in Zurich allows passengers access to priority check-in and special security lines. Frequent flyers benefit from the flexible points, but luxury skyrockets once you board the business class cabin. Delicate materials like wood paneling and leather upholstery greet passengers along with a premium glass of champagne.
Swiss Airlines provides service that is the quintessential Switzerland quality. Precision flight attendants and expert crew pamper passengers through the skies. This article breaks down what it's really like to fly Swiss Airlines Business Class.
Booking Your Swiss Airlines Business Class Flight
Business Class cabins are the second-highest tier of seats on Swiss flights. Booking a flight through the airline will run you a pretty penny, but there are ways to save, including using a service like Business Class Experts.
Seat Selection
Not all business class seats on Swiss Airlines are created equal. Throne seats provide more room, cost more, and elite flyers get the first crack at them. Thanks to an empty neighboring seat on flights within Europe, there's extra space, so privacy is never an issue. Affording a flight is even easier with some excellent perks and discounts.
Perks, Discounts, and More
Swiss Airlines is part of Star Alliance and a partner with Lufthansa, which provides frequent flyers discounts and perks with the Miles & More program. Travelers can use miles for flights, amenities, meals, and even lounge access. A credit card is also available for extra points earning opportunities.
Check In to Your Swiss Airlines Flight
Swiss is all about efficiency, and it starts with the check-in process. Business class passengers can check in up to 23 hours before flying with options to print baggage tags at home or use a new digital system. Once at the airport, the bag drop is speedy, security is expedited, and it's straight to the exquisite lounges before take-off.
Traveling with Smaller Children
Traveling with children is a breeze with Swiss Airlines. Children less than 2 years old fly at 10% of the standard rate, and children 2 to 11 fly at a heavily discounted child rate. Strollers are allowed but get checked, and car seats are allowed in the cabin.
You can select meals for your little one up to 24 hours in advance to make things even easier! Children also receive toys and puzzles for entertainment. They can also enjoy a vast library of movies, games, and music catered to their age group.
Baggage Allowance
Baggage allowance gets complicated from airline to airline. Swiss Business class gets more allowance than economy class, but less than Swiss first class. Here's what's allowed on each intercontinental flight:
Two carry-on bags that are no larger than 55 x 40 x 23cm (22 x 16 x 9in) and weigh less than 8 kg (17.5 lbs) each.
Two checked bags with a total volume of 292 cubic centimeters (115 cubic inches) and a max weight of 32 kg (70 lbs) each.
The cabin includes one personal bag, purse, laptop bag, or satchel. This personal bag must be smaller than 40 x 30 x 10cm (16 x 12 x 4in).
Regular airline restrictions apply to hazardous materials, liquids, and weapons.
Anything more prominent than the allowed size is considered oversize, and rates depend on the type of flight. Long-haul flights cost upwards of $349 or €300. Extra charges also apply to sports equipment or irregular baggage.
VIP Lounge Access
Swiss Business Class passengers have access to several business class lounges worldwide. Still, the ones in Zurich are among the best. There are three dedicated lounges and one arrival lounge dedicated to pampering every guest. Luxury amenities include dining options, workstations, and bars with premium liquor. When outside of a hub, partner lounges grant access to business class customers.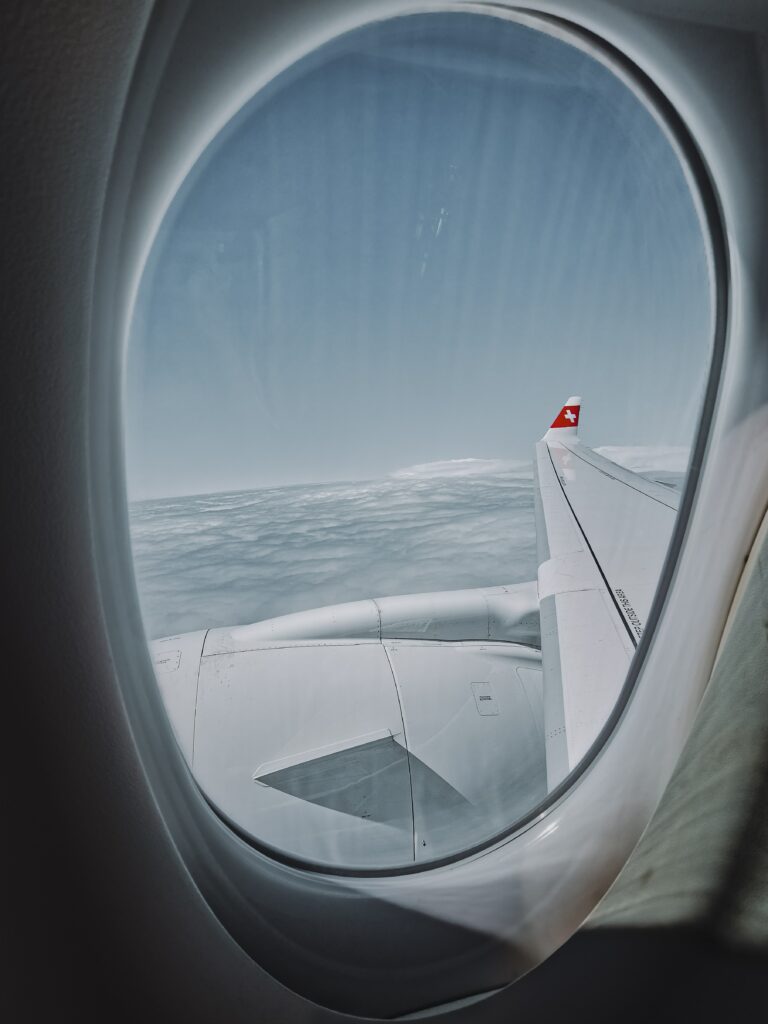 Swiss Airlines Business Class In-Flight Experience
Swiss Airlines won the Best Business Class review experience in Europe with an incredible cabin design marked by small luxury touches. It's hard to argue with Swiss' reputation, especially with the professional yet personalized service.
The arrangement of seats in Swiss Business Class usually consists of 1-2-1 or 2-2-1 layouts. The single seats cost extra and take on the "throne" nickname due to the premium space and privacy. It's one of the best seats for solo travelers.
Each business class seat is roomy and reclines into a lay-flat, two-meter bed with premium pillows and duvets. Passengers receive printed menus and a personal 16-inch touchscreen entertainment system. All long-haul flights offer WiFi for a fee you can charge to your credit card.
Priority arrival access is another excellent service for Swiss Air Business Class passengers. Upon arrival, a dedicated business shuttle greets you on the tarmac if you don't reach your gate. Baggage handlers unload priority luggage first, allowing passengers a seamless landing.
Amenities
The luxury doesn't stop at the seat. Swiss also provides passengers amenities that rival the biggest airlines like Qatar, Delta, and Air France. When traveling business class with Swiss Air, here's what you can expect inflight.
Massage Chairs – Every seat in business class has massage and lumbar controls. The comfortable seats come upholstered in premium leather. Plus, charging outlets provide a fully functional workspace with relaxing capabilities.
Chef Crafted Meal Service – Meals inflight includes high-quality ingredients prepared by world-class chefs. Menus rotate through regionally inspired dishes with an appetizer, main course, dessert, and cheese.
Fine Wine and Champagne – In addition to the welcome champagne, wine pairs with dinner with vintages sourced from the same regions as the meals. Plus, travelers can order meals and beverages in advance.
Collectible Victorinox Amenity Kit – Filled with everything you'll need for your flight, the amenity kit is also a collectible bag. Inside are toothbrushes, socks, eyeshades, lip balm, earplugs, and high-end moisturizers.
If inflight entertainment isn't your thing, Swiss Business Class provides premium magazines. Business-class also offers an onboard library stocked with the best reading. These business class amenities are good enough for first-class on competing airlines.
Find Your Next Flight with Business Class Experts
Passengers voted Swiss Airlines the best business class flight in Europe, and for good reason. Starting with the flexibility in reward miles makes the business class more affordable. Yet, the world-class amenities put it above competitors. Zurich's lounge access is second to none, with three gorgeous departing and one arrival lounges.
Once onboard, the massage chairs relax passengers for the journey. Premium champagne greats you, along with a stellar cabin crew. Meals and beverages are superb, locally inspired dishes that pair with equally rich wine and Swiss chocolate. Experience excellence for yourself with the help of Business Class Experts!
Popular European Destinations From the United States
Business Class Flight Deals