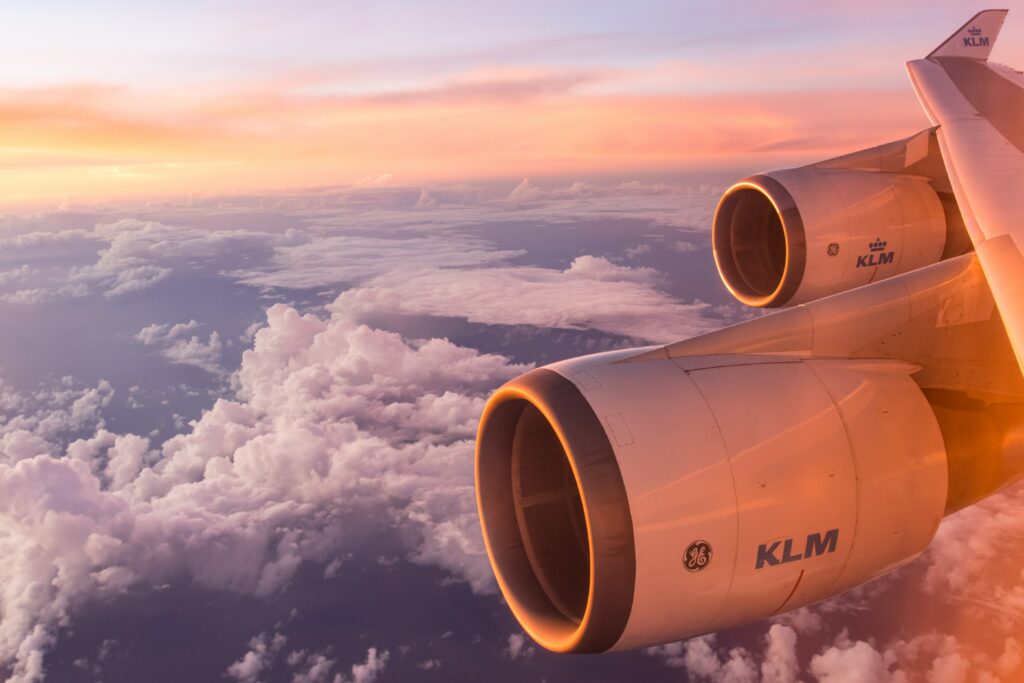 KLM business class is the luxury offering from Royal Dutch Airlines. KLM's commitment to privacy, space, and upgraded amenities allows the Dutch airline to compete with airlines like Lufthansa and Delta. KLM's fleet includes the Airbus A330, the Boeing 737, Boeing 777, and the Boeing 787 Dreamliner. The smaller Embraer fleet services closer destinations to Amsterdam.
The entire flying experience begins at the Amsterdam Schiphol Airport, the primary hub of KLM Royal Dutch Airlines. Schiphol Airport boasts luxury shopping opportunities, art galleries, and premium restaurants. With KLM's SkyPriority access, you can even be one of the first to board your flight.
As part of the World Alliance that features national airlines such as Air France and Kenya Airways, frequent KLM World Business Class fliers earn miles with the Flying Blue. Flying Blue miles are flexible, and you can use them with any World Alliance airline.
KLM Business Class shines in the cabin with empty middle seats, extra legroom, and dedicated crew attention. The extra cost over economy and premium comfort classes is worth it given the amenities and overall flying experience. Discover the adventure of flying KLM Business Class.
Booking Your Flight
Booking a flight can seem overwhelming at times, with so many options. KLM Royal Dutch Airlines allows you to book flights on its website, but how exactly do you book a flight?
Find Affordable Airfare
When you first book a flight, it's best to start with the airline to get a feel for prices. Navigate to the KLM website and enter your travel details. Once you have an idea of costs, you can hunt down a better deal.
Finding affordable seats isn't going to happen straight from the airline. A better idea is to work with someone who knows how to get the best deals. Business Class Experts can help you find the cheapest flight options on KLM Business Class seats and first-class luxury seating on many other airlines!
Select Your Seats
When you book a KLM flight directly through their website, you will have four options for tickets. These options include:
Economy Flex
Economy Light
Economy Standard
Business Class
Business-class seats are in a separate cabin away from the economy classes. You can select where you want to sit from the available options when booking.
Checking In to Your KLM Business Class Flight
Check-in for your KLM Business Class flight starts at the Schiphol Airport in Amsterdam. It's the central hub for KLM Royal Dutch Airlines. It boasts two excellent lounges, priority security, and expedited boarding with the SkyPriority business-class passenger access.
Baggage Allowance
KLM Business Class offers baggage allowances with up to two checked bags no larger than 158 cm (62 in). Checked bags are overweight if they exceed these dimensions or weigh more than 32 kg (70.5 lbs), and the price is over $250 for international flights. You're also allowed two carry-on bags not to exceed 18 kg (39.5 lbs) and one personal item such as a laptop bag or purse.
Traveling with Small Children
The Royal Dutch Airline does everything it can to make your KLM flight enjoyable for your children. That includes child-focused amenities to keep them entertained with hours of streaming and games. Dinners are high-quality, and you choose menu options preflight for less stress on parents. Plus, extra juice or beverage on demand for the little ones!
Children up to 12 years old will automatically sit next to an adult from your party. Plus, children under two fly free, and up to 12 fly at a discount. Child luggage is also generous in business class with two checked bags, two carry-on items, and one personal bag allowance. Strollers are complimentary but must fold for more accessible transportation.
Unlock Lounge Access
Two beautiful KLM Crown lounges allow business class fliers preflight amenities, including dining areas, self-serve bars, and work areas. When away from Schiphol, world business class passengers have access to lounges at partner airports.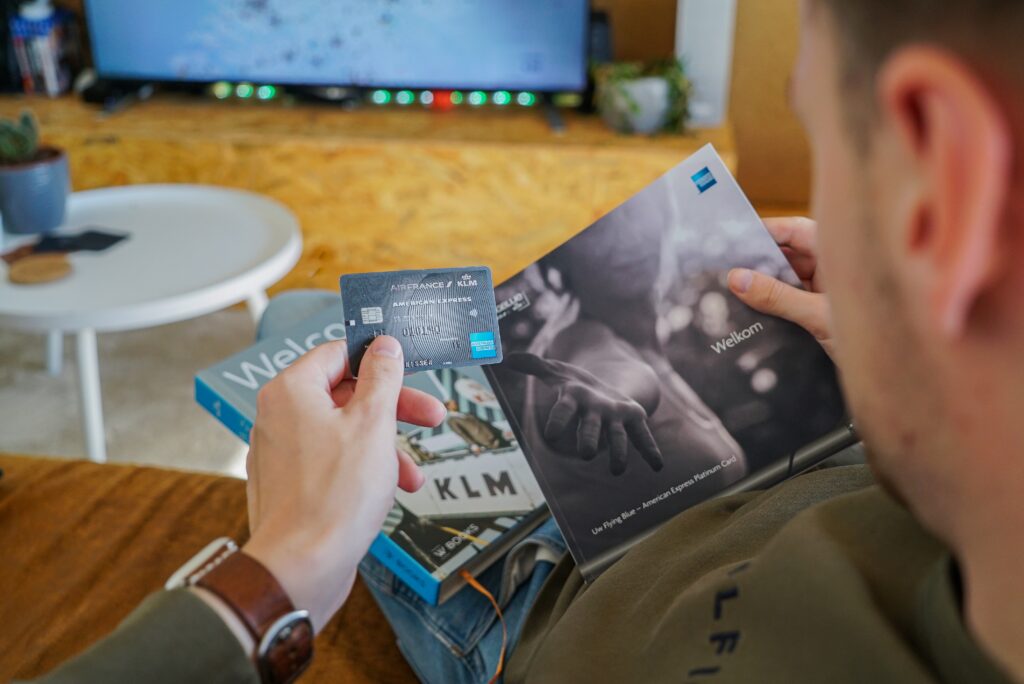 What to Expect for Your In-Flight Experience
The luxury of KLM Business class really shines in the cabin with dedicated crew attention, premium beverage options, and excellent meals. Business class flights also provide more legroom and lay-flat beds for long-haul flights. The seats recline and the armrests are comfortable.
Aside from CityHopper flights, middle seats are empty for extra space and privacy. This divider allows business class passengers direct aisle access or a window seat for every flight. Giant touch screens provide entertainment, and various plugs allow charging for any devices you bring with you.
The SkyTeam on KLM Business Class flights is second to none. Flight attendants exceed industry standards and bring a personal touch by using names. KLM bases native employees at worldwide partner destinations. World-class flight attendants distribute a welcome glass of champagne or jus d'orange to great travelers.
Amenities
Service and comfort are top-notch, but the amenities further push excellence on KLM Business Class flights. KLM Royal Dutch Airlines provides the following amenities for flights to offer only the best for its passengers.
World Class Meals
Short-haul flights of less than two hours offer meal service with a cold entree. These entrees include a sandwich or salad, an appetizer, and dessert. A three-course meal awaits passengers for flights within Europe that last longer than three hours.
Intercontinental flights are where the meals get kicked up to a luxury level. Menus crafted by Dutch chefs include a starter, main course entree served with wine, and a lux dessert also served with wine. These meals feature fresh ingredients in a rotating menu with a revamp every three months.
In-Flight WiFi
WiFi is available on many flights with KLM. Flights with WiFi have a sticker and come with 30 minutes of complimentary use on European flights and 1 hour of messaging for international flights. The in-flight WiFi helps power the inflight entertainment, especially for long-haul trips!
For between 8 and 12 euros to your credit card, you unlock various tears of in-flight WiFi. Intercontinental flights will cost more, ranging from the same 8 euros for one hour up to 30 euros for the entire flight. It's a vital inclusion for those who need to work during their flights.
Comfort Amenity Kit
Intercontinental flights also enjoy a complimentary amenity bag designed by Jan Taminiau, a famous Dutch fashion designer. Each kit provides essentials like a toothbrush, lip balm, earplugs, socks, and eye masks. The amenity kit comes in various colors, and designs are always coming and going. Plus, they are perfect for comfortable lay-flat seats.
Delft Blue Houses
KLM Business class receives a collectible house filled with the Dutch liquor Genever for long-haul flights. This gift is a tradition dating back to the 1950s, and KLM releases new models each year. The Delft Blue Houses have numbers indicating the model, and it offers a fun perk when upgrading to business class.
Book Your KLM Business Class Flight with Business Class Experts
KLM Business Class is worth the upgrade, with extras from short-haul luxuries to long-haul gifts. KLM Royal Dutch Airlines provides an elegant experience with their business class. KLM's Crown Lounges in Schiphol begin the best business class treatment in the Netherlands. Plus, passengers get expedited security and boarding upon departure. Once in the air, the KLM crew caters to your needs and welcomes you with champagne.
Enjoy extra legroom, in-flight infotainment, and even a meal during your flight. The next time you decide to travel with KLM, make it KLM Business Class, and be sure to use Business Class Experts for the most savings!
Popular European Destinations From the United States
Business Class Flight Deals