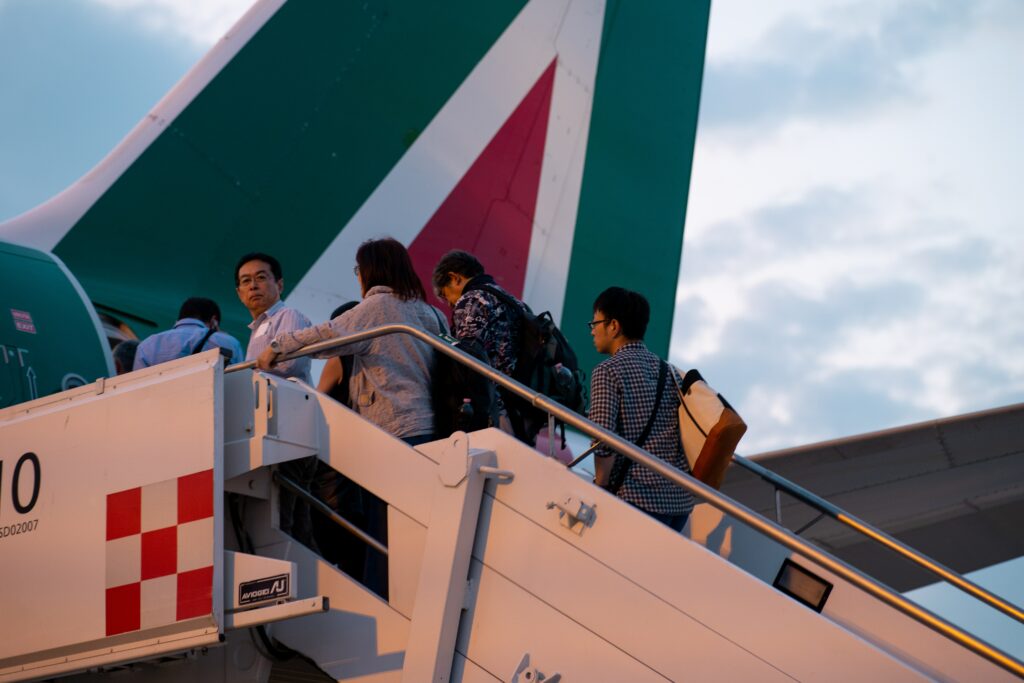 Alitalia is Italy's premier airline, goes by the name ITA, and is entirely owned by the Italian Ministry of Economy and Finance. After the Etihad partnership, the airline became more profitable and began offering flights to more destinations in 2020, thanks to a growing fleet of aircraft.
Alitalia's aircraft include the Airbus 319, 320, 321, and the larger Airbus 330-200. Also in its fleet are Boeing 777-200ERs. These aircrafts offer various cabins ranging from the entry-level economy class to the high-end business class. Alitalia calls Rome's Fiumicino airport home and enjoys long-haul flights to destinations like New York and Los Angeles.
While Alitalia had some bad press, the brand has shifted its image after a handful of owners. It now provides a better business class experience than in years passed. Alitalia Business Class passengers enjoy priority access to check-in counters, security lines, and business class lounges upon arrival at the terminal.
Although Alitalia isn't the most upscale airline in Europe, it still provides a competitive business class experience with a distinct upgrade over economy and economy plus.
Preparing for Your Business Class Flight
Preparing for your business class flight is no different from a flight in premium economy, aside from the upscale treatment. Prices for Alitalia Business Class seats don't have to be expensive. By finding the best deals, you can enjoy the flagship airline of Italy.
Selecting Luxury Seats
Selecting a seat on an Alitalia flight starts with deciding which cabin to book a seat. Alitalia offers four levels of cabins starting with economy class seats and economy plus, then extending to medium and long haul business class. You can select your preferred seat from available options when you book your flight.
Finding Affordable Airfare
Luxury credit cards often cover the cost of airfare for first-class and business class flights. Alitalia offers a Volare program for frequent flyers who earn points per euro spent with the airline. Members can spend points for flights or extras and lounge access. Business class doesn't have to be expensive, and Business Class Experts has excellent tools for finding the lowest premium cabin fares.
Alitalia Business Class Check-In
Check-in starts at one of Alitalia's hubs, such as the Leonardo Da Vinci Rome airport or Milan's Linate airport. Alitalia has other hubs across Italy, and each provides priority check-in counters and dedicated security lines. Business-class passengers can check in before flights for faster access to the pre-flight lounge.
Baggage Restrictions
Alitalia provides industry-standard baggage allotment for business class. Passengers are allowed two checked bags no larger than 154 cm (60 in). These checked bags have a weight limit of 32 kg (70 lbs), also in line with other airlines in Europe. Regardless of class, all Alitalia flights only allow one handbag item no larger than 55 x 35 x 25cm (22 x 13 x 10in) and 8 kg (17 lbs).
Passengers can also carry on laptop bags, business backpacks, or personal bags. Unlike other carriers, Alitalia charges much less for oversized baggage. Anything over the size or weight restrictions runs at around $125. Extra bags can get expensive for long-haul flights, costing up to $250 per bag.
Pre-Flight Lounge Access
Alitalia has lounges in several airports across Italy. These lounges offer a rather run-of-the-mill experience. Pre-flight lounges in Milan and Rome offer the best experiences, though they still run behind the ultra-premium competitors of Delta or Lufthansa. Luckily, partnerships with Air France and KLM afford Alitalia business class passengers access to their lounges worldwide.
Infant and Small Children Baggage Allowance
Traveling with small children and infants adds extra stress, so knowing what to expect ahead of time is critical. From baggage allowances to ticket prices, here are some essential things to keep in mind when flying Alitalia with children.
Children under 2 get one checked bag under 23 kg (50 lbs) and one handbag under 8 kg (18 lbs).
Children between 2 and 12 years old get the same baggage allowance as under two children.
Strollers don't cost extra but must travel in the hold. Booster seats and car seats are also allowed at no additional charge.
Children's tickets are less than adult rates depending on age.
Children receive an amenity kit filled with toiletries, colored pencils, and gamebooks when flying on intercontinental flights. Plus, small children also have special menus with excellent food ordered when booking. Special certificates further make kids feel special. If it's their first flight, it's an experience they'll love.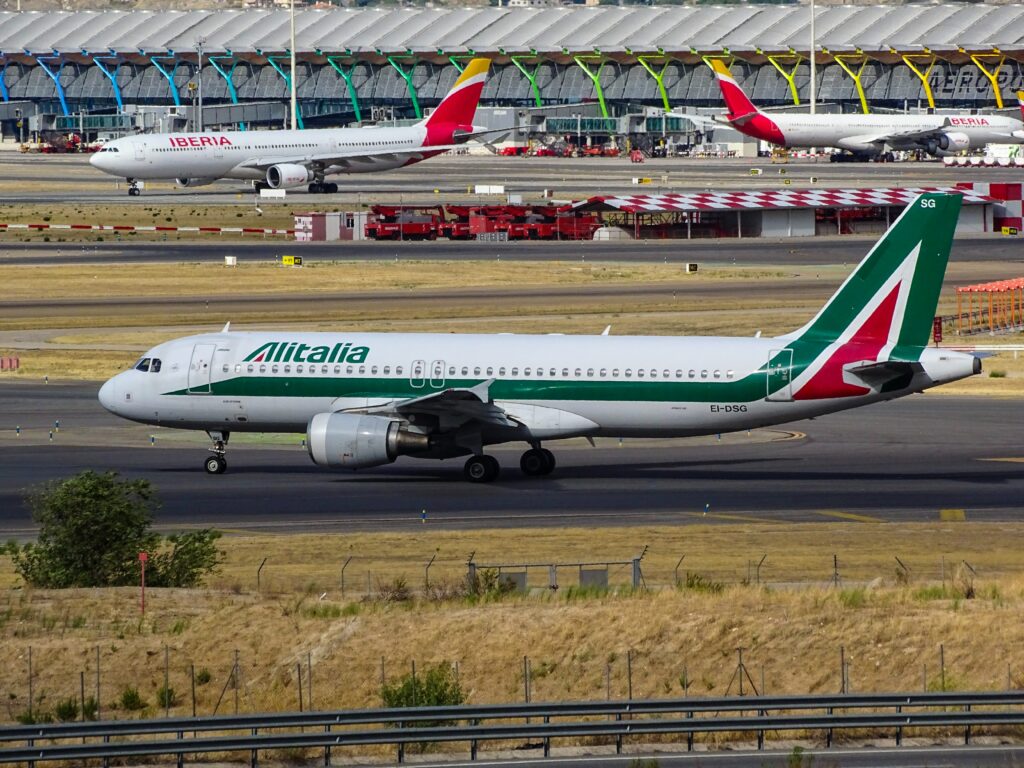 In-Flight with Alitalia Business Class
Business class on Alitalia comes in two flavors depending on the length of the flight. The seats are relatively basic for medium-haul flights, most notably being manufactured by Recaro and clad in leather. Business class flights come with Italian-inspired meals that start with appetizers and fine wines.
Long haul flights offer far better amenities than business class in medium-haul flights. Even the seats are a visible upgrade and include lie-flat seats that massage passengers into relaxation. Alitalia provides great Italian meals with a rotating menu depending on the season.
The ambiance in the Alitalia Business Class cabin starts with the lighting, which displays expertly crafted hues that match the time of day. In the Airbus A330 planes, lights change during the duration of the flight to set the tone from take-off to landing.
Amenities
There's just nothing extraordinary about Alitalia Business Class. Service is average on Alitalia flights, and flight attendants and the SkyTeam are just as capable as on other airlines. Regardless, there are still some notable amenities to expect should you end up on an Alitalia flight.
In-flight Entertainment – Personal entertainment systems provide a comprehensive library of movies, shows, or music at every seat. Live news is even an option!
WiFi Connectivity – Long haul flights have WiFi enabled and GSM connections. These connections allow streaming and working while traveling, but prices depend on individual flights. USB ports also give power to devices needing an extra charge.
Amenity Kit – Amenity kits are pretty basic and include socks, toothbrushes, lip balms, moisturizers, and Salvatore Ferragamo perfume. Competitor airlines offer more upscale amenity kits.
Direct Aisle Access – Thanks to a 1-2-1 layout, Alitalia Business class seats have direct aisle access. Plus, each seat has plenty of legroom and working space.
Experienced flight crews still provide passengers on Alitalia flights a comfortable experience with plenty of attention. Shortly after take-off, flight attendants pass out the amenity bags to passengers for a personal touch.
Easily Achieve Alitalia Business Class with Business Class Experts
Italy's ITA or Alitalia is the primary airline for the Southern European country. After some less than excellent reviews, the airline shifted priorities and now extends a more luxurious experience to business class travelers. Finding quality first-class tickets for Alitalia and other airlines is easy with Business Class Expert's help!
Alitalia provides standard amenities for the business class cabin but doesn't stand apart from competitors. Even the lounges are relatively basic, with self-serve food and beverage options. The seats are comfortable enough, have massage functions, and lie-flat beds are necessary for any long-haul flight. Plus, the Italian meal service with Prosecco is worth the upgrade!
Popular European Destinations From the United States
Business Class Flight Deals