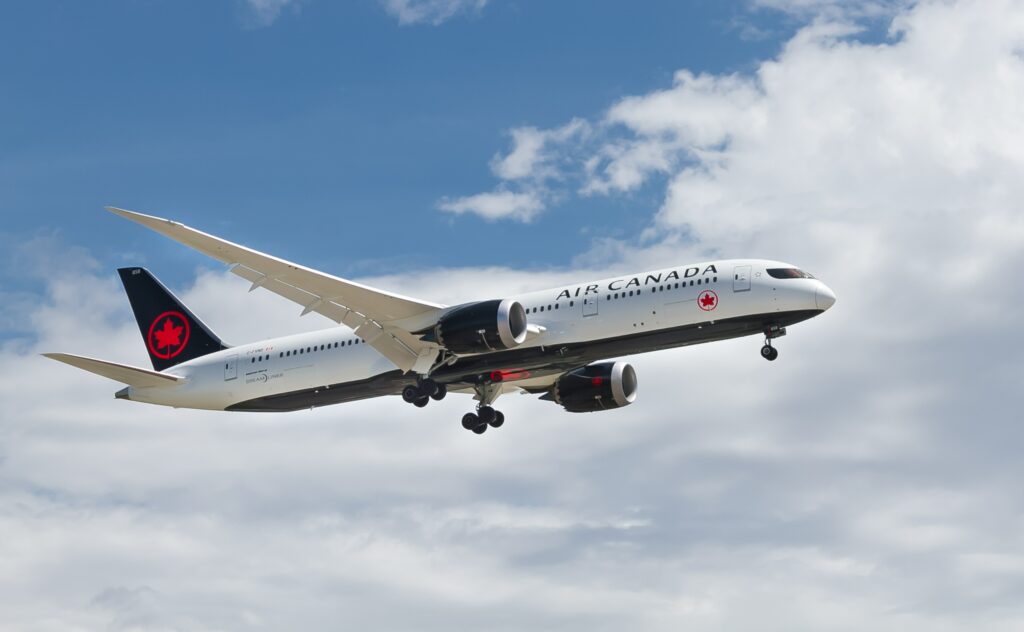 There's no need to sacrifice comfort when you're flying. With Air Canada Business Class, you can enjoy a lie-flat seat, sumptuous meals, and plenty of space to work or relax.
Since its launch in 2018, Air Canada's Signature Class — its new business class — has upped the ante and made Canada's flagship airline a top–of–mind for premium travel. The Signature Class is available for those traveling from North America to Europe, Asia, South America, Australia, and Africa.
Air Canada's business class features luxurious amenities such as lie-flat seats, chef-inspired meals, and in-seat entertainment systems with noise-canceling headphones. It also gives premium access to Signature Lounges and Maple Leaf Lounges worldwide, where you can enjoy complimentary snacks and drinks before your international flight.
Air Canada's premium cabin can help you ease into the jetlag on longer flights. You'll be able to get some rest and arrive at your destination feeling utterly refreshed. And if you need to get some work done, the Air Canada business class has plenty of space and amenities to make it easy.
No matter how you like to travel, Air Canada Business Class will make your journey more comfortable. Book your flight today and experience the difference.
Planning Your Air Canada Flight
Air Canada Business Class is the ideal way to travel for business or pleasure. With plenty of space and comfortable seating, it's perfect for getting work done or relaxing on your journey.
Air Canada offers a variety of seat types in its Signature Class, so you can choose the one that best suits your needs.
Here's what you need to know to plan your Air Canada Business Class flight.
Flight Prices
Air Canada offers several tiers of business class fares, depending on the route and time of year. Prices can range from a few hundred dollars to over a thousand, so it's essential to do your research before booking.
For example, a business class ticket from Vancouver to Sydney, Australia during the low season might cost around $2,300, while the same ticket during peak season could be over $7,000 if you are booking directly through the airline.
A roundtrip business class ticket from Canada to Europe can surpass your vacation budget when booking through the airline. For instance, a roundtrip ticket from Toronto to Paris with Air Canada Business Class is a little over $3K. However, booking your trip with Business Class Experts can save you nearly half the cost.
If you're wondering if it's possible to get Air Canada business class tickets using Aeroplan points, it is a resounding yes! You'll need to have earned a minimum of 75,000 miles. This will give you enough miles for a one-way ticket during off-peak times. For flights during peak season, you'll need to accumulate 100,000 Air Canada miles.
Once you have enough points, booking a flight is easy. Log into your Aeroplan account and search for flights. Select "Book with Points" and follow the prompts to complete your booking when you find the Air Canada flight you want.
It's important to note that while Air Canada does offer business class tickets using Aeroplan points, they are subject to availability. So, if you have your heart set on flying Air Canada business class, it's best to book your flight well in advance.
Generally speaking, Air Canada's business class fares are on par with other major airlines. However, it's always a good idea to compare prices and features before making a final decision.
If you don't have an Aeroplan account or want to find out the cheapest business class tickets you can get for your flights, Business Class Expert is here for you.
Contact us today to get free quotes on business class tickets for your next trip.
Seat Choice
Air Canada's business class cabin features lie-flat seats with varying recline positions and plenty of legroom and footrests.
Air Canada Signature Class cabin used to be called Air Canada's International Business Class. It is now offered exclusively for flights to and from Europe, Africa, Australia, South America, and Asia on Boeing 777, Boeing 787 Dreamliner, and Airbus A330.
The exclusive cabin provides a configuration that gives passengers the option of having a window or aisle seat.
Boeing 777 and 787 business class cabins feature executive pods laid out in a 1-2-1 configuration.
Boeing 767 and Airbus A330 feature classic pods in a 2-2-2 configuration.
Older business class seats aboard the Boeing 767 and Airbus A330 have an open-suite layout and a 1-1-1 configuration.
Regardless of what they pick, each seat has easy aisle access that prevents travelers from stepping over another sleeping passenger.
Air Canada Business Class Check-In
Business class travelers will enjoy an exclusive check-in space with comfortable seating and dedicated self-service kiosks. This makes their entire journey hassle-free, as they can drop off or pick up baggage without going through any lines!
What sets Air Canada apart from other business class products is its chauffeur service. The Air Canada Chauffeur Service is a one-of-a-kind airport premium experience in Canada.
Eligible connecting Signature Class customers arriving at Toronto Pearson International Airport from within Canada and connecting to Europe, Asia, or South America will be welcomed by the Air Canada concierge. They will be whisked away in Porsche vehicles such as Taycan, Panamera, and Cayenne.
The Air Canada Chauffeur Service will soon be available at Vancouver International Airport in late 2022.
Baggage Check
Business class passengers can check two standard-sized pieces of luggage at a maximum of 70 lbs (31.75 kg) for each bag.
The Priority Check-In Counter allows travelers to check in at a fast pace, while seasoned Air Canada staff, called Premium Agents, provide personalized service for those who need it.
At select Canadian airports, such as those in Calgary (YYC), Montreal Trudeau (YUL), Vancouver (YVR), and Toronto (YYZ), there are also self-service kiosks available which allow you to check in your bags without queuing to a check-in counter.
Business class travelers are also entitled to:
Priority security clearance, thanks to exclusive lanes for screening
Priority boarding that allows them to board the plane first
Priority baggage handling to claim checked bags ahead of Economy and Premium Economy passengers.
Flying with Infants and Small Children
Infants from 7 days old to 2 years old traveling long-haul or international and sitting on an adult's lap can get 10% of adult fare. If they're getting their own seat, a child's fare will apply. Children over the age of 2 will have to own their seats and pay a child's fare.
If you're looking to specifically book an Air Canada Signature Class ticket for your child, please note the following:
Child restraint devices are not allowed, except for special circumstances. Call Air Canada Reservations for details.
A child between 2 and 7 years old must sit directly in front of, directly behind, or in an adjacent seat facing the adult companion when occupying a Classic or Executive pod. Contact Air Canada Reservations to ensure appropriate seats are available.
Source: Air Canada
One stroller can be carried for each child on top of your baggage allowance. However, Air Canada strongly recommends small collapsible strollers not exceeding 10 in (25.5 cm) in diameter and 36 in (92 cm) in length. You can check it in either at the baggage counter or at the boarding gate.
Any stroller larger than specified can only be checked at the baggage counter.
Multiple Lounges
Air Canada Business Class passengers have access to multiple lounges, specifically the Signature Lounge and Maple Leaf Lounge.
Air Canada's Signature Lounge is the perfect place to relax and unwind before your flight. With comfortable seating, complimentary food and drink, and various amenities, the Signature Lounge is the ideal spot to start your journey.
The Signature Lounge offers a variety of food and drink options, including hot and cold dishes and a selection of alcoholic beverages. There is also a self-serve buffet, so you can choose what you want to eat or drink.
The lounge also offers complimentary Wi-Fi, so you can stay connected while waiting for your flight.
If you need to freshen up before your trip, the Signature Lounge has showers.
Whether you're looking to relax or stay connected, the Air Canada Signature Lounge is the perfect place to start your journey.
Air Canada's Maple Leaf Lounge is a haven for travelers, offering various services and amenities to make your travel experience more comfortable. The Maple Leaf Lounge has everything you need to relax before your flight, from complimentary food and drink to showers and quiet spaces.
There are 16 Maple Leaf Lounges across Canada, the US, and Europe — including one at London Heathrow, which is one of Air Canada's flagship lounges. Whether you're looking for a place to catch up on work or simply relax before your flight, Air Canada's Maple Leaf Lounge is the perfect spot.
With complimentary Wi-Fi, plenty of outlets, and comfortable seating, you can easily spend a few hours here before your flight. If you get hungry, there's no need to leave the lounge — there are plenty of food and drink options available, including a self-serve buffet with hot and cold dishes.
Need to freshen up before your flight? The Maple Leaf Lounge has you covered there, too, with showers available for guests to use. If you need a quiet space to work or relax, plenty of options are available, from private cubicles to comfortable armchairs. There is a quiet zone with exclusive TV screens, reclining pods, and Sony noise-canceling headphones.
There's also a business center with multiple computers, printers, scanners, USB ports, etc.
New bio-safety measures for both Signature and Maple Leaf lounge facilities have been introduced to keep travelers safe during the pandemic.
Travelers can access both lounges by presenting their boarding passes at the entrance. Award tickets can also access Maple Leaf or Star Alliance lounges in multiple airports worldwide.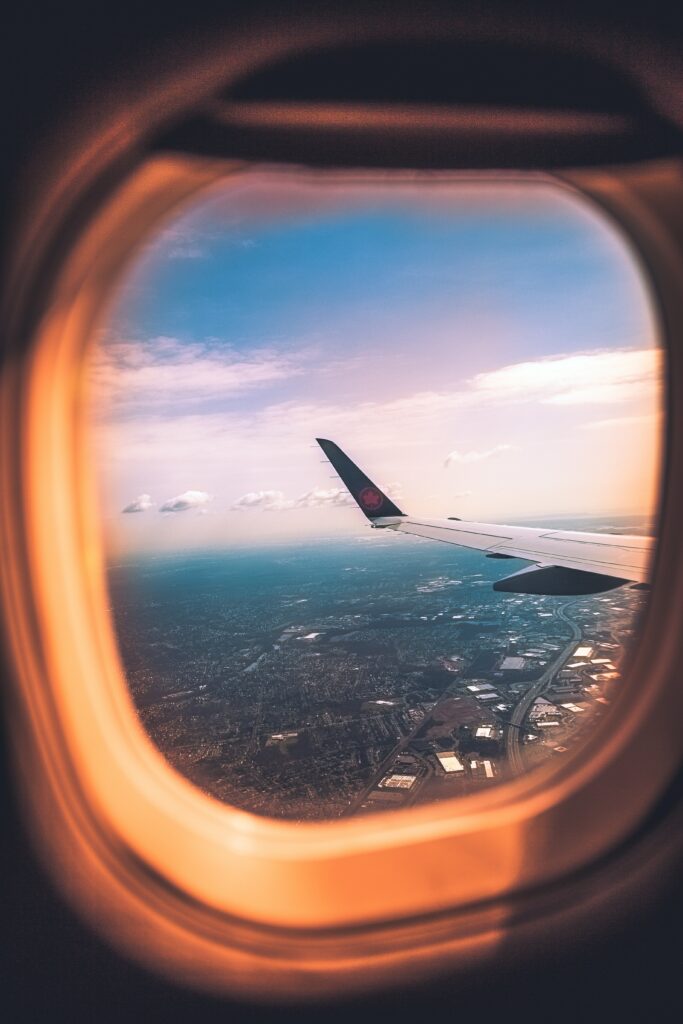 In-Flight Experience with Air Canada
Air Canada Business Class offers a unique and comfortable flying experience for business travelers.
Thanks to its world-class amenities and premium services, it is an excellent option for business travelers who want a more comfortable and enjoyable flying experience.
Amenities
Air Canada Business Class offers a unique and comfortable flying experience for business travelers. The seats are larger and more comfortable than in economy class, with more legroom.
Air Canada Business Class offers a variety of amenities to make your flight more comfortable. Some of these include:
Lie-flat seats
Private suites
Noise-canceling headphones
Amenity kits
The Signature Class cabin features the following:
Classic or Executive Pods (depending on the aircraft) have lumbar support and massage function and turn into a fully flatbed that is 6 feet and 7 inches in maximum length (203.2 cm).
The pods come with a clean, sanitized, fluffy pillow, duvet, mattress pad, and an amenity kit.
A CleanCare+ kit has a mask, antiseptic wipes, and hand sanitizer inside.
Air Canada Business Class offers a variety of meal and beverage options to choose from while you're in the air. Meals are prepared fresh and served in china with metal utensils. You'll have a choice of wine and Laurent-Perrier champagne, as well as a selection of non-alcoholic beverages such as Lavazza coffee, Perrier, various tea, juices, and bottled water.
A light continental breakfast is available upon request if you want to sleep through your meal.
There is also an extensive inflight entertainment system, with many movies, TV shows, podcasts, audiobooks, and music to choose from.
With these amenities, you can relax and enjoy your flight, knowing that you'll arrive at your destination refreshed and ready to take on the next adventure.
Find Air Canada Tickets with Business Class Experts
If you want to enjoy one of the best business class experiences, Air Canada's Signature Class is the way to go. With comfortable seating, plenty of legroom, and thoughtful services, you can relax and enjoy your flight.
With Business Class Experts helping you find the best tickets and fares, you can be sure that your trip will be affordable. Start planning your next business trip today with Business Class Experts. Contact us today to get free quotes on first class or business class tickets for your next trip.
Popular European Destinations From the United States
Business Class Flight Deals