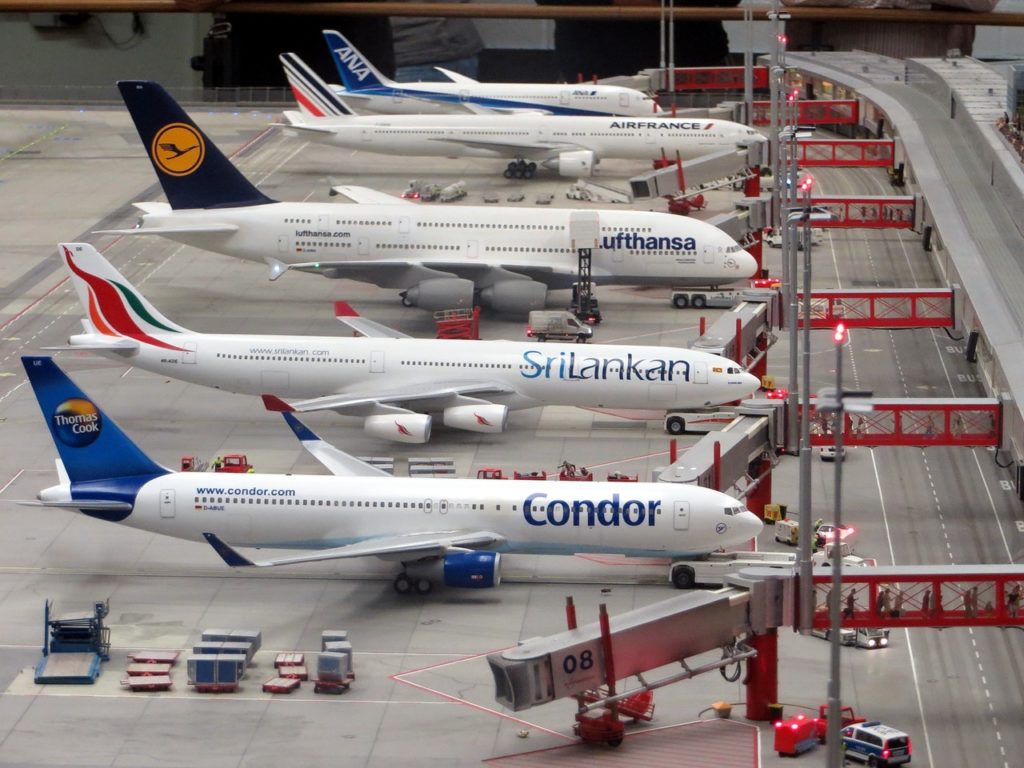 Upgrading to business class or first class can mean a world of difference in your flight experience, but is it really worth it? For long flights, most people would say yes. You may think upgrading to a business class seat is out of your budget, but there are ways to save real money, and there is a lot of comfort at stake. 
Modern business class flight airlines have put together end-to-end experiences designed to pamper frequent business fliers and earn their repeat business. In such a competitive field, some airlines go above and beyond (no pun intended) to provide the best of everything; beautiful lounges, concierge check-in and baggage service, spacious personal space, comfortable seating, and the best menu and wine selections in the air.

The perks, accommodations, and service are pure luxury in comparison to economy or premium economy seats, where you're packed in like a sardine and the person in front of you is reclining right into your lap – and making tray table use for your laptop impossible. 
Bottom line: the front of the plane is just way better.
Upgrading to a business class ticket for a long-haul flight is probably starting to sound pretty good right now. But can you afford it? Let's find out.
How To Get The Best Deal on Business Class Flights
Getting a discount upgrade can be tricky. It's doable, but it takes planning and savvy insider travel tips. There's only one way to ensure the best price when you order, and that's to use a ticket broker agency. That's where the expert travel agents at Business Class Experts come in.

Having empty business class seats is bad for business, so airlines always want to run with full cabins. For each flight, they use an algorithm to predict how many tickets they will sell. If they have extra seats with little chance of filling them at market price, they hand them off to selling partners, specialized travel agencies like us.
We work closely with major airline carriers to fill the business class and first class cabins – at up to 70% discounts. You won't find the same deals online. They cannot advertise deeply discounted tickets, and neither can we. When you contact us, you'll talk to a real person who will find you the best possible business class airfare for your international flight, and you won't need to worry about trying to score an upgrade. Oh, and you can rack up more points, too, instead of using them.
Can My Airline Ticket be Upgraded?
Before we talk about the cost of a business class upgrade, you should know that not every ticket is eligible to be upgraded. When you book your ticket online or receive your receipt, you'll see a fare code. These codes define the fare class your ticket falls in and there are rules associated with each letter code.
One of the rules associated with the letter code on your ticket is whether your ticket can be upgraded and the size of the frequent flyer award you will receive.
This screen capture shows Delta codes at the top and the popup showing the rules (upgrades not allowed) with a suggestion to choose a more expensive ticket that can be upgraded.

This is a common practice. If you buy the cheapest seat on a British Airways flight, (codes Q, O, or G), you won't have upgrade options. It sounds like a great strategy to buy the cheapest possible flight and upgrade using Avios points…but it won't work. You have to buy a full fare ticket at the start. You also cannot upgrade using points at the check-in counter or on the aircraft. You must make an arrangement before you check in.
In addition, some airlines will only let you upgrade one class fare level, from economy to premium economy, from premium economy to business class, or from business class to first class. Before you start executing your upgrade strategy, be sure you know the rules.
Member Perks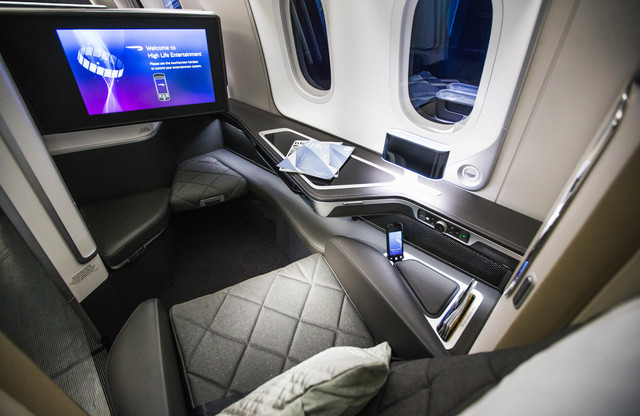 Because airlines are known to prioritize upgrades, belonging to a loyalty program is another important element affecting your ability to get a flight upgrade. Even though complimentary upgrades on international flights are not generally offered, elite member status, awarded by frequent flier miles, bumps you to the top of the list if an upgrade is available.
Elite members can also earn systemwide upgrade certificates each year:
American Airlines offers eight systemwide upgrade certificates per year to Executive Platinum elite members. These upgrade certificates can be used on any AA flight worldwide, to upgrade from economy class to business class or business class to first class.
Delta Air Lines offers four systemwide upgrade certificates per year to Diamond elite members that can be used for international travel.
United Airlines offers six systemwide global upgrades when Premier 1K elite status is earned, and additional upgrade certificates as you earn higher Premier levels. These are one-way upgrades, and you can bump up one cabin class.
Cost To Upgrade To Business Class By Airline
There are too many variables to offer hard upgrade costs. Airlines offer discounts from time to time, and the price can vary with the price and fare class of your seat, the time and travel date, and even availability. Here are the ways you can upgrade, and what to expect.
Upgrading with points
Nerdwallet analyzed 2,500 flights to determine real world point value for different airlines. Here's what they determined for airlines with business class cabins:


| | |
| --- | --- |
| Airline | Point value |
| American Airlines | 1 cent |
| Delta Air Lines | 1.1 cents |
| United Airlines | .08 cents |
Note: these values were calculated using upgrade values from economy class ticket upgrades.
Upgrading with Avios from British Airways:
"The Avios amount required for the upgrade is based on the Avios costs for reward flights in the cabins you are upgrading from and to and will depend on whether your flight is scheduled on a peak or off-peak date.
The formula is:
Avios for the cabin you wish to upgrade to – Avios for the cabin you make your booking in = Avios required to upgrade one way"
Let's say you were travelling one-way from London to New York with a premium economy ticket (World Traveller Plus), and you want to upgrade to business class (Club World).The calculation would look like this:
Club World: 60,000 Avios – World Traveller Plus: 40,000 Avios = 20,000 Avios to upgrade

So in that case, you would need 20,000 Avios points to upgrade from premium economy to business class.
It's worth noting that you get more value from your points when you fly during off-peak times.
Upgrading with cash
It is possible to pay cash for an upgrade; Lufthansa, for example, has a simple way to buy an upgrade online after you've purchased a ticket.
Some airlines have a bidding process, where you can bid on upgrades. While most of the United States based airlines are not participating, you can join the bidding process for international flights on Lufthansa, Aer Lingus, Alitalia, Cathay Pacific, and dozens of other airlines that fly from the US to Europe and other international destinations.
You can also buy points to use for an upgrade directly from the airlines. Delta offers the BuyMiles program at a rate of $0.035 per mile. At that rate, 10,000 miles would cost $350.

One thing you should not do is use a third party miles broker. These shady websites buy unused miles from businesses and sell them online, but it is not allowed by the airlines, and you could lose your ticket and your seat on the plane.
Last Minute Upgrades
It's kind of a Holy Grail, but if the stars align just exactly so, you can occasionally score an upgrade at the gate. And we we say the stars align, this is how it usually happens:

There is one empty seat in business or first class and/or:
You are the highest ranking elite member in coach
You're the only passenger flying alone
You asked the gate attendant just before they were going to make an announcement
A family with kids wants to sit together and you're in a consecutive seat
They need to bump someone off the plane, and you have time to wait for the next flight
Everybody else in coach looks like they got dressed in a dumpster
When there's an unclaimed empty seat and you ask at the gate, it's usually offered at a huge discount. And if you're doing the staff a favor in the process, your upgrade might even be free. Just don't expect the stars to align every time you fly.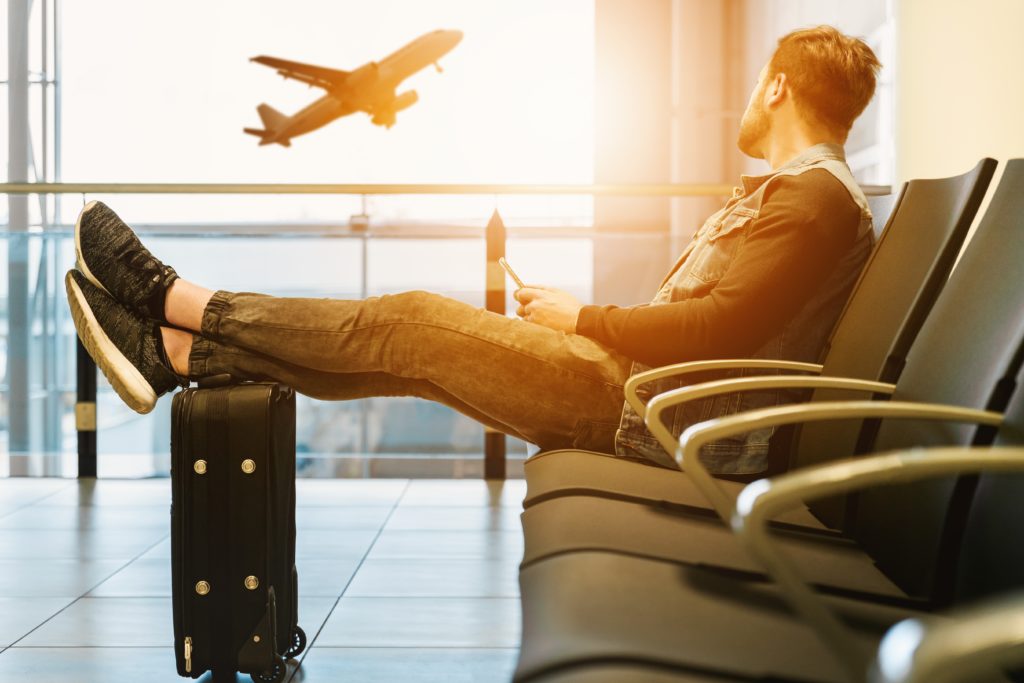 Business Class Flight Ticket Deals
| Airport | Destination | Price | Our Price |
| --- | --- | --- | --- |
| JFK - New York | London | $4,340 | $2,495 |
| LAX – Los Angeles | Paris | $4,445 | $2,845 |
| ORD - Chicago | Rome | $4,980 | $2,535 |
| SFO - San Francisco | Barcelona | $4,760 | $2,945 |
| JFK - New York | Zurich | $3,980 | $2,495 |
Benefits of Flying Business Class
Is upgrading to business class worth it? Most people would say yes, absolutely, especially on a long-haul flight. As soon as you trade on that $2 plastic cup of soda for a glass of complimentary champagne served in a real crystal flute, you'll know you made the right choice. If you get a bargain business class price…the champagne will taste that much sweeter.
Perks include wider seats that lie flat to a full bed, plenty of legroom, and no neighbors crowding you. Most business class seats offer a privacy partition and seating is configured with angles designed to maximize the feeling of privacy.
You'll luxuriate in heavenly soft designer bedding, freshen up with a nicely packed amenity kit full of lotions and goodies to enhance your comfort, and choose from a menu imagined by real chefs.
Spend your flight getting some work done in your built-in office space, or just put on your complimentary noise-cancelling headphones and choose music, a movie, or a tv show from an extensive entertainment library.
The way you choose to spend your international flight is up to you. Whatever you do, you'll be doing it in grand style if you let us find the perfect business class flight at a shockingly low price.
Best Airlines to Fly Business Class
Cathay Pacific
Emirates
Etihad
Qantas
Qatar Airways
Swiss Air
United Airlines
Air France
Virgin Atlantic
Top Business Class Destinations