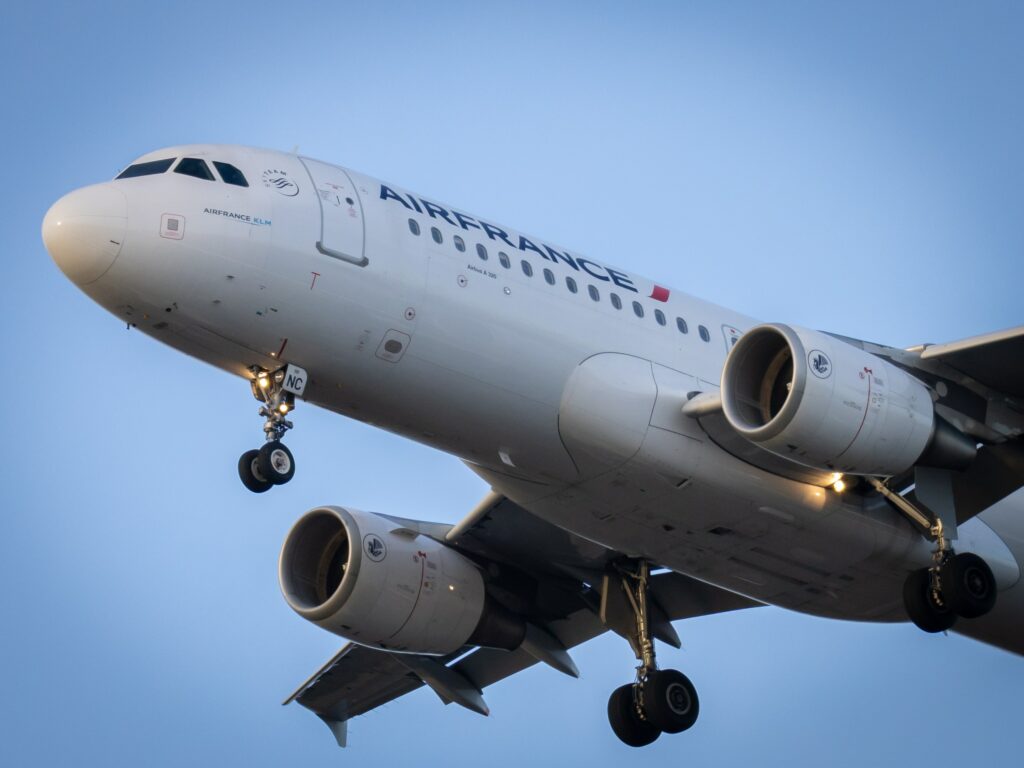 As France's flag carrier, Air France has that certain je ne sais quoi experience. Equal parts charming and luxurious, flying business class with Air France is an essential experience for any European dream vacation.
Air France has one of the best business class experiences. It is known for its subtle style, sophistication, and comfort. Cozy and plush lie-flat seats, a top-notch dining experience designed by the top French chefs, attentive services from flight attendants in chic uniforms, and well-stocked, elegant lounges await any business class passengers.
If this alone sounds like your cup of tea, then book an Air France Business Class ticket with Business Class Experts — for a bargain!
Planning Your Air France Business Class Flight
Find out what it takes to book a Business Class ticket with Air France and which seats in the premium cabin are the best according to your preference.
Affording Air France
Booking your Air France Business Class ticket directly through airlines can be costly. For instance, a Business Class return trip from New York to Paris can cost over $6k. Fortunately, Business Class Experts is able to find you affordable airfare as low as $2,700/ticket so you can travel in comfort without breaking the bank.
To upgrade from a lower class of service, such as economy class, to Business Class, members can use about 30,000 Flying Blue miles for a one-way trip from New York to Paris.
Air France also upgrades passengers to Business Class on certain occasions, although there isn't an official policy or method around it. Like other airlines, they tend to prefer the elite members of their Flying Blue frequent flier program.
The Flying Blue loyalty program also covers KLM and Kenya Airways. Members can earn and spend their miles on Air France flights or any SkyTeam partners like Aeroméxico, Delta Airlines, Garuda Indonesia, China Airlines, Saudia, and Middle East Airlines. They can gain access to hundreds of lounges and destinations around the world not covered by Air France.
If you're keen to get a Business Class cabin experience with Air France but are not a Flying Blue member, you can still fly at a more affordable rate. Business Class Experts can help you find deals and discounts on business class flights worldwide.
Seat Selection
As of May 2022, Air France has announced that it is introducing a new business class seat for its long-haul passengers aboard the Boeing 777 and Airbus A350 fleets.
Progressively rolled out as of September 2022, each of the 12 Boeing 777-300s will be equipped with 48 new seats in Business class. Airbus A350s with these new business class products will become available in 2023.
Redesigned seats will feature the 3F's:
Full flat beds that are 2 meters long
Full access with direct aisle access
Full privacy, thanks to a new sliding door that will be added to its current reverse herring boat seats
Those traveling in pairs can take advantage of the seats located in the center of the cabin. They are equipped with a central panel that can be lowered by pressing down, thus creating privacy while allowing easy interaction during the flight.
Traveling with a partner and looking for affordable airfare? Find 2 for 1 business class flight deals with Business Class Experts.
The layout slightly varies for existing Business Class seats based on the aircraft and how long the travel is.
All intercontinental flights with a dual-aisle layout have lie-flat seats.
Airbus 350 is the newest type of long-haul fleet that Air France has, with new Business Class seats in 1-2-1 configuration and window seats that are staggered — some are closer to the windows than others.
Airbus A330 has lie-flat seats in a 2-2-2 configuration and travels to smaller American cities.
Boeing 787-9, 777-200, and 777-300 Business Class has lie-flat seats on a 1-2-1 configuration, with the 777-300ERs only having 14 seats on a newer lie-flat style.
Checking In with Air France
With its sister airline, KLM, Air France is the fifth largest airline worldwide. It is also a founding member of the SkyTeam alliance.
Air France has joined forces with its SkyTeam partners to provide premium passenger services worldwide with SkyPriority.
Air France Business Class passengers — alongside elite members of various SkyTeam frequent flier programs — can use priority lanes at check-in, security checks, boarding gates, and customs at airports worldwide.
Air France also gives Business Class passengers priority deplaning at its destination and provides priority tags for their checked luggage to claim them ahead of the rest of the passengers.
Baggage Allowance
Air France's Business Class travelers enjoy extra check-in bags with a weight allowance that is more than what Economy and Premium Economy passengers typically receive.
Business Class passengers can check in two bags with a maximum of 70 pounds (32 kilos) each.
For carry-on bags, Business Class passengers can bring in two pieces of hand baggage and one personal item for up to a combined maximum weight of 40 pounds (18 kilos) — higher than what Economy tickets are entitled to.
The maximum dimensions of a piece of hand baggage are 55 x 35 x 25 cm/21.6 x 13.7 x 9.8 in. (including pockets, wheels, and handles).
Personal items can be any of the following:
One bag or satchel
One bag for your computer, camera, or any other electronic device
Flying with Infants and Small Children
Depending on your children's age, they can get a discounted or a child rate with Air France.
Infants and toddlers less than two years old enjoy a reduced fare of 90% if traveling on a person's lap. If traveling next to an adult, they must get a child fare ticket. You also have to bring an approved car seat or harness.
If the child celebrates their second birthday on the flight, the child rate will automatically apply.
Children older than two years old get 33% on long-haul flights.
If traveling with two infants or children under two years old, a booking must be made by phone. One of the two infants must have an individual seat and carry a child fare ticket with an approved car seat or harness.
Your child's baggage allowance also depends on their age:
If the child is two years or older, their baggage allowance will be the same as an adult, with the total number and weight of baggage items like what is allocated for business class tickets.
If the child is younger than two years old, they can carry the number of baggage items found on the boarding pass.
You can bring a foldable stroller (which must be fully packed in a carrying case) and a car seat in the hold for free, but depending on the type and size:
Small foldable stroller: maximum dimensions of 5.9 in x 11.8 in x 39.4 in (15 cm x 30 cm x 100 cm).
Other foldable strollers can be carried on the plane in lieu of your child's hand baggage allowance. Once folded, its dimensions must not exceed 21.7 in x 13.8 in x 9.8 in (55 cm x 35 cm x 25 cm).
Lounge Access
Air France has lounges sprawled across several North American cities, while a combined lounge offered by KLM and AF is found in some. If there are no lounges available to passengers in Business Class, they can use any SkyTeam partner lounges like the Delta SkyClub or other airport-operated and third-party facilities.
Skyteam Elite Plus members can access the lounge on any international itinerary, flying in Economy or Business Class.
Air France Business Class travelers can access the lounge anytime, regardless of their Skyteam membership status (or if they have one). At the minimum, they get to enjoy the following:
Comfortable, plush seating
A menu of hot and cold buffets plus a la carte food service designed by the top chefs in France
Fridge filled with soft drinks, Evian water, juices
Self-serve bars with complimentary alcoholic beverages such as premium wine, spirits, and craft beer. You can also have a glass of champagne in some airports — Laurent Perrier specifically. Note that the self-service aspect depends on local regulations.
Free WiFi and workstations
Showers
A wide selection of magazines and newspapers
Handheld entertainment remote control
At certain airports. like the New York JFK and Montreal airports, Business Class passengers traveling late at night can make the most of "Night Service," which serves them their in-flight meal at the lounge if they wish to sleep throughout the entire flight.
At Paris Charles de Gaulle airport (CDG), Business Class travelers can take advantage of individual shower suites and the complimentary 15-minute Clarins treatments and spa, complete with massages and facials. The lounge found at Paris CDG 2E Hall L also has a sauna.
Air France also offers salons in various airports like San Francisco, Washington Dulles, New York JFK, Houston, Frankfurt, and Bangkok.
Enjoy these generous servings of dining and self-care treatments by booking a Business Class ticket with Air France. Business Class Experts can help you snag one at an affordable rate!
The Air France In-Flight Experience
Air France offers a genuinely unique in-flight experience for business class passengers. Once you step onboard, you'll be treated to exceptional service and attention. The seats are comfortable and spacious, with plenty of room to work or relax. And the food and drink offerings are top-notch, sure to please even the most discerning palate.
Whether you're flying for business or pleasure, Air France's business class will make your trip a memorable one.
Amenities
All Business Class passengers receive an amenity kit with a theme that changes every few months. This kit includes dental products, an eye mask that matches the pouch, socks, cotton pads, and Clarins skin care products. Air France shows its intentionality to reduce its environmental footprint by using a tamper-evident seal over plastic wrapping.
There's no lack of amenities in the premium cabin, which ensures that each Business Class seat is a conducive environment for work, entertainment, rest, and relaxation.
Every Business Seat reflects the contemporary design thoughtfully complemented with subtle elegance and functionality.

A multi-purpose area complete with a working desk and restaurant table
A seat with various reclining positions that can turn into a full-flat bed (2 m / 6.5 ft long) can meet your work, entertainment, and relaxation needs
Direct access to the aisle for each passenger

Various accessories are available to either let you work on the flight or ease into the jet lag — all within easy reach:
Fluffy, lightweight pillow
Stylish yet ultra-soft and snuggly comforter
Personal locker and dedicated storage space for your devices
Exclusive power outlet
USB port
Noise-canceling headphones and earplugs
Vanity mirror
Reading, ceiling, and mood lights
An 18.5-inch HD touchscreen can keep you entertained throughout your flight with film classics, recently released blockbusters, and popular TV shows. You can also choose from a wide selection of concerts, foreign films, documentaries, music playlists, and many more for your inflight entertainment.
The Air France Play app is available for download for tablets and smartphones. With it, you can download two international newspapers and magazines from anywhere globally for free. The content is available pre-flight (from 30 hours before your flight) to arrive at the destination.
In-flight dining is an experience in itself — you can start your Parisian adventure with a multi-course meal made by high-caliber chefs.

Foie gras, seafood (lobster, shrimp), vegetable salad, hot bread rolls with French butter for starters
Cheese selection
Four options for the main course, which often include seafood, meat, and vegetarian dishes
Desserts (Haagen-Dazs ice cream, anyone?), self-service snacks, and beverages
Complimentary alcohol—aperitifs and digestifs alike—including a wine list, cocktails, beer, premium liquor, and champagne
Light meal or breakfast for long-haul and overnight flights
Fly Air France with Business Class Experts
Air France's business class is the perfect option if you're looking for a luxurious and rewarding travel experience. With our help, you can book your flight and enjoy all the benefits and perks of flying in style. Contact Business Class Experts today to get a quote for an Air France Business Class ticket.
Popular European Destinations From the United States
Business Class Flight Deals