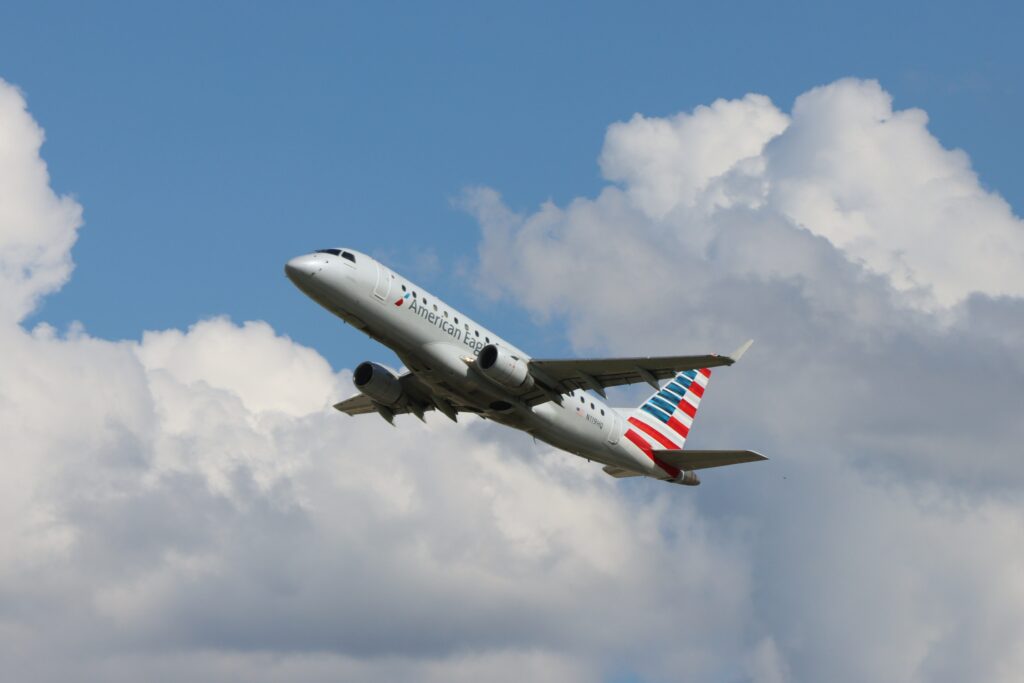 American Airlines is one of the leading airlines in the United States, and it offers an excellent business class experience.
American Airlines offers a variety of business class products that cater to the needs of any traveler. Whether you're looking for a luxurious experience or simply seeking more space and comfort, American Airlines has a suitable service.
On American Airlines, business class passengers can enjoy increased legroom, award-winning cuisine, gourmet meals, and complimentary wine and beer.
For international business class flights, you'll enjoy lie-flat seats with direct aisle access. That means you can stretch out and sleep or get up and move around at your leisure. You'll also have plenty of room to work or relax, with a personal entertainment system and charging outlets.
American Airlines also offers a variety of in-flight entertainment options, including movies, television shows, and music that will keep you occupied on your long international flight.
If you're looking for a truly unique travel experience, American Airlines' business class is the way to go.
Find out how you can treat yourself to a rewarding travel experience with American Airlines' business class, from the moment you step into the airport to when you start your European dream vacation.
Before Boarding Your Flight
American Airlines offers a variety of ways to make your travel more comfortable and affordable. Business Class tickets are available for purchase online, and American Airlines also offers a variety of seat selection options to choose from.
In desperate need of a last-minute flight? Business Class Experts can help you find last-minute business class flights at an affordable rate.
Selecting Your Seats
The American Airlines' Flagship Business cabin has arguably one of the best seating layouts among American carriers. Aircrafts used for transcontinental flights, such as the Boeing 777-300er, use a 1-2-1 reverse herringbone configuration, which means direct aisle access, and you won't be stepping over another sleeping passenger.
Seats recline in varying positions and can turn into fully flat beds. Whether you're on the window seat or at the center section, your seat will have a partial privacy divider to let you sleep, relax, or work in peace.
Solo travelers may want to book window seats, while people traveling in pairs can take advantage of the center section — though they may have to lean forward to talk to each other. Another option — perhaps the easier one — is to book one by the window and another from across the aisle at the center section. This way, interaction with each other requires less effort.
Are you traveling with a partner and looking for affordable airfare? Find 2 for one business class flight deals with Business Class Experts.
Certain Boeing 787 Dreamliners and Boeing 777-200ERs have seats that alternate between facing forward and backward. Note that some backward-facing seats do not have a window view.
When looking into flights, it's crucial to check the seat map, especially if you prefer to face a specific direction (backward arrows represent backward-facing seats).
Finding Affordable Airfare
American Airlines business class tickets can vary based on seasonality and demand, how long the flight is, and how far away the departure date is from when you're booking.
Like other airlines, American Airlines Business Class tickets often come at a higher price when booking directly through the airline. For instance, flying from Los Angeles to London can cost you $6K for a round-trip Business Class ticket if booked through American Airlines.
With Business Class Experts, you can unlock a round-trip Business Class ticket from LA to London at nearly half the price. Our team can help you find affordable flights without damaging your budget.
American Airlines is a founding member of the Oneworld Alliance. Alliance frequent fliers can earn or redeem miles in the American AAdvantage program or through partner airlines like Qantas, Cathay Pacific, Qatar Airways, Japan Airlines, Air Canada, British Airways, etc.
Travelers with Oneworld memberships can also upgrade from Economy or Premium Economy to Business Class using their miles.
You can also find affordable luxury seats through Business Class Experts. Business Class Experts can help you find deals and discounts worldwide on business class flights.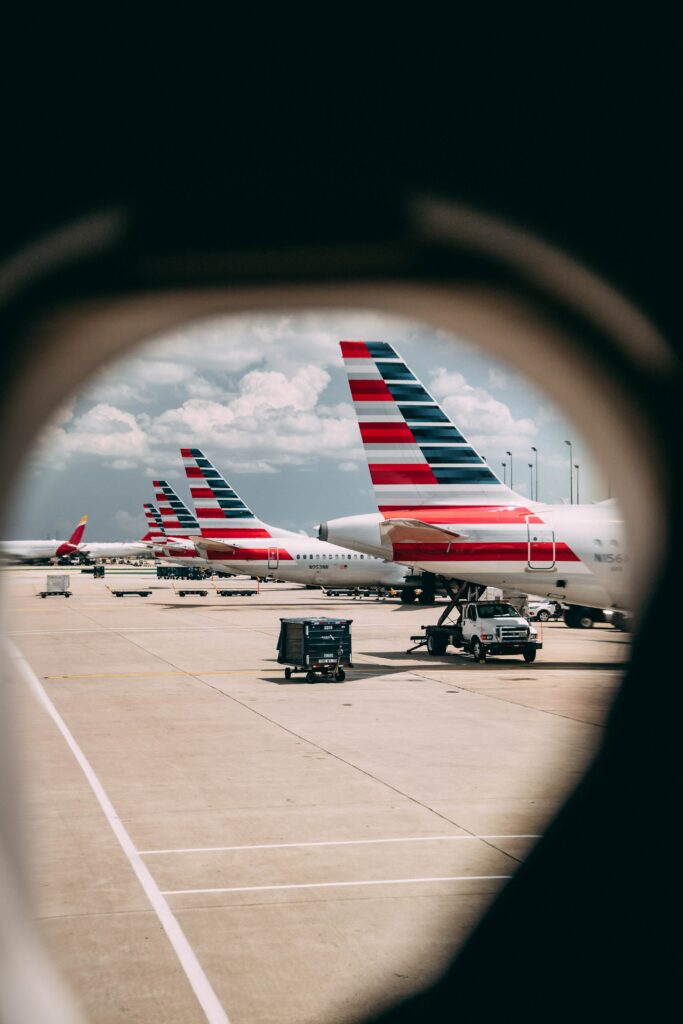 American Airlines Check-In
Flagship Business passengers can enjoy priority check-in and security lines at airports. They are also entitled to priority boarding, which allows them to board the aircraft first.
Some American Airlines Business Class passengers also note that dedicated check-in counters offer better services from veteran and seasoned flight attendants and service agents who can fix any issues expeditiously.
Baggage Specifications
American Airlines business class passengers are entitled to two standard bags to check in with a maximum weight of 70 pounds (32 kg) for each bag for free.
It's possible to add a third free checked bag if you satisfy any of the following:
You're an American Airlines Platinum Pro or Executive Platinum elite status
You have a Oneworld Emerald status with an Alliance airline
You get up to five free checked bags if you're a US military member on active duty
Traveling with Small Children
From 2 days old to less than two years old, infants can travel on an adult's lap (the adult must be at least 16 years old).
If traveling with an infant less than seven days old, families must get a doctor to fill out a passenger medical form before the flight. This form will be sent straight to the physician by an American Airlines agent.
Families with small children under the age of 2 can also ask to board the gate early. They can carry a diaper bag per child in addition to the adults' baggage allowance. However, they need to pay for any extra checked bag at the same rate as adults.
Children 2 years and older must carry a ticket reflecting the adult fare. They must also have their business class seat. If the infant turns two on the day of the flight, they will need to carry an adult fare ticket and have their seat for the rest of the trip.
Changing tables are available in the lavatories. Bassinets are not available in Business Class.
Each passenger can bring one stroller and one car seat without additional cost.
Strollers weighing more than 20 lbs (9 kgs) must be checked in at the ticket counter. All other strollers must be checked at the gate.
Business Class Lounge
American Airlines operates two lounges — Admirals Clubs and Flagship Lounges.
As the more upscale between the two, Flagship Lounges are found in five international hubs in the US: Los Angeles (LAX), Miami (MIA), New York (JFK), Chicago (ORD), and Dallas Fort Worth (DFW). Another one in Philadelphia (PHL) is coming soon. There's also an International First Class lounge in London Heathrow (LHR).
On a Flagship Business class ticket, you'll get to feast on the best lounge services on the day:
Chef-inspired meals
Personalized service
Specialty cocktail bar
Premium wine table
Expansive seating
Shower suites
American Airlines operates Admirals Clubs in almost 50 airports in the US and sprawled across Europe. While not as exquisite as the Flagship Lounges, Admirals Clubs still offer amenities and services that make any pre-flight comfortable, relaxing, and productive. They provide complimentary services such as the following:
Snacks
House drinks
Personal travel assistance
Free digital magazines and newspapers
In some locations, they provide the following:
Made-to-order specialties
Shower suites
Business center and workspaces
If you want to access Admiral Clubs, you can apply for credit cards such as the Citi® / AAdvantage® Executive World Elite Mastercard®. You can also enjoy other perks such as:
Earn 50,000 bonus miles
Global Entry or TSA PreCheck application fee credit
What to Expect On Your Flight
Once aboard your American Airlines flight, you'll find more than a few luxurious amenities. Kick back, relax, and enjoy your seamless flight experience.
Amenities
American Airlines has carefully thought of the in-flight experience it gives to its Business Class passengers. Have a look at this comprehensive list of amenities found in this premium Business Class cabin:
Each reclining seat can turn into a flat bed. You'll find a plush Casper duvet from Casper and an ultra-soft pillow, plus a built-in ottoman that serves as a footrest
A small storage compartment that opens up to a headphone jack and a small vanity mirror
Large tray tables with compartments where you can place your devices and other personal items like books and sunglasses
Air nozzles that let you control the temperature at your seat
Bang & Olufsen noise-canceling headphones
15.4-in touch screen TV where you can watch a selection of blockbusters, TV shows, foreign films, documentaries, and many more. It comes with remote control, which you can use to select your favorite music and podcast.
WiFi that is priced based on how many hours you're planning to access it
Amenity kits made by Shinola include socks, dental kits, eye masks, lip balm, and other skincare products from Brooklyn brand DS. & Durga
For long-haul flights like Hong Kong or New Zealand, Casper pajamas, slippers, and even a mattress pad are provided
Chef-designed meals that cater to various palates—meat-lovers and vegetarians alike
An assortment of alcoholic beverages such as champagne, premium spirits, carefully curated wines, craft beers, and cocktails
Plan Your American Airlines Flight with Business Class Experts
If you want to enjoy a rewarding travel experience, book your American Airlines flight with business class experts.
Business Class Experts can help make your journey as comfortable and stress-free as possible. Let us take care of the details while you relax and look forward to your upcoming vacation or get ready for your business trip.
Contact us today for a free quote.
Popular European Destinations From the United States
Business Class Flight Deals