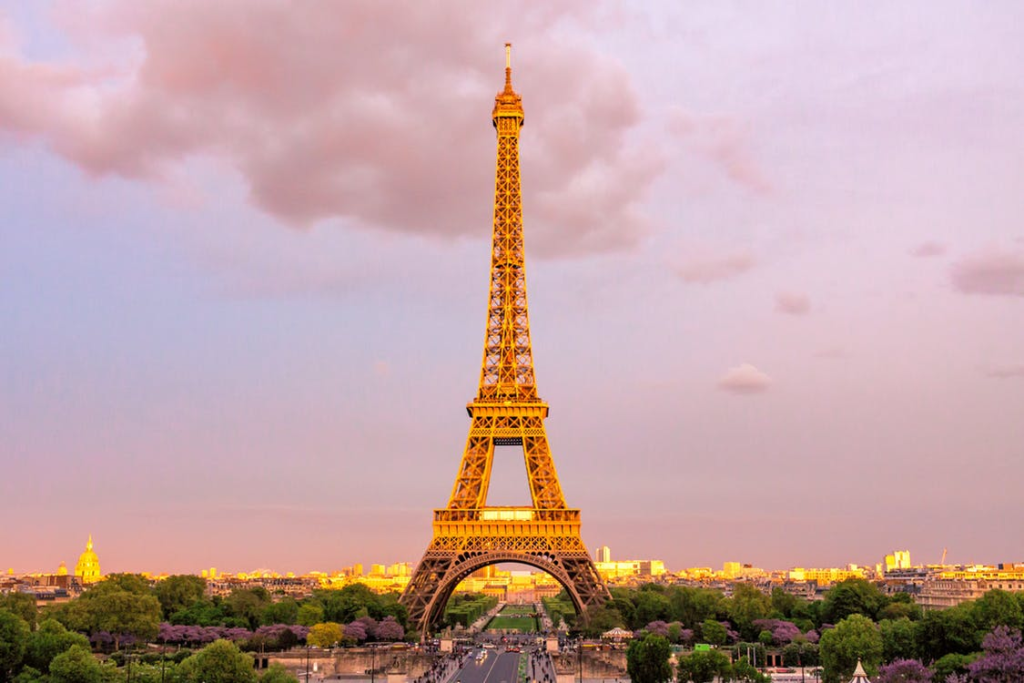 Experience Business Class on Your SFO to Paris Adventure
Paris is beautiful. The City of Light does not disappoint, and flying business class from San Francisco can make the trip that much better. Planning a Paris trip should be just as relaxing as your vacation will be — and it can be with an Air France business class flight.
While business class sounds expensive, Business Class Experts has the inside track on the industry's best deals and can hunt down that SFO to Paris flight that won't break the bank. Plus, business class never looked so good when flying with Air France. From the airport check-in to the inflight experience, there's nothing like it.
Air France treats business class passengers to comfortable, private seats that lie flat for total comfort. There are also high-quality multi-course meal services, amenities kits, and plenty of fine wine.
We'll explore what makes the business class experience so unique and what makes it worth the upgrade over even premium economy.
Business Class Flights from SFO to Paris
San Francisco to Paris is a long-haul flight, and propelling passengers across the vast distance is aircraft equipped for such journeys. These aircraft include the Airbus A330-200, Airbus A350-900, Boeing 777-200ER, Boeing 777-300ER, and the most modern Boeing 787-9 Dreamliner.
Passengers with connecting flights within the United States may board partner aircraft from Delta or American Airlines. These can range from Airbus A319s to Boeing 757s. Regardless of domestic flights, the extended portion will be on the larger, more luxurious aircraft.
Flights out of SFO take two routes: a nonstop route straight to Paris' CDG or a route with a layover. Typically these layovers are at New York's JFK, London's LHR, Seattle's SEA, or Atlanta's ATL. More often than not, layovers are not in Europe.
Nonstop flights are less common and more expensive but are shorter in overall time. Expect the layover to range anywhere from an hour and a half to three hours. It's a great excuse to hit the lounge, though!
Finding the Best Business Class Flight
To find the best business class flight, you first start by weighing the most important factors of the flight. Some things may not be as important as others. Before booking a business class flight from SFO to Paris, here are some things to consider.
Amenities – Business class flights are a luxurious way to fly, and many offer amenities you are sure to love. Business-class domestic flights will have less to offer than direct flights, and Air France provides world-class amenities.
Seat Selection – Business class seats are incredibly luxurious. Finding the perfect one could mean the difference on a long-haul flight. Book early, business class cabins fill up fast, and Business Class Experts can help you find last-minute business class deals.
Layovers – Layovers add several hours to the overall flight time. Plus, domestic flights are on smaller aircraft with fewer amenities. However, layovers provide an opportunity to visit the business class lounges and are often cheaper.
Price – Business class flights are more expensive than coach, but the price is also higher depending on when you travel and how far out you book your flight. Also, check for baggage costs. Bringing extra or oversized bags can rack up to hundreds of dollars.
Business-class flights provide a premium experience, but not every flight is the same. Air France strives to provide a consistently great experience, but these factors are out of control. Flying Blue miles and Amex cards offer some deals, but a business class product will run business class rates. Weigh the most critical factors and find the best seat on the flight!
What to Expect with Air France Business Class
Much like KLM, Air France operates a business class flight experience that's better than many other first-class cabins. Every detail makes passengers feel at home, and some luxuries make the first-class fare worth it.
Booking Your Business Class Tickets
Booking your business class tickets from SFO to Paris Charles de Gaulle Airport starts with determining your flight dates. Then partner with Business Class Experts to find the best prices. You can select seats, unlock discounts, and rack up airline rewards miles.
Checking In For Your Flight
Thanks to your business class ticket, check-in has never been more effortless. Passengers depart SFO from Terminal A, but business class passengers check-in with dedicated lines instead of general passengers. Business-class passengers can bring two bags up to 70 lbs each.
Plus, SkyPriority access allows business class passengers priority security, so heading to the lounge is seamless. SFO offers lounge access to Air France business class passengers and includes pre-flight refreshments, workspaces, and a selection of meals.
Traveling with children is challenging, but Air France offers many services to make the trip as comfortable as possible. That includes meals pre-selected before flights, kid-focused tv shows or movies, and catered assistance for your entire family upon arrival in Paris.
The In-Flight Experience
Business-class cabins for flights from SFO to Paris are modern, spacious, and private. Each seat has direct aisle access and separators from economy class. Here's what the in-flight experience looks like in business class aboard an Air France flight.
First-rate Seats – Long-haul flights are a pain in economy, but in business class, seats recline down into a lie-flat bed. Seats are large enough to really get comfortable and join plush pillows and comforters.
Work and Play – Flying has never been more productive with inflight wifi, power outlets, and large spaces. A personal locker with noise-canceling headphones and a massive 18.5-inch touchscreen entertainment system provides endless media to unwind.
Amenity Kits – Air France unveiled a new sustainable amenity kit that comes in various blue and gray colors. These 93% renewable sourced amenities kits contain ear plugs, toothbrushes, pens, Clarin products, and even socks!
Authentic French Cuisine – Intercontinental flights from SFO to Paris have menus crafted by award-winning chefs like Daniel Rose. Passengers enjoy starters, main course, cheese, desserts, and fruits. Each meal pairs with a wine list designed by a world-renowned sommelier.
In addition to the world-class amenities, Air France also promises business class guests outstanding service by an expert flight attendant crew. Plus, with the rise in health concerns, the airline also commits to sanitation between flights, ensuring every guest stays healthy when flying.
Find Affordable Flights from SFO to Paris with Business Class Experts
San Francisco is a beautiful city, but so is Paris. The flight that connects them is most beautiful when flying Air France in business class. Air France pampers business class passengers on these intercontinental flights.
After the expedited check-in and security, SFO provides lounge access with business class tickets. Enjoy a preflight meal and beverage before boarding the first-class cabin. The elegance really shows with lie-flat beds, high-quality meals, and a dedicated SkyTeam.
Don't wait to start planning the round-trip experience of a lifetime and partner with Business Class Experts to find the best deals on Air France flights from SFO to Paris. You'll save enough money to enjoy the City of Light's excellent museums, restaurants, and entertainment.