Business class flights to Madrid
| | | | |
| --- | --- | --- | --- |
| JFK New York | | Madrid | $2,495 |
| SFO San Francisco | | Madrid | $2,945 |
| LAX Los Angeles | | Madrid | $2,835 |
| ORD Chicago | | Madrid | $2,535 |
First class flights to Madrid
| | | | |
| --- | --- | --- | --- |
| JFK New York | | Madrid | $4,925 |
| SFO San Francisco | | Madrid | $5,780 |
| LAX Los Angeles | | Madrid | $5,540 |
| ORD Chicago | | Madrid | $5,225 |
DISCLAIMER: Arriving in Madrid isn't a problem at all if you are traveling long distance from the United States as the city is well-connected from most cities. To avoid the wear and tear of a long haul trek, booking business class flights is the best option. If you are a frequent flyer and traveling business class more often, then you already know the various benefits it offers. However, if you are flying for the first time, you just need to experience the joys and comfort that business class cabins offer. Most of the airlines will offer you fully reclined lie-flat seats, equipped with power points for your laptops and touchscreen monitors for your personal in-flight entertainment.
Business Class Flights to Madrid
30-70% off International Business Class & First Class Airfare
We all know flying First class is the most luxurious and comfortable way to travel, but did you know that flying business class has a lot of the same perks?
Here at Business Class Experts, we help you find fly first class or business class tickets to Madrid that fit your budget. From our 30 years of experience, we help our customers save 70% or more on last minute business class fare. We focus on comfort and convenience so you can fly stress free.
Book with us and save up to 70% off the regular booking websites. We love helping our customers and hope you use Business Class Experts for your next trip.
Airports in Spain
Flying into a different Madrid Airport can mean big discounts on flight tickets.
Madrid-Barajas Adolfo Suárez Airport (MAD) – Madrid's main airport and the second largest airport in Europe after Paris.
Cuatro Vientos Airport (LECU) – Located southwest of the city and is actually the oldest airport in Spain.
Airlines Flying to Madrid Spain
These are the airlines who fly business and first class to Madrid
American Airlines
Iberia
Air Europe
Delta
United
Norwegian
Average Flight Times To Madrid
Here are the average flight times from major USA cities
| | | | |
| --- | --- | --- | --- |
| Airport | | Destination | Avg. Flight Time |
| JFK – New York | | Madrid | 7 hours and 20 minutes |
| SFO – San Francisco | | Madrid | 11 hours 5 minutes |
| LAX – Los Angeles | | Madrid | 10 hours 55 minutes |
| ORD – Chicago | | Madrid | 8 hours 10 minutes |
| IAD – Washington DC | | Madrid | 8 hours 0 minutes |
| ATL – Atlanta | | Madrid | 8 hours 40 minutes |
| IAH – Houston | | Madrid | 11 hours 36 minutes |
| BOS – Boston | | Madrid | 6 hours 50 minutes |
Tips To Find Cheap Flights To Madrid
Follow these tips to book business and first class seats to Madrid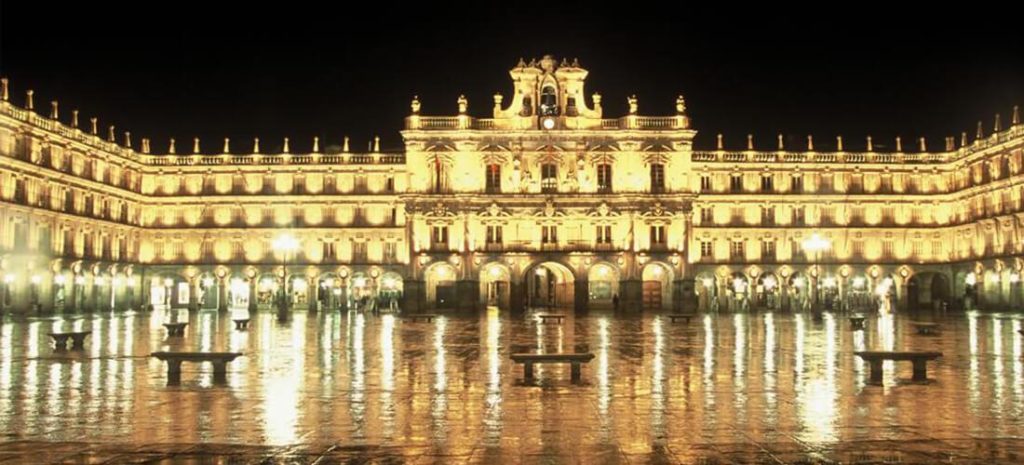 #1 Tip: If you can be flexible with when you fly, early morning or red-eye flight will save you some cash. Even better if you can sleep on the plane and try to align with your new sleep schedule.
#2 Tip: Check flights on multiple search engines and remember to search incognito mode. Some websites will cache your "Cookie" and remember your search so the next time you look it up to check the price, it will have jumped, making you more anxious to get the ticket. Searching incognito mode will help that.
#3 Tip: Flying from major airport hubs in the USA can save you big time when traveling to Spain. If you can get a cheap ticket to JFK airport in New York, the prices will be lower.
#4 Tip: Booking early and avoiding the busy summer season will also be easier on your wallet. See if you can make it a spring vacation or early fall before the weather starts to get cold.
Best Time To Visit Madrid
The busiest seasons are July and August for Madrid, so try to get there during the spring or fall while the weather is still good, and the beaches are still warm. The cheapest tickets will be found in January or February but you will have to bring some layers to stay warm.
Best Things To Do When Visiting Madrid
Here are some of the top activities to do when visiting Madrid.
#1 Idea: The architecture in Madrid will leave you breathless. Everywhere you go there will be stunning sights to take photographs. A few places that are a must see are the Buen Retiro Park, Royal Palace of Madrid, and Plaza de Cibeles.
#2 Idea: El Rastro Market is the biggest flea market in Spain and has been since the 15th century. The atmosphere with vendors, live music, and food will be a memory you won't forget.
#3 Idea: Need a break for the city? Head to Retrio park where beautiful gardens and walkways which use to be in the royal family. If you are visiting with little ones, paddling on the pond is a great way to spend an afternoon.
#4 Idea: Madrid is known for its timeless museums. Head to the Thyssen-Bornemisza Museum of Art museum, or the Reina Sofia Museum