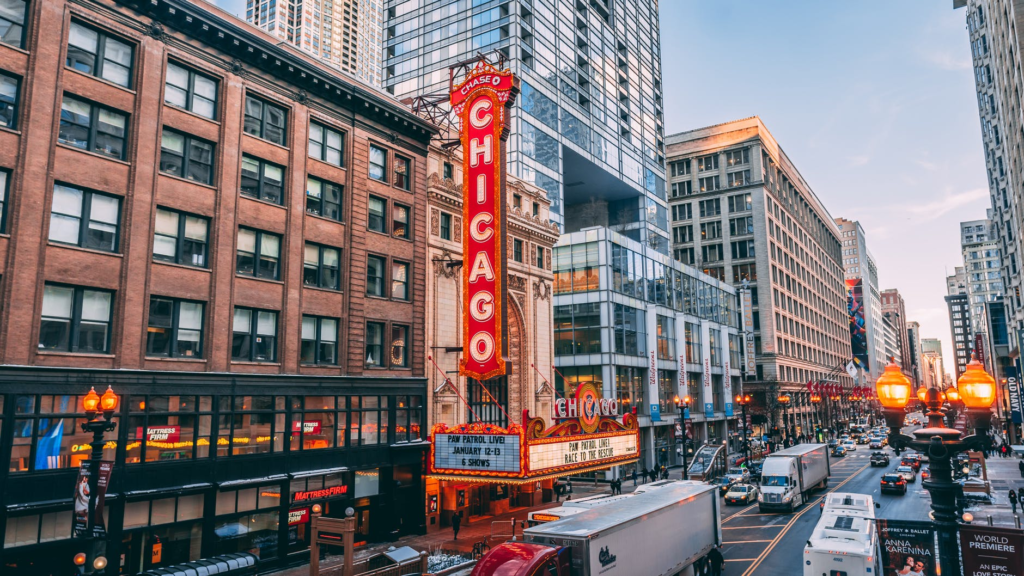 Air travel has made the entire world more accessible. Whether it's Europe, Asia or Africa, no matter where you're going you can get there from Chicago. At Business Class Experts we connect directly with all the airports and airlines servicing Chicago. This gives us a huge advantage when selecting the best deals for our customers. With a little insider help, maybe you could even find yourself bumped up to business class or first class for some or all of your trip.
What's The Best Airport For International Deals From Chicago?
The main airports serving Chicago are:
O'Hare is one of the busiest airports in the United States, serving more than 83 million passengers every year. It is frequently used as a hub for international flights, with passengers coming in from Los Angeles, San Francisco, Alaska, or other US cities before departing for international destinations. United Airlines is the main airline here, although there are a lot of flights run by Delta and American Airlines. In addition to these "big 3" there are 40 more airlines serving O'Hare Intl. The competition for your business is healthy and there are great cheap flight deals to be had.
With only one terminal, Midway is much easier to maneuver. Fewer passengers means faster security checks. Most flights from Midway are domestic, but there is enough international traffic to ensure flight prices stay competitive. Finding a great flight deal out of Midway is a simple search engine task, but looking for deals when flight prices are constantly changing can be confusing.
Gary/Chicago is a full service airport and is located outside of the Chicago O'Hare Intl and Midway airspace. This means less congestion and therefore fewer delays. It's only 25 miles from downtown Chicago and offers many trip flight deals not found elsewhere for your international getaway.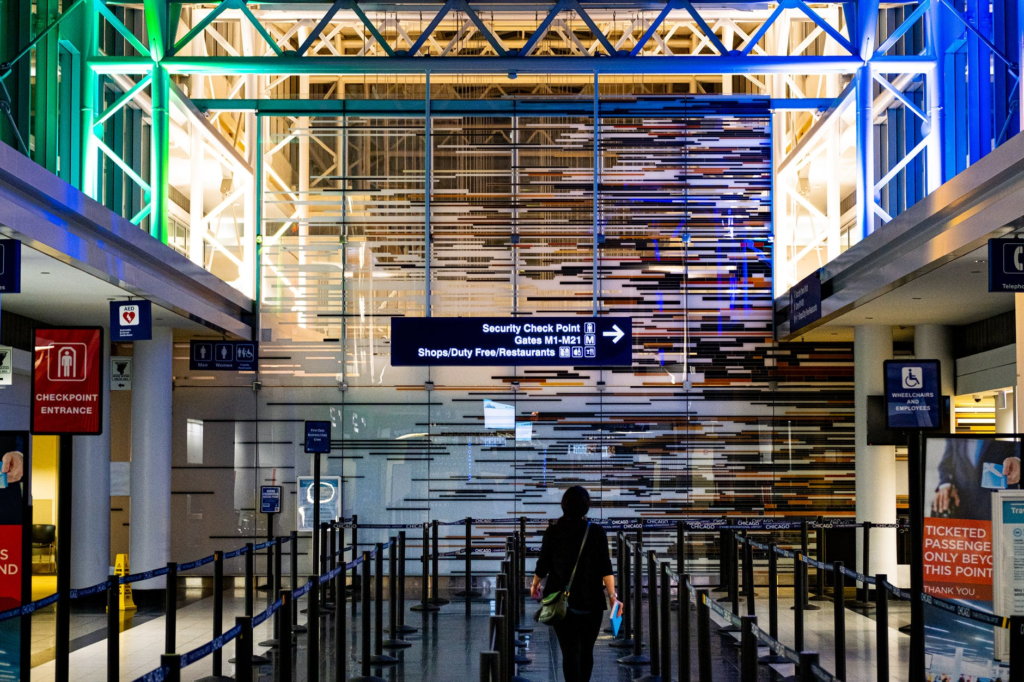 What Are Some Alternate Airports For International Deals From Chicago?
Other nearby airports might offer you a better flight deal on a roundtrip flight, especially if you can find a last minute airfare to suit your needs. It's worth checking your options before you commit to a particular airport or airline. Take a look at these airports to see what they have to offer:
Cleveland Hopkins International Airport (CLE)
Minneapolis-St. Paul International Airport (MSP)
General Mitchell International Airport (MKE)
Detroit Metropolitan Wayne County Airport (DTW).
How Do I Find Cheap Business Class Flights From Chicago?
1. Be Ready
Direct flights to most major cities in Europe are popular. Non-stop flight prices fluctuate frequently. A great deal could pass you by if you're not ready and willing to jump when you see a bargain.
2. Avoid Busy Seasons
Peak holiday seasons, aka summer holidays, Christmas etc. should be avoided if possible. Prices rise naturally in response to demand at these times and while there are still some good flight deals available, the very cheapest prices are found during the off-peak seasons.
3. Search for Promotions
Airlines regularly run off-peak sales and offer promotions and special deals.
4. Be Flexible
Cheaper flights are found if you're willing to make stopovers. If your travel dates aren't set in stone you might find a better flight deal available the day before or after. Midweek prices from Tue – Thu are usually lower than weekend pricing.
5. Let us do it for you!
Business Class Experts connect with the airlines regularly. We keep up to date with the latest unadvertised fare prices and cheapest Chicago flights. We can do the searching for you. We'll even organize your itinerary, leaving you to enjoy your time away without the stress that comes with working out the details in a foreign land.
Most Popular International Destinations From Chicago
| | | |
| --- | --- | --- |
| Chicago Flight Destination | Flight Length | Tourist Spots |
| Amsterdam | 6 – 7.5 hours | The Van Gogh Museum Amsterdam Canal CruiseAnne Frank House |
| Barcelona | 12 hours | La Sagrada Familia Park GüellParc de la Ciutadella |
| Copenhagen | 9 hours | Tivoli Gardens Ny Carlsberg Glyptotek Rosenborg Castle |
| Dublin | 8 hours | Dublin Castle National Leprechaun MuseumSt Stephen's Green |
| Frankfurt | 9 hours | Eschenheimer Turm Kleinmarkthalle Museumsufer |
| Istanbul | 11.5 hours | Topkapı Palace Gülhane Park Fatih Mosque |
| Lisbon | 8.5 hours | Monserrate PalaceVasco da Gama BridgeParque Eduardo VII |
| London | 8.5 hours | St Paul's CathedralLondon EyeTower of London |
| Madrid | 9 hours | Puerta de AlcaláPlaza de CibelesCaixaForum Madrid |
| Munich | 9.5 hours | Glyptotek Englischer Garten Marienplatz |
| Paris | 9 hours | Louvre Eiffel Tower Sainte-Chapelle |
| Reykjavik | 6.5 hours | Grotta Lighthouse – House Nautholsvik Geothermal Beach |
| Rome | 15 hours | Pantheon Colosseum Baths of Caracalla |
| Zürich | 10 hours + | Fraumünster Wasserkirche MFO-Park |
International Flight Classes
Flying internationally tends to mean longer flight lengths. With that in mind, you may be concerned about your comfort while traveling. Airlines differ a little and the specific shuttles determine what you'll actually get. Here are some of the basics you can expect for each flight class:
Coach / Economy
A small personal entertainment screen on the back of the seat in front provides ample entertainment throughout the flight. Seats are around 19 inches wide and come with a very limited amount of legroom. The seats recline somewhat and on long haul flights, you'll be offered a pillow and blanket. Amenity kits including an eye mask and compression socks as well as personal hygiene items like toothbrush, toothpaste are supplied. Overhead lockers for personal items are shared with several other passengers.

There may be a surcharge for anything extra such as drinks, snacks. Some airlines also charge for baggage, with some going as far as taking payment for carry-on luggage too.
Seat selection is rarely included in the cost and choices are between aisle, window or middle seats, all of which have their significant downsides.
Premium Economy
Deeper, wider, more comfortable seats and approximately 6 inches more legroom are valid reasons for choosing Premium Economy. You'll get an even bigger entertainment screen, a better menu and better service with fewer passengers per flight attendant.
Business Class
Some airlines have upgraded their offerings so much that their business class flights compete with other airlines' first class services. Starting at the airport with access to business class lounges and priority boarding, choosing business class sets you apart from the masses.
Flying business class you'll get a gourmet menu served on fine china. Sommelier chosen wines and crystal glassware deepen the sense of luxury. Some airlines now offer private pods with even wider, fully reclining lie-flat beds and luxurious, cosy bedding. Private storage bins for personal items are standard and multiple plug and USB sockets are available to keep devices charged while you fly. The entertainment screens are bigger and you'll have even more entertainment available to you. Most airlines now have aisle access for all business class passengers.
First Class
Each airline has its own interpretation of first class. Most first class tickets will offer a similar experience to business class. You'll see better amenity kits, cocktails made to order, even more, exclusive lounges and a higher ratio of dedicated deck attendants to passengers.
Delta One's private suites are in a league of their own, putting their first class into third place in their flight class offerings.
International Airlines That Fly Out of Chicago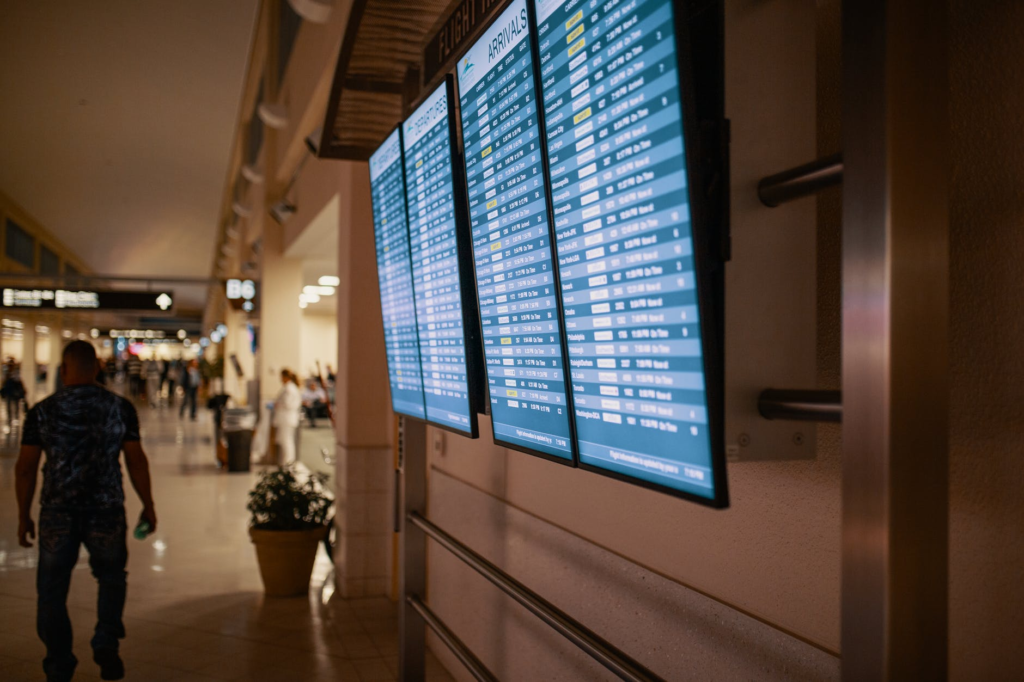 American Airlines
United
Spirit Airlines
Air Canada
Frontier Airlines
Turkish Airlines
Aeromexico
JetBlue Airways
Alaska Airlines
Swiss International Air Lines
Emirates
Interjet
Austrian Airlines
Chicago Airport Facts & Tips
FACTS
The best way to get to O'Hare airport by public transport is to take the CTA's Blue Line.
O'Hare's Terminal 3 has a yoga room and an aeroponic garden. You can find these on the mezzanine level.
Occasionally fire crews train at the airport. They practice on a reusable mock airframe. During these training exercises, large plumes of black smoke are seen. Some people worry that the smoke is caused by a real disaster. There is no cause for alarm if you see the smoke. It is well controlled and is a routine safety measure.
Despite having 4 working terminals, there is no terminal 4. Gregg Cunningham, spokesman for the Chicago Department of Aviation said "Terminal 4 became a temporary location for the international terminal in 1984. When a new international terminal opened in 1993, officials decided to change the number to 5 to avoid any confusion."
If booking your flights is causing you confusion, or if you just need some guidance, Business Class Experts can find the very best deals available and take the stress out of searching through constantly changing flight prices.
More Business Class Flight Resources
Business Class Flight Deals