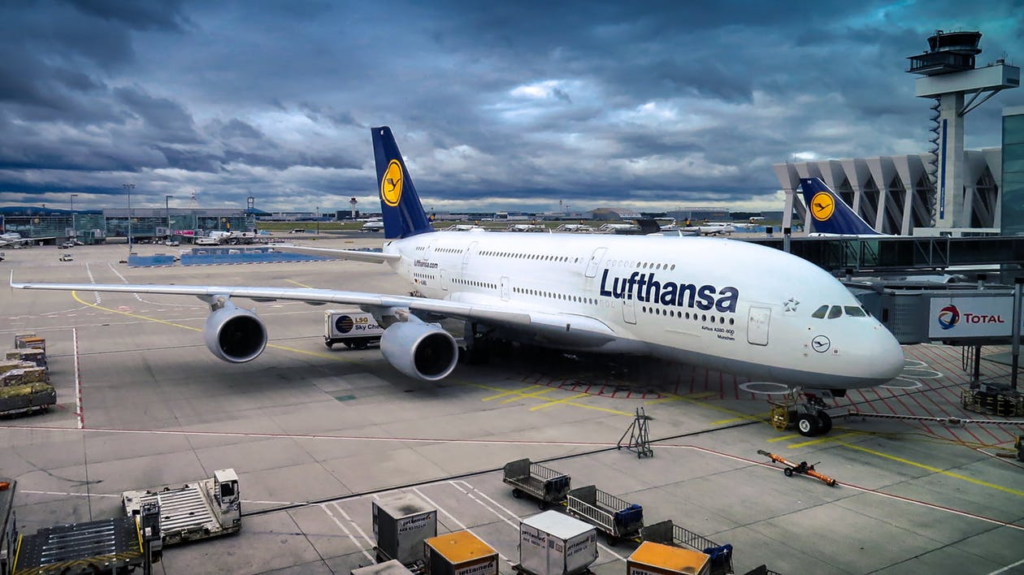 There are many reasons to choose Lufthansa, and their business class experience gives even more. Right from the start, your experience with Lufthansa's business class focuses on relaxation while allowing you the privacy to work while you go if you need to.
Lufthansa Check-in
Check in is easy and hassle-free and can be done from wherever you are. Using Lufthansa.com or the Lufthansa mobile phone app is simple and takes just a few moments. They guide you through the steps and require only your name and booking code or ticket number – or frequent flyer service card number – and your boarding pass is instantly there for you to access or print.
Check in can be done up to 23 hours before your flight. You can also pick your preferred seat from the seating plan at this point.
Lufthansa Business Class Baggage Allowance
Lufthansa business class boasts a large checked baggage allowance of up to 23 kg and 158 cm (h x w x d). You can also take two items of carry-on baggage with you, (a trolley case, a compact, foldable baby buggy or a foldable garment bag) with a max. capacity of 8kg each.
Dimensions for carry-on baggage: max. 55 x 40 x 23 cm
Dimensions for foldable garment bags: max. 57 x 54 x 15 cm
Lufthansa Business Class Lounges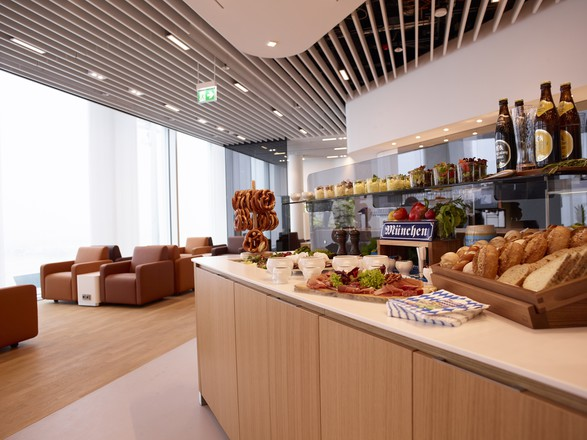 It's all about superior comfort combined with excellent service in the Lufthansa Business Class lounges. With your Business Class ticket, you'll have access to the Lufthansa Welcome Lounge and Lufthansa Business Lounges worldwide.
The Welcome Lounge
The Lufthansa Welcome Lounge in Frankfurt is open daily from 05.00 to 13.00 hours (last admission at 12.30 hours). It is spread over two floors. The upper floor greets you with the aroma of a breakfast buffet. There are comfortable armchairs and a bright bistro area as well as a quiet zone and a smoker's room. If you need to work, there are multiple workstations. There are also washrooms and showers. The lower floor consists of more shower rooms.
Lufthansa Business Class Lounge Amenities
Lufthansa Business Class Lounges are separated into "zones".
The Reception staff is there to help you with any queries or needs. Lufthansa staff are noted around the world for their excellent, above-and-beyond service.
The Working Zone is well equipped to handle all your business needs. There are plug sockets and charging facilities at every workstation.
Fresh towels are waiting in the spacious washrooms and showers. Hairdryers are also available.
Exclusive views of arriving and departing jets in all lounges.
A choice of current magazines and newspapers are available.
Free WiFi
Drinks and Dining in Business Class
The Comfort Zone has different seating areas which cater for quick meals and snacks or a more proper dining affair seated at a table. There is a large and varied buffet available at all times. You can even take your plate into the well-stocked Bar if you prefer.
Lufthansa Lounge Locations
Lufthansa has business class lounges at all major German and international airports.
In Frankfurt there are 14 Lufthansa lounges (not including the exclusive First Class Lufthansa Terminal). The lounges are located throughout all terminal areas.
Munich has 12 Lufthansa lounges, and they supply an online map to help you find them.
Star Alliance
If you are traveling with a member airline, your business class ticket also gains you access to the Star Alliance Gold Logo Departure Lounges. It's just one more option to let you choose luxury and comfort in an exclusive yet welcoming environment.
Lufthansa Business Class Features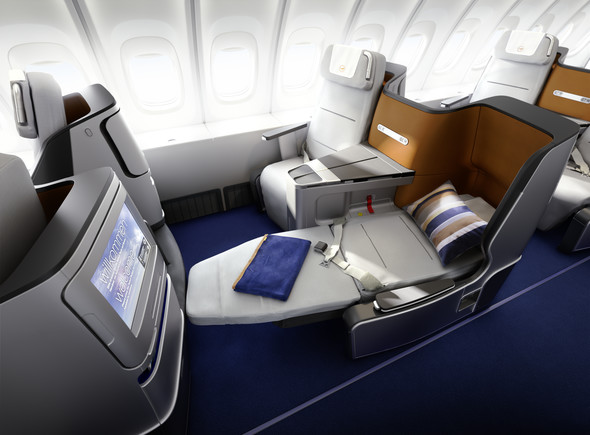 Lufthansa Business Class Seats
The new Lufthansa Business Class seat for long haul flights can be converted into a fully flat bed which is almost 2 meters long. When in seated position, you've got around 64 inches of legroom and 20 inches of seat width. Each seat area has ample personal space and comes with large, fully separate, personal storage compartments. Each seat has a personal reading lamp, which you can adjust according to your needs. The seats themselves come with 3 preset positions – upright, lounge or lie-flat – and each section of the seat can be customized to your positional preference for ultimate comfort.
InFlight Entertainment
The inflight entertainment system has all you could hope for: A state-of-the-art 15 inch personal touch screen (with optional remote control) to view your choice of entertainment, including
The latest blockbusters
Classic films
Documentaries
TV shows and series
Large selection of games
A vast music selection as well as a fully stocked audiobook library are available to help you relax and enjoy your flight. Bose headphones are supplied.
Lufthansa Business Class Amenities
Upon arrival to your seat you'll find a comfortable pillow and blanket set in the blue, yellow and white Lufthansa colour scheme.
Long haul flights come with an amenity kit containing
Socks
Eye mask
Earplugs
Dental hygiene kit
Korres lotion
Korres lip balm
Lufthansa Business Class In-Flight Meals
"Exclusivity born of tradition. Excellence born of passion."
– Motto of the Lufthansa Business Class Restaurant Service
Lufthansa's new restaurant service sees their fresh and varied menu offerings on fine china with silverware on all flights which have a meal service. High quality, fresh, nutritious snacks, sandwiches, and meals are brought to you by an elite team of flight attendants, dedicated to making your journey as relaxing and refreshing as possible. Their award winning wines are served in stylish glassware. Any special dietary needs or desires can be catered for with advance notice. A member of the flight crew is always on hand to top up drinks and take care of any extra requests or queries.
Booking the Cheapest Lufthansa Business Class Tickets
There are plenty of tricks and tips to book the cheapest business class seat, but the real secret to saving money is booking through Business Class Experts! While search engines have access to published airfares, we have special deals and deep discounts not available to the general public. If you want a job done right, get an expert!
Lufthansa Business Class Experience
With the focus so concentrated on comfort, relaxation, and privacy, you can be sure you'll enjoy your Lufthansa Business Class experience. From the moment you check in, flying with Lufthansa will prepare and refresh you, ready for whatever you have to do next.
Business Class on Short and Medium-Haul Routes
Service and quality, comfort and privacy. Everything you want for your business class journey.
From appetizers to the main course, you'll enjoy outstanding cuisine and award winning wines on fine china and with excellent service.
Business Class on Long-Haul Routes
With the new on-board restaurant service, extra personal space and legroom, you can choose to work or recline and relax in comfort and privacy. Business class cabin dedicated flight attendants give personal service throughout the flight.
Short Night Flights
Short intercontinental flights of 6 – 8 hours which depart after 20.00 hours have a shortened night service. Meal service and duty-free selling procedures are optimized to allow for maximum sleeping time on lie-flat seats outfitted with luxury bedding.
Popular Lufthansa Business Class Destinations
Lufthansa offers business class flights to all major German destinations, including Frankfurt Airport and many international airports around the world. Some popular destinations include London, Paris, Singapore, New York, as well as major airports across Europe.
More Business Class Flight Resources
Business Class Flight Deals