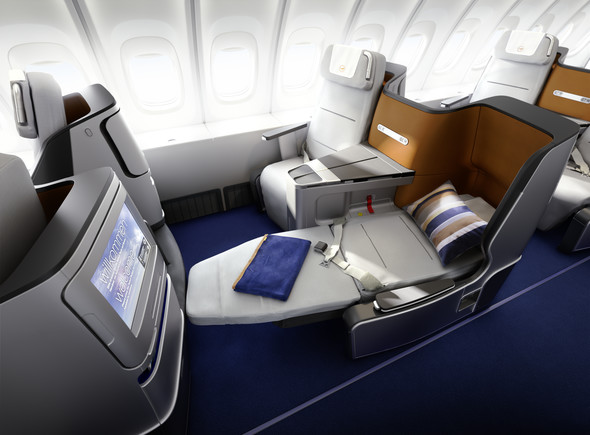 Business Class airlines is a relatively new concept. Over the past few years, airlines realized the enormous value of catering to business fliers and stepped up their game to compete for the frequent flyer business class. To evaluate the new business class airlines, we took a look at:
Lounges
Seats and Personal Space
Food and Beverages
Amenity Kits
United States Airports Served
Each of the airlines we looked at offered priority check-in and priority boarding, dedicated business class cabins, dedicated flight attendants, and extensive in-flight entertainment systems.
You may notice that we left off some highly rated niche airlines, like EVA air, Cathay Pacific, Singapore Airlines, Etihad, and Korean Air. Each of these airlines offer an amazing business class experience, but serve few airports in the U.S. and fly very limited routes.
Here are the airlines we think offer the most routes and are the best in class.
1. Delta Airlines
In recent years, Delta added several upgraded business classes, including its Delta One Suites.
Lounges
The Delta Sky Club lounges are zoned for your comfort. There are designated quiet office areas for if you need to finish off some work (Wi-Fi supplied), with access to plenty of power sockets and USB ports , printers, as well as meeting rooms. If you prefer to relax while waiting for your flight, there is a supply of wholesome, fresh, seasonal produce and a range of premium drinks available complimentary from the BAR, (Top shelf drinks for purchase in select locations. 21+; please drink responsibly.) as well as hot and cold drinks available at the buffet.
Satellite TV, newspapers and current magazines are available for your entertainment,
There are also showers in select locations in case you wish to freshen up before your flight. These come stocked with Malin + Goetz shower products, plush towels and hair dryers.
There's a Delta Ambassador available for any travel inquiries or questions you might have.
Click here for details on how to gain access to the Delta Sky Club lounges.
To see if there is a Delta Sky Club lounge available at your departing airport, check here.
Seats and Personal Space
The extremely plush and comfortable new seats offer complete privacy with closable doors. The 21" wide seat converts to a 78" fully reclined, 180-degree lie-flat bed and the Westin Heavenly In-Flight bedding, oversized duvet and down-alternative pillow is designed to help you stay relaxed and cozy throughout your flight.
Each suite comes with ample space to store your personal belongings, laptop etc, and there are USB charging ports and 110 volt outlets at every seat.
Extra large entertainment screens combined with noise-cancelling headphones make your expansive inflight entertainment choices even more attractive.
Food and Beverages
Chef-curated meals are served on restaurant style tableware along with a wide selection of complimentary beers, wines and spirits. Your dedicated cabin attendant will be available throughout the flight to offer drinks, snacks and meals as appropriate.
Amenity Kits
Delta offers TUMI amenity kits containing all your essential travel needs
Eyeshades
Socks
Dental Hygiene kit
LE LABO lotion
LE LABO lip balm
United States Airports Delta Serves
Delta Air Lines is based in Atlanta, Georgia. Their mainline aircraft fly from the USA to 242 destinations serving 60 countries across all six inhabited continents.
Delta Airlines U.S. Hubs
Atlanta
Cincinnati
Detroit
Minneapolis-St. Paul
Salt Lake City
Boston
Seattle-Tacoma
New York LaGuardia
New York John F. Kennedy
2. Lufthansa
German airline Lufthansa is well-known for its excellent service and luxury perks. Their business class isn't as posh as its first class seats, but you'll get a very cushy ride when you upgrade to business class.
Lounges
Personal service awaits you at Lufthansa lounges and Star Alliance partner lounges. Choose from a selection of fresh foods on the buffet, and enjoy a nosh and a drink at the bar. If you have time to spare and want to freshen up while you wait, you'll find spacious bathrooms with showers and amenities. Relax in the Comfort Zone or maximize your downtime in the fully equipped office area.
Seats and Personal Space
Lie-flat seats are 20" wide and 76" long when extended, and offer plenty of storage space close at hand. Seats are positioned in a 6-across pattern, so you don't get the additional privacy offered by a staggered configuration.
Food and Beverages
The seasonal menu of restaurant quality food changes every two months. Menus are designed around customer suggestions and survey answers, and food is served on fine china and accompanied by a selection of wines.
Amenity Kits
Lufthansa amenity kits feature skin care products from luxury brand Jil Sander Navy. Included in the kit are an eye mask, socks, a toothbrush and toothpaste, lip balm, skin cream, headphone covers, and earplugs.
United States Airports Lufthansa Serves
Atlanta
Austin
Boston
Charlotte
Chicago
Dallas
Denver
Detroit
Houston
Los Angeles
Miami
Newark
Orlando
Philadelphia
San Diego
San Francisco
Seattle
Tampa Tampa
Washington, D.C.
3. British Airways
One of the largest airlines in the world, British Airways was one of the earliest entries into the business class market. Their greatest appeal is the huge variety of routes connecting the UK and the US to Europe and other global destinations.
Lounges
British Airways is a Oneworld alliance partner with 30 personal departure lounges and over 100 partner lounges worldwide. As long as you have a first class or business class flight booked with British Airways, these lounges are at your disposal for your enjoyment before you take off.

If you're flying First or Business Class out of JFK with British Airways you'll be eligible for one of their ELEMIS spa treatments; a 15 minute complimentary facial or massage treatment available in Terminal 7.
Seats and Personal Space
With fully adjustable headrest and lumbar support, the spacious seats extend into fully flat 183cm (6ft) beds. A soft mattress topper, luxury duvet and blanket from The White Company provide comfort and coziness so you can rest and relax throughout the flight.
If you're lucky enough to experience the new Club Suite, you'll have a door for enhanced privacy and lots of extra storage space for your personal belongings, as well as direct aisle access from every seat.
Food and Beverages
BA's restaurant style dining experience includes locally sourced, seasonal produce; thoughtfully prepared by Head Chef, Sinead Ferguson. On some routes you can pre-order your meals between 30 days and 24 hours before your flight, for no extra charge. Here's a sample menu.
Amenity Kits
Club World offers luxury amenity kits from The White Company's Restore and Relax Spa collections. Each item is specially selected for long haul air travel.
4. Qatar Airways QSuites
Qatar won Skytrax Airline of the Year 5 years in a row, World's Best Business Class, and Best Business Class Seat awards in 2019 and is generally considered the world's best airline.
Lounges
When you book a Qatar Airways Qsuite, your experience begins in the airport. Qatar is a OneWorld Alliance partner, and most major airlines will have a luxurious business class lounge where you can relax with a bite to eat and a drink before your flight.
Seats and Personal Space
Qatar's unique feature is seat configuration. Partitions can be lowered between two middle aisle seats and the facing row of seats, making a private room for four, great for a family, group, or for a business meeting.
The seats are fully lie-flat with electronic controls and the White Company bedding is heavenly, but at 21.5" wide and 79" long, the seats are a bit small compared to others. The partition between the two side-by-side seats can be lowered to create a double bed.
QSuites have sliding doors that close for privacy, plenty of storage and a 21.5 inch entertainment screen.
Food and Beverages
Qatar is known for phenomenal service, and the food is freshly prepared and the menu is extensive. You may order on demand. To top off the many courses of your meal, they offer amazing desserts. Beverages, including alcoholic drinks, are unlimited.
Amenity Kits
In keeping with their luxury brand, Qatar's amenity kit bag is designed by Italian luxury travel bag company Bric's, and can be reused as a cross-body bag for women or a shaving kit for men. The amenity kit is loaded with a range of Castello Monte Vibiano Vecchio skincare products including a lip balm, a hydrating facial mist, anti-ageing cream in business and a night recovery cream for premium airfares.
United States Airports Qatar Serves
Houston
Atlanta
Dallas
Washington, DC
Chicago
Philadelphia
Miami
Los Angeles
The biggest drawback to flying Qatar is limited direct flight destinations to and from the US. Nonstop flights are limited to the Middle East, Asia, and Africa. To travel to Europe or other worldwide destinations on Qatar Airways, your best option is to route your trip through their hub at Hamad International Airport in Doha, Qatar.
5. Emirates
For chic style and extra privacy without a fully enclosed space, Emirates really delivers. Onboard the A380, the business class cabin is on the upper deck, which also offers its own bar/lounge area where passengers can socialize on long-haul flights when they tire of testing the recline and being waited on hand and foot.
Lounges
Emirates Moët and Chandon Champagne lounge in Dubai features ultimate luxury, with a selection of fine champagne, and canapés crafted by Michelin-starred chefs. Emirates is not a member of an alliance, but does partner with a few other middle east airlines to share lounge space.
Seats and Personal Space
Staggered configuration seats ensure extra privacy and maximum area. Seats recline into a fully flat bed with a soft, comfy mattress and a cozy blanket. You have a personal mini bar already stocked with beverages, and plenty of storage space.
Food and Beverages
Emirates is known for its excellent dining options, but the quality differs depending on where you're departing from. Your in-flight meal begins with their signature dish of warm nuts and a good quality wine, followed by an appetizer course, a main course, a lovely dessert, and some fine chocolates. Beverages from gourmet coffee to fine wine are available in your seat or at the bar.
Amenity Kits
The beautifully designed reusable amenity kit is filled with brush, tissues, mirror, a set of lotions and perfume from Bulgari and a dental kit.
United States Airports Emirates Serves
Boston
Dallas
Ft Lauderdale
Houston
Los Angeles
Orlando
San Francisco
Seattle
Washington, DC
6. Air France
As you might expect, everything about Air France is sleek, chic, and stylish. The seats are a bit more generous than most, and the food is nothing short of exquisite.
Lounges
Enjoy French chic in Air France's luxurious lounge in Charles DeGaulle Airport. Get a spa treatment in the Clarins Spa, have a steam, park your kids in the kid's play area and have a drink in a bar designed to feel like you're already in the air using the interplay between light and mirrors. If you don't happen to be flying from Paris, Air France is a partner in SkyTeam alliance, which has lounges in most major airports.
Seats and Personal Space
Air France recently refinished all its business class cabins in its Airbus A330s. The new seats convert into lie-flat beds measuring 78.7 inches in length and 22.4 inches in width. Sliding panels between the seats enhance your privacy. Seats have a whopping 18.5-inch HD touch screen entertainment system, and the cabin offers a self-service bar stocked with drinks and snacks.
Food and Beverages
Air France cuisine is designed by Michelin-starred chefs including Anne-Sophie Pic, Arnaud Lallement, Guy Martin and Andrée Rosier. Aperitifs, appetizers, hot dishes, cheeses, pastries, sorbets and fruits are beautifully plated on fine china for your in-flight dining enjoyment. An assortment of fine wines is at your disposal. Services include complimentary champagne and French candy to start your trip.
Amenity Kits
Air France amenity kits are filled with Clarins beauty products, headphone protectors, earplugs, a dental kit, a pair of flight socks and an eye mask.
United States Airports Air France Serves
Houston
Seattle
Chicago
Dallas
New York
Boston
Detroit
Miami
San Francisco
Philadelphia
Washington DC
7. United Airlines
In the last year, United Airlines has upped it's business cabin game on every level, from luxe lounges to sweet little extras like slippers. Their business class product has greatly improved.
Lounges
Business fliers will find United Polaris lounges at Chicago O'Hare, Houston Intercontinental, Los Angeles, New York/Newark and San Francisco, with several more coming soon. You'll find a relaxing experience with a spa-like shower environment stocked with Sunday Riley skincare products, and a quiet room with a daybed, soft lighting, and white noise to help you find your zen before your trip. In other cities, relax in a Star Alliance partner lounge.
Seats and Personal Space
United Airlines is in the throes of a major overhaul, upgrading all its international business flights to United Polaris® business class service. They provide custom, luxury bedding designed by Saks Fifth Avenue, slippers, and pajamas on request for long-haul passengers.
Food and Beverages
United has partnered with The Trotter Project, a nonprofit organization committed to mentoring and internship programs for youth interested in the culinary arts to design a multi-course inflight dining experience featuring fresh, seasonal ingredients and bold international flavors. With a new menu every month, even frequent fliers will never get bored.
Amenity Kits
United Airlines amenity kits featuring custom products from luxury skincare line Sunday Riley, along with a signature padded eye mask, earplugs, cozy socks, toothbrush, toothpaste, and a tissue pack.
United States Airports X Serves
United is the world's largest airline. It flies to 78 domestic destinations and 108 international destinations in 73 countries. United Airlines U.S. hubs are located in:
Chicago O'Hare
Denver
Guam
Houston George Bush Intercontinental
Los Angeles
Newark Liberty
San Francisco
Washington Dulles
8. American Airlines
American Airlines is on the list due more to accessibility than a reputation for good service. While AA doesn't offer the level of luxury offered by a few other brands, the sheer number of departure airports, popular destinations, and the number of business class flights makes American a viable contender.
Lounges
AA is a Oneworld Alliance partner, so you'll be welcomed in luxurious lounges in most major airports
Seats and Personal Space
American Airlines business class cabin boasts seats configured in a reverse herringbone 1-2-1 seat map, which ensures extra privacy. The lie-flat seats offer a full 82″ in length. The seat itself is a bit narrow at 21″ wide, but has an additional 6.5" width extension for comfortable sleeping. Pillows and comforters are made by sleep technology company Casper.
Note: The American Airlines Business Class seat is the same seat used by Cathay Pacific, Finnair, and Air France, however, not all routes have the same seats. The best seats and configurations on American Airlines are found on these aircraft in their fleet:
Boeing 777-300
Boeing 777-300ER
Boeing 787-9
Boeing 777-200
Food and Beverages
American Airlines menus feature healthy, delicious dishes designed by elite chefs associated with the James Beard Foundation complemented by beers, wines, and spirits.
Amenity Kits
Leather Amenity kits designed by This is Ground are loaded with travel essentials from leading skincare and lifestyle brand Allies of Skin, plus a dental kit, eye mask, socks, earplugs, mouthwash, pen, tissue pack, and mints.
United States Airports American Airlines Serves
American Airlines flies from every major airport in the US to 95 domestic destinations and 95 international destinations in 55 countries.
American Airlines U.S. Hubs:
Charlotte
Chicago–O'Hare
Dallas/Fort Worth
Los Angeles
Miami
New York–JFK
New York–LaGuardia
Philadelphia
Phoenix–Sky Harbor
Washington–National
When you're ready to fly to an awesome international destination in style that often rivals First Class – without the giant price tag – contact our Business Class Experts. We can find you a great deal with prices you can't find online.
More Business Class Flight Resources
Business Class Flight Deals