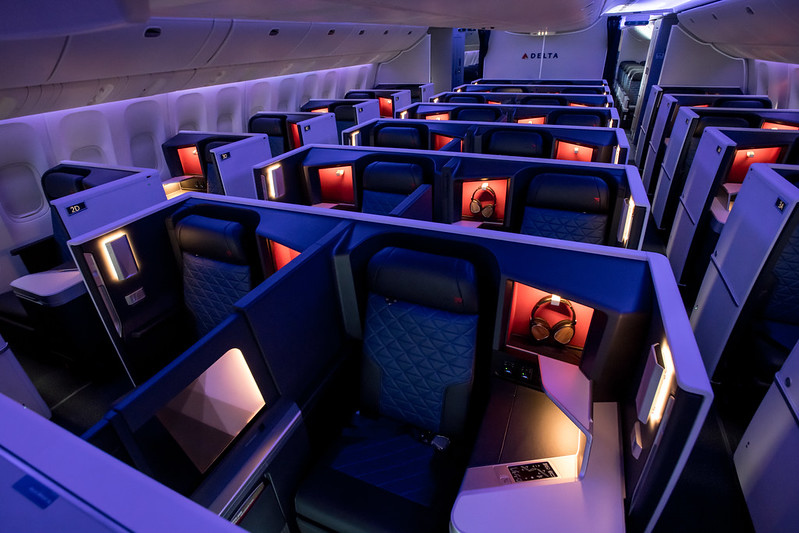 Many airlines offer amazing perks for flying first class. There are a variety of exclusive amenities, but they come with a price. It is debatable whether or not the extra money for first class, when compared to business class, is really worth it.
Long-haul international flights are where you really see outstanding features, and long flights can be unbearable in economy seats. But is it really worth it when there are business class seats available?
The Best Reasons to Fly First Class
First class amenities are not just for while you are on the plane. Flyers who have first class tickets reap the benefits from the second they enter the airport. The wait time in TSA, which can feel like a lifetime to economy passengers, is practically non-existent. After waltzing through security, first class flyers have access to exclusive lounges with awesome luxuries. And once passengers in first class are on the plane, they receive many upgraded features.
Perks and Pampering
There are many perks that come along with the price of first class tickets. Lounges offer wifi, TVs, newspapers, comfortable resting areas, free drinks and food, and other things that economy passengers never get to experience. Some lounges offer over-the-top amenities such as spas, with pre-flight massages and other services for ultimate relaxation before departing for your destination.
Convenience
Check in. First class fliers have the advantage of checking into their flight first, and don't have to wait in a long TSA line before arriving at their gate. It makes the entire travel experience less stressful and much more convenient.
Concierge. Helpful concierge employees are there to assist first class fliers with ticketing, baggage handling, upgrades, personal requests, and arrangements such as helping with hotel bookings or car rentals. They make the entire flying experience feel exclusive and personal.
Priority boarding. First class is the first group to get on the plane. Instead of waiting in a line for your group to be called to the back of the plane, you get the advantage of getting into your seat and comfortable before other passengers get on the plane.
Additional luggage. Economy flyers only get the chance to check one bag for no cost. First class passengers get to check 2-3 bags, so you don't have to worry about picking and choosing what to pack, especially if you are going on a lengthy vacation, or purchase things on your trip you want to bring home with you.
Best-in-Class Experience
Etihad First Class Dessert Source
Etihad
Etihad has amazing first class flight amenities. A personal chauffeur will drive you to the departing airport in luxury. After priority check in, you'll get to take advantage of the elite first class lounge and spa.
Once you're on the plane, you will fly in your own private suite, that includes large leather armchairs for comfortable relaxation, a real bed so you can get some rest while on long or red-eye flights, and a shower so you can freshen up before arriving at your destination. Of course they also offer free drinks, and an extensive a la carte food menu. You get to choose when to dine and a personal in flight chef will freshly prepare your meal.
Emirates
Emirates was awarded TripAdvisor's World's Best First Class 2019 and there are plenty of reasons why. A chauffeur will bring your exclusive experience by picking you up and driving you to the airport. A luxurious first class lounge inside of the airport will put you at ease and entertain you before boarding the plane.
The in-flight first class features closing cabin doors, to give you your own personal space and the feeling of being on a private jet. The comfortable soft leather seats convert into a bed, and the dedicated flight attendants will gladly prepare it with sheets and a pillow. You have the option of ambient lighting so you can peacefully relax.
The cabin also comes fully stocked with skincare and pampering items, endless entertainment on a widescreen TV, headphones, delicious food, personal dining whenever you desire, and free drinks throughout the entire flight. You have a personal shower spa area, to refresh while in the air. There is also an on board lounge, where you can order drinks and canapes.
Cathay Pacific
Cathay Pacific offers many excellent first class amenities. Inside of your own personal cabin you will find a comfortable leather chair that has massage modes you can enjoy. If you wish to sleep, you can request turndown service and the cabin crew will transform your seat into a cozy bed, allowing you to get comfortable rest.
The food menu has an assortment of inspiring dishes, with wellness options and exotic flavours, and you can dine anytime. The award-winning onboard cellar features an intriguing variety of beer, wine and champagne to compliment your meal to perfection. If your intention is to work throughout your travels, your cabin can be used as an office space, with USB ports, power outlets, and wifi.
Reasons Why NOT to Fly First Class
Air France Business Class Source
First class is great, and can make long flights luxurious and enjoyable. However, the price that comes along with all the fabulous amenities is a lot of the time, less than desirable. The truly luxurious first class cabins are available only on limited routes.
Many airlines today offer business class seats with surprisingly comparable perks for a considerably smaller price. Some airlines are even re-configuring their planes without the large, first class cabins since many people do not want to dish out the money for a ticket.
Business class still allows you to enjoy airport lounge access before boarding your flight. You can enjoy a good meal, free drinks, a comfortable place to relax or work, and various forms of entertainment. First class lounges are slightly more exclusive, with larger food and drink selections and personal wait staff, as opposed to a business class lounge, which might feature a buffet instead of a full blown menu. The food is still hot and delicious, regardless.
Business class seats are large, comfortable, and have plenty of legroom. Most convert into lie-flat beds with quality bedding, very similar to the seats in first class.
Meals are served hot and fresh in business class, and you have options to choose from. The food is much higher quality than the food served in economy class. Drinks are free and there are many different kinds to select from. Some airlines offer on board lounge bars, where you can take a seat, have a drink, and socialize with fellow passengers.
Amenity kits are handed out to each business class passenger that include items like sleep masks, skin care products, and an assortment of toiletries. It may not be your own personal shower, but you have the opportunity to pamper yourself a little and refresh before arriving at your destination.
The cabin crew is incredibly attentive to the wants and needs of business class flyers, and the perks are all there. First class may be a step up from it, but the pricing speaks for itself. First class tickets cost thousands more than business class. Thousands you could be spending on your trip.
The Bottom Line: How Much Extra Are You Willing To Pay For First Class?
There is no denying that all of the fancy bells and whistles of first class are out of this world. However, with business class becoming more and more popular, and featuring many amazing amenities that are very similar to first class, is the extra money really worth spending?
If you have a ridiculously long flight to endure, then maybe splurging on a first class ticket would be appropriate. As far as regular to lengthy flights go, business class is just as accommodating, minus a few small details. If you decide to fly first class, contact Business Class Experts. We have access to prices far lower than those advertised on DIY online searches.