One of Europe's westernmost countries has some of the world's most desirable travel destinations. Visitors love the architecture of Barcelona, while others adore the atmosphere of Madrid. The more we talk about it, the harder the travel bug bites.
When you can't take the biting any longer, you can use Google Flights to make planning your next trip to Spain painless. While the Google Flights search engine is an incredible tool all on its own, there are some methods you can use to filter out undesirable flights, leaving only the best.
But you might wonder: what tools and features does Google Flights have that other online travel agencies don't?
The answer is quite a bit. And we'll explore these features and why they are beneficial in discovering cheap flights to Spain. And when you're ready to fly, upgrade to a business class ticket with Business Class Experts. You'll receive a higher-end experience at up to 50% off airline-direct prices!
Find Your Next Flight to Spain with Google Flights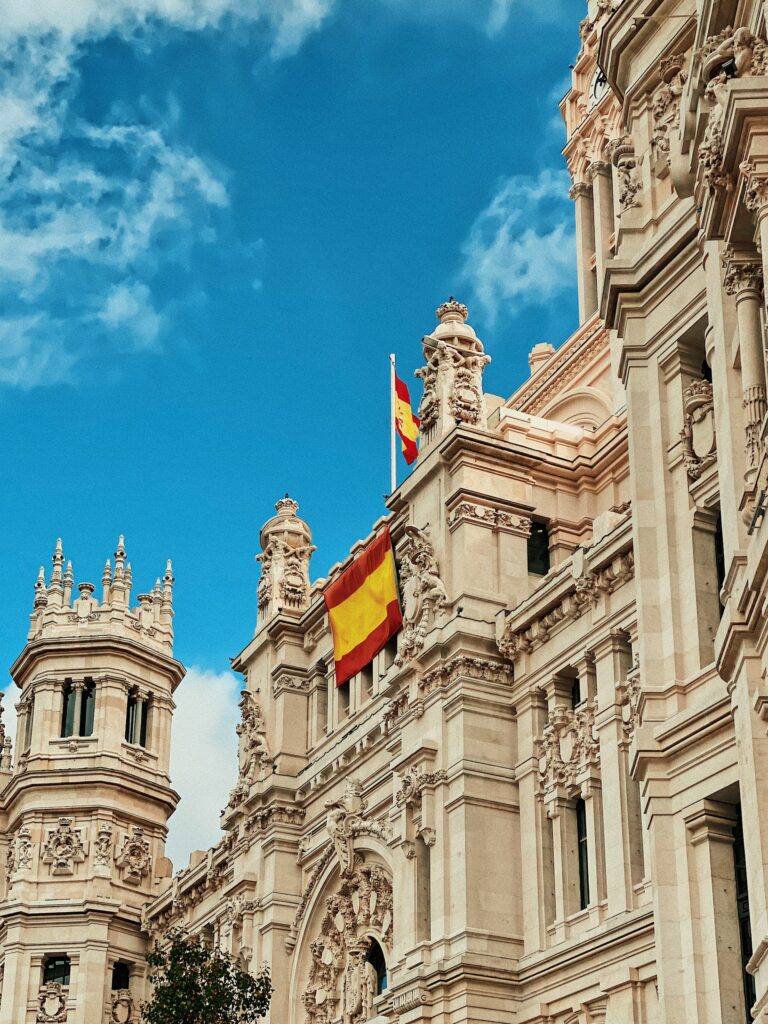 Starting a new flight search just got easier thanks to the robust search engine resources of Google. Google Flights uses an intuitive platform to filter flight options, explore travel dates, and uncover the lowest prices, regardless of where in Spain you end up!
Apply the "Spain" Filter
Head over to Google.com/flights to start your research. On the homepage, you'll see the standard flight search options that include departure city, passenger numbers, round-trip, one-way, multi-city settings, and travel dates. In the "arrival city" field, type "Spain" to see a list of cities, like Barcelona, and from this drop-down, you can select the arrival city.
However, you can simply search with "Spain" in the arrival city field, which produces a map of the country with prices pinpointed over the different cities. The map is a visual way to compare which cities offer the lowest prices for airfare, but you'll need to select a city to refine your search further. Choosing a city will show you some quick info with a few flight options, and you can select "view flights" to view the comprehensive list of available flights.
Pick Your Favorite Airline
Different airlines have different benefits. Many travelers use credit cards that offer bonus miles, but these are specific to an airline or alliance. You can still use Google Flights to find specific airlines by using the "airline" filter at the top. You'll see airline alliances along with all airlines that provide flights to Spain, and here you can select which airline you'd like to fly with. You can pick more than your favorite airline, and other filter options include:
Number of stops – Layovers are an unfortunate reality of air travel, and multi-city layovers can be a real drag. Luckily, with Google Flights, you can select your connecting city. You can even turn a long layover into a quality stopover and enjoy an extra destination along the way!
Duration – Those in a hurry will appreciate the duration filter, which allows users to find the quickest flights to Spain.
Time of day – Want to arrive in Spain in the morning? Google Flights has a time-of-day filter to help you cater to your departure and arrival times to reduce the impact of jet lag.
While there are many filters and many airlines to search from, don't expect to find discount options like Southwest or Frontier. These airlines take ticket prices into their own hands and refuse to turn that data over to Google.
Browse Available Dates
There are no set prices on airfare. Unfortunately, finding the cheapest dates often depends on the day you fly and the day you buy. You can turn the odds in your favor by using Google Flights' date grid. The date grid shows a grid of prices depending on your departure date and return flight, making it an especially helpful tool to prevent overpaying because you flew during a high-traffic day.
Likewise, a historical price graph helps you determine if you're buying tickets when they are cheap flights or an overpriced journey. For example, flights to Spain from New York are more expensive at the beginning of the month, whereas Los Angeles has average price tickets. These graphs and grids are valuable assets in determining which dates are the best to fly!
Set Your Price Range
Everyone wants to book the cheapest flights without sacrificing quality. Setting your budget early in the research process helps you use the price slider to find the best flight. In addition to the price slider, you can also use the price graph to compare how airline ticket prices vary depending on the date of your trip. You can modify the departure and return date using the arrows on the pop-up.
But if you're still looking for the best price, you can set Google Flights to send notifications and track prices. With the tracking functionality, you'll never miss an opportunity to save money. Regardless of the savings you get from a Google Flights search, the best way to enjoy an international flight is in business class. Business class experts can help you find first and business class tickets at prices you'll feel comfortable spending.
Decide on Tickets
You've scoured Google Flights and found the perfect flight. Once you're ready to book your flight to Spain, you'll have several methods to complete your purchase. Google Flights gives you links and booking options that include:
Online travel agencies (OTAs) – Online travel agencies come in the form of fan-favorite apps like Expedia, Kayak, Orbitz, Hopper, or Skyscanner. They show low prices on airfare, which can benefit some travelers. Likewise, these flights often involve separate flights and low-quality seats, making it daunting for long-haul flights.
The Airline's website – Travelers can book flights from Google directly through the airline's website. This feature provides a sense of security, but Google Flights completes the same transactions, including seat selection and rewards miles.
Traditional travel agent – A travel agent aims at providing an entire experience from event planning to flight booking with as little client involvement as possible. While an excellent option, travel agents get expensive quickly and often rely on tourist trap areas to make their job easier.
Business Class Experts – Use your Google Flights research to find the airline and dates you want to fly, then partner with Business Class Experts to find the best first class ticket prices anywhere on the internet.
There's very little Google Flights won't do. And for those features, travelers can use Google's ITA search, which uses the same database, but includes more refined filters, such as aircraft type.
Unlock Affordable Airfare with Business Class Experts
Spain is home to several of Europe's most historical cities. Like Rome, Barcelona and Madrid boast gorgeous cityscapes, amazing food, and a culture unlike the rest of the continent. Landing affordable airfare is no longer the domain of overpaid travel agents and the days-long dedication to checking airline websites. Instead, Google Flights offers a comprehensive method of searching for flights to any city across Spain.
Of course, when you pair the detailed search results with Business Class Experts, what you get is a combination made in airline heaven. You'll find business and first class flight deals at prices reserved for only industry experts. Connect today and see how your dream planning can become reality, and you'll arrive in Spain in style!