Amsterdam is a fantastic city. As the capital of the Netherlands, it's home to more than 16 million people, and many bring unique backgrounds that fuel the art, history, and culture that make the city famous. Aside from those who live there, Amsterdam is also one of the most popular travel destinations in all of Europe.
Yet, many feel that a trip to Amsterdam is simply unaffordable. These travelers haven't heard of Google Flights. Google Flights takes the super-powered search engine and points it toward the airline industry in hopes of narrowing down the best flights.
But how does one use this tool to find the best flights without going crazy? Well, stick around as we explore how to put the power of Google Flights to good use and find you quality flights to Amsterdam.
Why fly economy when you can experience what it's like to fly business class aboard KLM to Amsterdam? It's more affordable than you think with Business Class Experts. Business Class Experts puts insider knowledge to work, finding you first and business class seats up to 50% off!
Peruse Google Flights to Amsterdam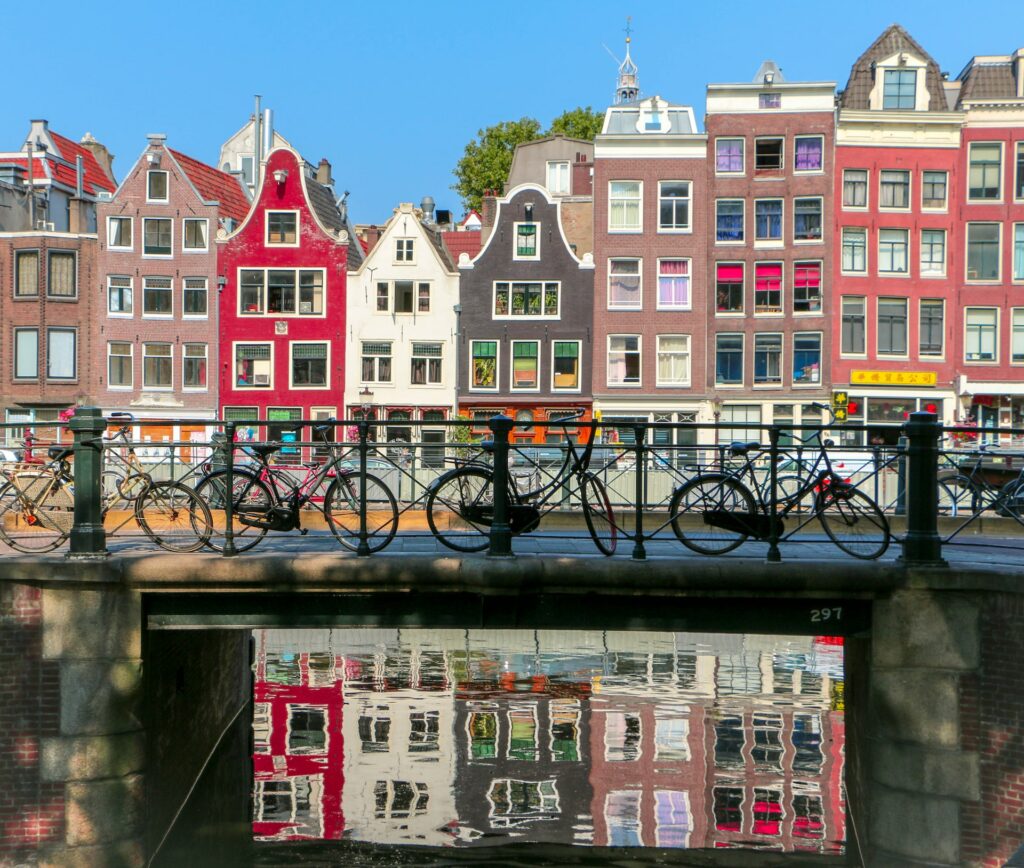 You won't find another city like Amsterdam in all of Europe. Not even the likes of Paris and London can compare with the unique nature of Amsterdam's history, canals, and artwork. However, the typical Kayak search will have you rethinking your getaway altogether! Instead, browse cheap flights with a powerful search engine — Google Flights.
Filter for Amsterdam
Start your flight search from the Google.com/flights website. You'll be able to perform a standard search with details like departure cities, travel dates, number of passengers, and fare type. You can also search with a round-trip, one-way, or multi-city designation. One of the most valuable features is selecting the arrival and departure airport. Just enter a city, and all Google Flights provide an option to choose an airport or search all available airports.
After you hit search, your next page will display the initial results. Google Flights will automatically display what it thinks the ideal flight is. These results display based on a combination of factors like price, flight duration, and time of day. While this might be ideal for some, it might not be for you. That's why you can filter by the number of stops, emissions, and baggage allowance.
Decide on an Airline
Another excellent filter option is to use Google Flights for specific airlines. Delta is a popular carrier from the U.S., but British Airways might offer more reward miles and a better business class experience. These small factors can make or break a flight experience, and Google Flights can help you locate available flights on the airlines you're most loyal to.
While you can use a Google Flights search to find your favorite airlines, there are some things to keep in mind. First, you won't find any discount airlines, like Southwest, which may deter some users. Also, you'll have to watch for a separate ticket warning. These warnings will alert you if your departure flight is with one carrier but the return flight is with another.
Input Your Travel Dates
Do you know your exact travel dates? Enter those dates into your initial search, and you'll see flight prices that match your trip. However, if you have flexible dates, you can really save money with Google Flights' "Date Grid." This helpful pop-up lets you view airfare rates based on various departure and return dates. You can explore even more dates by using the arrows on the top and the right to shift the dates.
The "Date Grid" highlights standard fares in green; these are often the best prices for flights. However, the cheapest ticket prices have a little diamond indicator in addition to the green highlight. Google Flights will also indicate if there are no flights for specific days, and the fares that are the most costly will show up in white.
Choose Your Price Range
For many travelers, the best flights are cheap flights. Google Flights makes it easy to find the best prices through filter options and price tracking tools. It can be a bit much to understand how and when to use each tool, but we make it easy. Here are the tools you'll run across:
Number of stops – The number of stops filter helps you determine if a nonstop flight is practical or if you will need to rely on layovers. If your flight has a layover, you can often select the connecting airport, which can make a huge difference.
Price graph – The price graph tool allows you to explore flight options based on a predetermined trip length. Each bar represents the airfare difference depending on your departure date. For example, say you fly from New York on a Monday. The line on the graph will show what the price would be for an "X" number of days. Next to that bar is what the cost would look like from Tuesday, and so on.
Current price graph – Prices change depending on the day you buy, and with this graph, you can see if you're overpaying for your trip or getting a great deal. When you partner with Business Class Experts, you can rest assured you'll always be getting the best deals on first and business class tickets, even if they're last minute!
Track prices indicator – Let's say you're not finding a flight that matches your budget. You don't have to check daily to see if a better deal is waiting. Instead, use the track prices indicator, which allows you to receive notification emails.
Of course, there's much more to Google Flights than meets the eye. Even when selecting flights, you'll see options to upgrade from premium economy to business or first class. You can even compare legroom, amenities, and baggage allowance before booking!
Prepare for Take-Off!
Many online agencies like Easyjet, Kayak, or Orbitz are eager to book your flight through their travel agencies. While that's still an option with Google Flights, the search engine allows several booking methods, including directly on the airline's website. Despite the flexibility, you're likely to see extra fees add up, forcing your credit card to take a hit.
Instead, book your flight to Amsterdam with Business Class Experts. Only with insider knowledge can you find flights in premium cabins at a fraction of the cost other agencies charge.
Book Your Next Flight to Amsterdam with Business Class Experts
Don't get suckered into paying a travel agent hundreds of extra dollars to find you a flight to Amsterdam. Instead, use Google Flights, Google's answer to the challenges of finding ideal flights. With the numerous filters and tools, you can pilot your way to flights with the amenities you care about most.
International flights can be a real pain in the neck, lower back, hips, knees, and even nerves. Upgrade your experience by booking your perfect flight with Business Class Experts. Find flights in premium cabins at prices you won't believe, including aboard some of the largest airlines in the world. There's nothing quite like flying to Europe with extra legroom, better meals, and complimentary amenities.