How often have you heard, "I spent all weekend trying to find an affordable flight for my vacation," or "I'd love to go to Rome, but it's just too expensive!"
Perhaps you've said these very phrases yourself and are wondering if there's a better way to book your next trip.
Good news! There is. And it comes courtesy of the largest search engine, Google. You can use Google Flights to find any number of affordable international flights, especially to Italy's gem, Rome.
You can use the powerful search tool to filter options that are most important to you, like layovers, airlines, and flight time. If price is king, you can really narrow down the cheapest dates with tools like the "Price Graph" and the "Date Grid." Or, you can track prices, so you can take advantage when a better deal hops along.
Learn how to use Google Flights and the features that make it perfect for finding the best flights. Once you've solidified your itinerary, reach out to Business Class Experts to find business class or first class tickets and huge discounts!
Discover Your Next European Adventure
One of Europe's most premium destinations is Italy's capital, Rome. The beautiful and historic city ranks next to Paris, and for many, the idea of finding a cheap flight to Rome is a fantasy. However, when you use Google Flights, you'll discover that there's a whole world to explore without breaking the bank.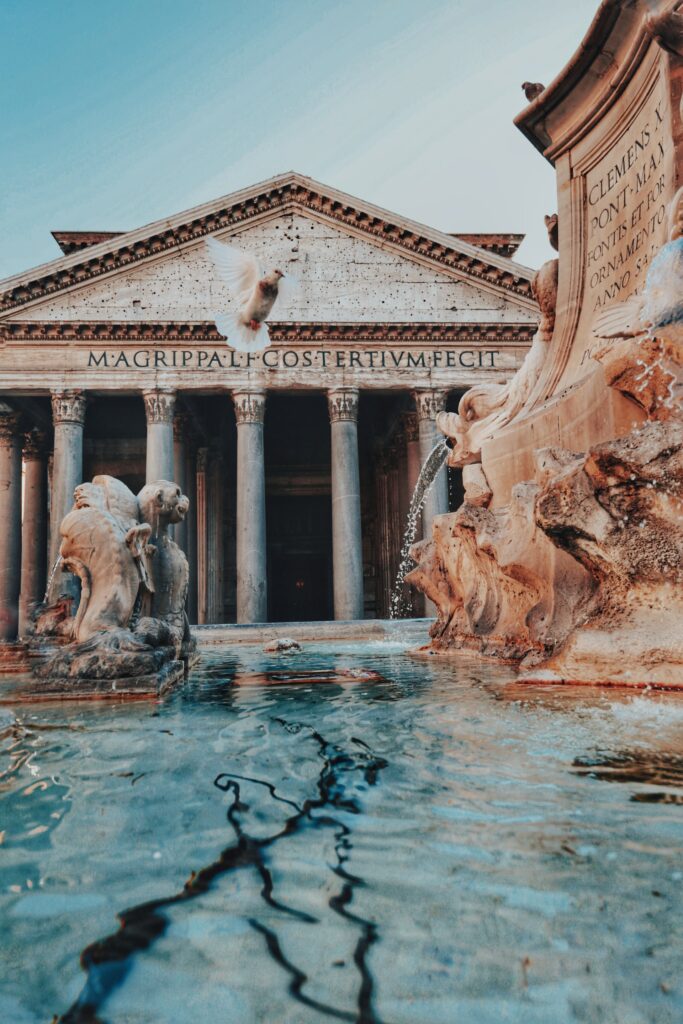 Filter for Flights to Rome
Head on over to Google.com/flights to start your search for flights to Rome. You'll notice a search bar on this first landing page, followed by a list of cities and a map. If you click on the map, you'll see flights to cities worldwide, including Rome. You can select the destination from either this map or back at the previous flight search page.
On the flight search page, you'll enter some standard information and Google's algorithm to search for the best flights. You can enter the following:
Arrival and departure airport
Travel dates
Number of passengers
Trip type – a one-way, round-trip, or multi-city
Fare type
The cheapest flights will depart from larger airports, but Google Flights also does an excellent job of showing you results from nearby airports. You can also filter which airport, but most flights from the U.S arrive at Leonardo da Vinci International Airport, so make sure you have the correct airport selected if no flights are showing up!
Select Your Airline
Everyone has their preferred airline. Delta has its fans, while others would rather fly with ITA to Rome. Regardless of preferred airlines, Google Flights allows you to search for and book flights with your preferred carrier. On the search results page, select the airline filter drop-down menu and choose the airline you'd like to fly with. Plus, you can search by alliance membership like Star Alliance and SkyTeam.
Google flights will alert you if a flight you're thinking about comes from multiple airlines. While these types of flights might save you money, receiving rewards miles can be more critical. Booking a flight on Google Flights allows you to book as if you were on the airline's website. You can select seats, utilize rewards, and select other flight options. Be aware Southwest and other low-cost carriers don't list flights on Google, so you won't find those flights!
Determine Your Flight Days
You might have travel days in mind, but if you're a bit more flexible, you can search by the cheapest days using the price graph. Your initial search results will show you the prices for the date you selected, but in the upper right-hand corner, you'll notice "Date Grid" and "Price Graph." Selecting "Date Grid" pulls up a grid of arrival and departure dates. The cheapest date will be green and have stars.
The second option is the "Price Graph." The price graph breaks down prices based on the number of days you searched. Each block of days has a price, and you can visually see the change over time. You can even search for days six months in advance to get a good idea of when you can fly at the best price.
Review Prices
Flexible travel dates aren't the only way to save money. In fact, many of Google Flight's filter options help you save money and help you compare flights. Review prices by using these filters:
Number of stops – a layover isn't always ideal, but it can shave hundreds of dollars off flights to Rome. You can even select which airports to connect through so you can control that portion of the flight and maybe hit the first-class lounge while you wait!
Carry-on bags – Discount airlines booked through online travel agencies can find the lowest price, but at the cost of carry-on and checked bags. While baggage can add cost to your airfare, you can search by baggage options on Google Flights.
Emissions – Few search tools allow you to search flights with low emissions. Flights with low emissions tend to cost a bit more, but saving the planet weighs better on the heart.
Time of day – Who actually likes flying in the middle of the night? Not us, and using Google's flight search engine, you can find flights that depart and arrive at times that work best for your schedule.
Class cabin – Booking a basic economy ticket has significant drawbacks, and Google Flights will show you options for premium economy, business class, and first class when available. You'll also be able to compare legroom, seat amenities, and travel time.
It's essential to keep in mind that prices change. And if a deal doesn't match your budget, you can track prices, so when the best deal comes along, you can snag it!
Book Your Airfare
Let's say you're flying to Rome from New York. You've found the perfect business class seat with in-flight wifi and decided on the cheapest dates. Now you have a credit card in hand and are ready to book your flight. But wait! There are so many booking options, how do you know you're choosing the best one?
Well, booking directly through the airline's website has its advantages, as does booking with OTAs like Expedia or Orbitz. But hands-down, the best way to book affordable first and business class tickets is to partner with Business Class Experts. Business Class Experts has the industry know-how to book premium cabins at a fraction of airline-direct prices. Find out how cheap your next trip to Rome can be by reaching out today!
Find Affordable Flights to Rome with Business Class Experts
International flights are far from cheap. Flight prices continue to rise as more people travel again, and fuel prices continue to increase. Yet, one of the best ways to find affordable flights is to use the most powerful search engine — Google Flights. When you use Google Flights, you search multiple airlines at once and have filtering tools to help you refine your search to land the perfect flight.
Don't be tempted to find affordable flights with the help of an online travel agent. Instead, use your search results and connect with Business Class Experts to land business and first-class flights at heavy discounts. Experience up to 50% off flights to Rome and save that money towards the experience of history, culture, and fantastic food!