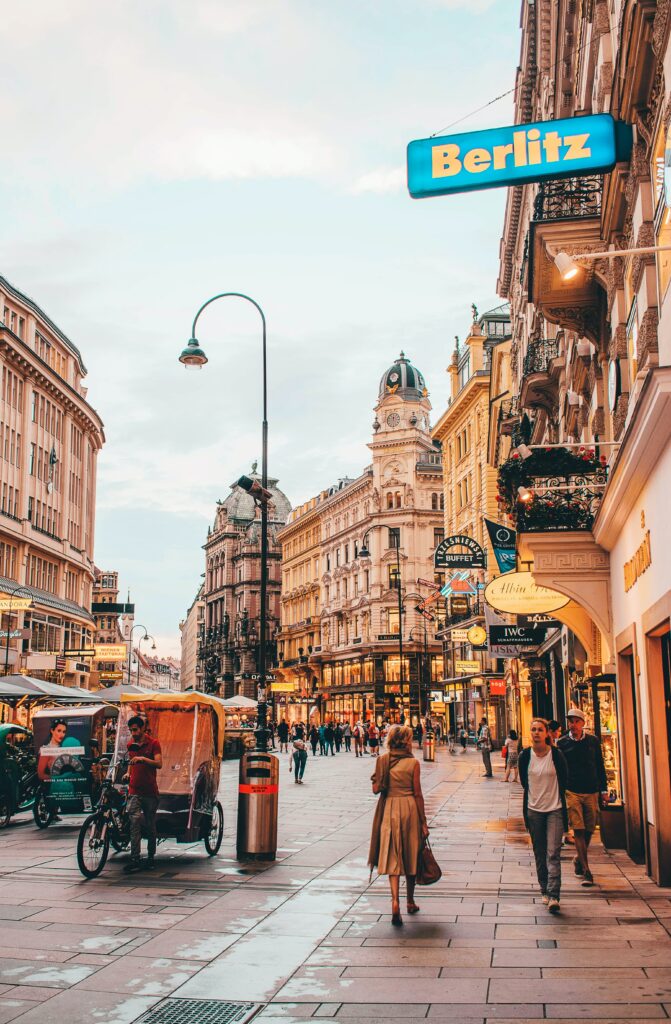 First Class Flights to Vienna
Like many other popular destinations across Europe, Vienna, Austria, has a rich history, beautiful architecture, and delicious cafes. Why should the journey to such a place be fraught with uncomfortable seats and soggy food?
It doesn't. Flying first class to Vienna aboard airlines like Lufthansa or United Airlines will have you arriving at VIE in style, completely refreshed, and ready to hit the historical city! Affording such a trip starts with planning your trip with Business Class Experts, the only way to get the best prices on the airlines you love.
Planning Your First Class Flight to Vienna
Planning a first-class flight to Vienna isn't as easy as booking economy class. There is plenty more to consider to make the most of your flight, and, even more importantly, several factors can make or break your vacation. Crucial factors include:
Airport Location – Millions of Americans live within driving distance of more than one airport. International travel is always cheaper from big airports, but they can get congested. On the other hand, flying from a regional airport can be more comfortable. Yet, many lack the facilities of an international airport. Regardless of type, airport location should be something you consider when planning your first-class flight.
Layovers – Quick pitstops from small airports to larger ones are reasonable. Layovers can also provide an excuse to see a bit of another city, should time permit a couple of hours detour. Still, travelers prize non-stop flights for avoiding the stress of transferring planes and worrying about luggage.
Round-trip Availability – Few things are worse than paying good money for a first-class flight, only to end up in premium economy for the return trip. More importantly, round-trip could mean a multi-city layover itinerary that puts you on several city-hopper aircraft that lack the comfort of long-haul planes.
Amenities – First-class amenities are a point of competition among top airlines. Emirates constantly attempts to outdo everyone, while several travelers complain about Air Canada's lack of quality extras. Ensure the airline you're flying with offers everything you need for the almost 11-hour average flight to Vienna from the USA.
Flight Deals and Discounts – Large airlines band together into groups like SkyTeam Alliance and the Star Alliance. These groups provide frequent flyer miles and points to upgrade or discount first and business-class flights. They also like to push credit cards with high interest and unfavorable terms. Instead, Business Class Experts seeks to be your alternative to booking direct, offering the best flights at the best prices!
Vienna is a beautiful Austrian city, and the best way to experience it starts with a first-class flight. Start planning today with the help of Business Class Experts, where the best discounts, first-class flight deals, and last-minute business class flights are just a click away.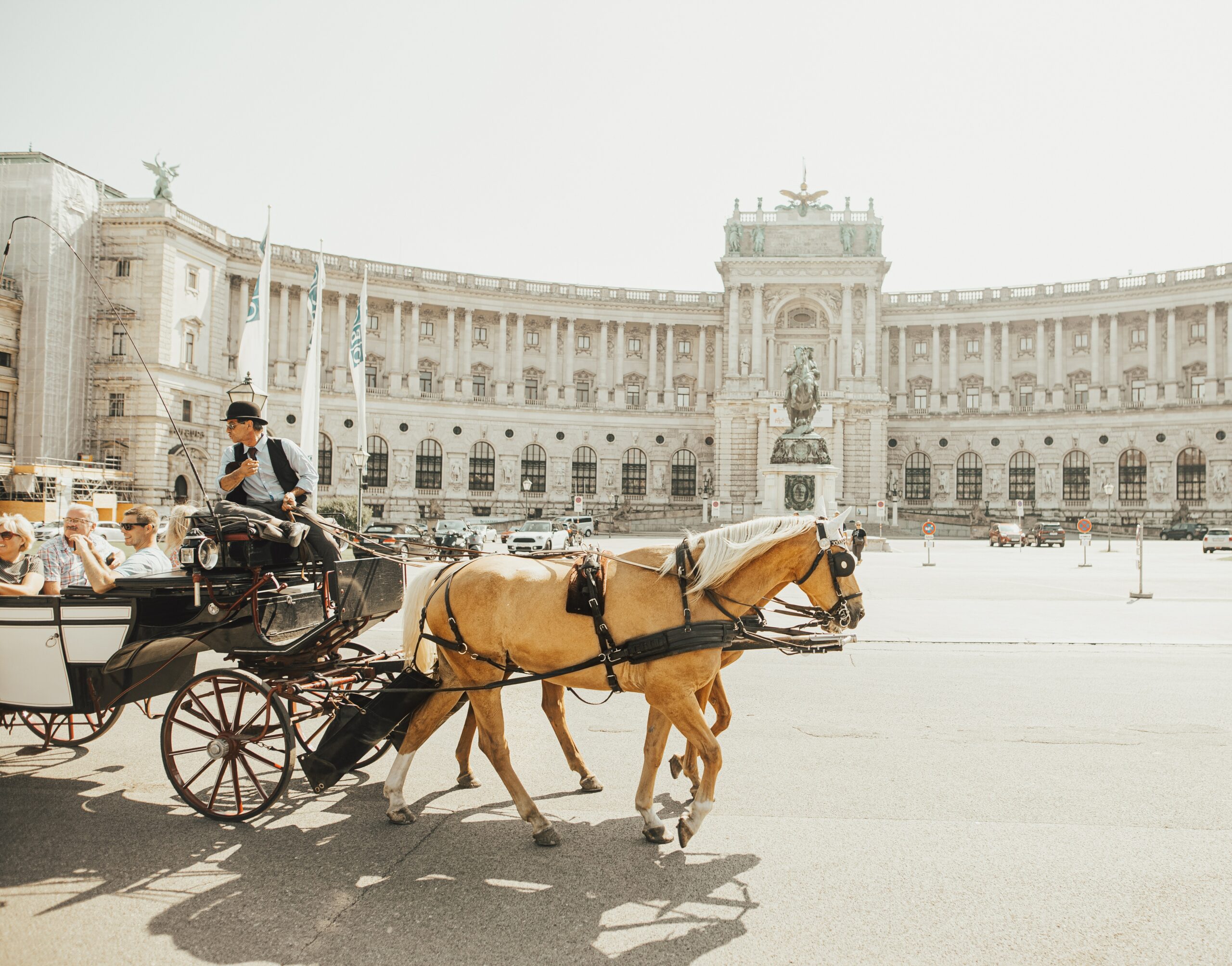 Airlines with Affordable First Class Flights
When choosing your first-class flight from the USA, you have several airlines offering service to Vienna. Austrian Airlines and British Airways grace runways in Vienna but don't offer regular service from the USA. Fear not, as other airlines provide exclusive first-class cabins with the best amenities!
United Airlines
United has hubs across the USA, from Los Angeles' LAX to Newark's EWR, but it calls Chicago's ORD home. First-class luxury starts at check-in with Premier Access allowing first-class passengers expedited security and lounge access. Plus, you're allowed two checked bags, allowing more room for souvenirs.
It'll be a tough decision between working and relaxing once you get to your leather upholstered lie-flat seat. Passengers enjoy chef-crafted, multi-course fine dining and complimentary beverage service, including cocktails. Large tray tables, dedicated power outlets, and premium entertainment make your first-class seat feel like a hotel.
Vienna flights with United are far from the most expensive at around $6,000 during peak season. That rate is also far from the best price. You can find that by booking with Business Class Experts. Business Class Experts can help you find United Airlines flights from the USA to Vienna at a fraction of the direct flight rates airlines charge.
American Airlines
American Airlines services more places like Tel Aviv, Milan, and Barcelona than the competition, yet it does so in style. Passengers enjoy little stress when the departure date arrives with priority check-in and access to the Flagship lounges or Admirals Club. These lounges are in airports like New York's JFK and Washington, D.C.'s IAD.
Flagship first-class seats on American Airlines always provide direct aisle access with unlimited complimentary entertainment, wi-fi access, and power outlets for any device. Vienna flights include meals with locally inspired Austrian food that pair with upscale wines or spirits. Passengers looking to arrive refreshed can take advantage of the Casper sleep set and the lie-flat beds.

Don't let the $8,000 average price through American Airlines scare you. And don't be tempted by the large mileage bonuses American offers through one of the AAdvantage credit cards. Instead, use the airline masters at Business Class Experts to help you find the best first and business-class flights to Vienna on American Airlines.
KLM Royal Dutch Airlines
KLM Royal Dutch Airlines offers a business class like few others in the industry. Amsterdam is KLM's primary hub, but the carrier services 140 destinations, including Vienna. SkyPriority access means sailing right to the lounge with virtually no wait at security or check-in.
Fully lie-flat seats and generous 16 or 18-inch entertainment displays are unheard of in business class, yet they're standard on KLM flights. First-class travelers enjoy top Dutch-crafted meals using local ingredients and served with wine. Collectible houses, called Delft Blue Houses, are a parting gift from the crew for every business-class passenger.
Depending on your departure date, flights to Vienna from the USA could cost up to $9,500. Flying to Vienna for half that would be impossible on KLM flights without some help. That help comes from Business Class Experts with insider access to the best business class deals anywhere!
Air France
Air France is KLM's big partner from France, and it understandably calls Paris home. The lounges are incredibly decadent if you find yourself with a layover in Paris. They offer divine sit-down cuisine, spacious work areas, and even spa-level treatment.
First-class, also known as La Premiére, offers passengers stunning seats upholstered in leather. Travelers also have access to extra storage, an oversized tray table for work, and even a bedside lamp.
As part of the Air France-KLM partnership, frequent fliers with either airline can sign up for the credit card with introductory bonus miles. Those small benefits won't reduce the almost $10,000 average ticket fare, but your secret weapon, Business Class Experts, can.
Lufthansa
Lufthansa is the premier airline in Europe, with its central hub in Frankfurt, Germany. Lufthansa has a reputation for class and elegance unmatched on the world stage. Every aspect of flying first class with Lufthansa runs on precision, including the select personal assistants and limo service.
First-class travelers on Lufthansa flights to Vienna enjoy Michelin-star crafted menus that pair with high-quality wines from all over the world. The seats are ergonomic and convert into full-size beds. Plus, luxurious amenities kits and large washrooms have passengers arriving in Vienna feeling refreshed.
Lufthansa's first-class cabins don't command the exorbitant fees some other European carriers charge. However, you still won't find a better discount than you will with Business Class Experts. At more than $5,000 through the airline, you'll spend more time saving up instead of taking advantage of some last-minute deals.
Find the Best Flight Discounts with Business Class Experts
Vienna International Airport sits just south of the Danube River, east of the city center, and is the gateway to one of Europe's most popular destinations. Finding first-class flights are easy with so many airlines to choose from, but booking directly through the airline is like asking to get robbed.
Save yourself time and money by partnering with Business Class Experts, your inside ticket to the best prices on first-class flights to Vienna. Your Austrian adventure awaits and is just a click away!