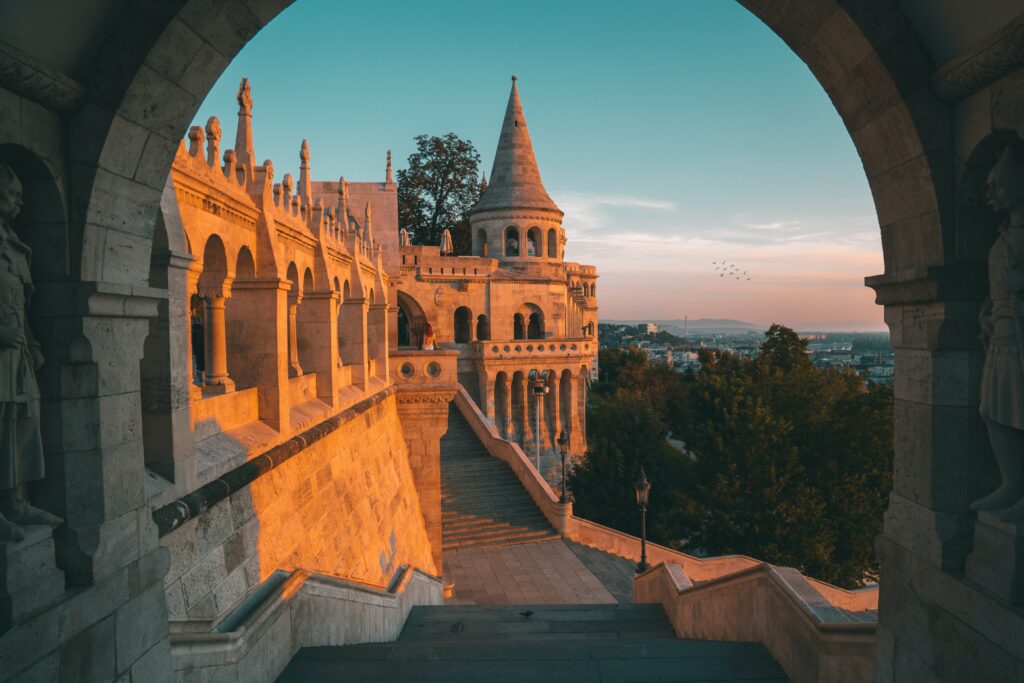 Soaring First Class to Budapest
Budapest, Hungary, sits on the famous Danube River that flows through Eastern Europe. Travelers flock to see the Parliament Building and St. Stephen's Basilica. Hungarian food is incredible, and the people are friendly, making it one of Europe's hidden gem travel destinations.

Budapest is further from the USA than other European destinations, but the best way to travel is with a fantastic first-class flight deal with Business Class Experts. Not only will you be able to select your seat, but you can enjoy all the amenities, comfort, and complimentary spirits at a fraction of the cost. Don't wait — start planning your Hungarian escape today!
Scheduling Your First Class Flight to Budapest
Budapest is the destination, but what about the journey? Before jumping at the cheapest option you can find, there are some important considerations when scheduling your flight. Factors might not seem like an issue until you're halfway through a 14-hour flight. To avoid such a calamity, be sure to consider the following:
Airport Location – Flights arrive at Budapest Ferenc Liszt International Airport (BUD) but can originate from several places in the USA, including New York's JFK, Los Angeles' LAX, or Miami's MIA. First-class flights are cheaper from larger airports, and flying from a regional airport could involve layovers and a lack of lounges.
Layovers – Multi-city layovers aren't unheard of, especially when flying from smaller airports. Layover length also varies depending on the airport. Finding the right balance between time and location makes the difference between frustration and comfort.
Round-trip Availability – Flying first-class one way, then being forced into a premium economy class flight the other way is commonplace. Spending the kind of money for first-class demands round-trip availability. Worse still is flying economy because the city hopper you're on doesn't offer first class.
Amenities – The average flight between the USA and Budapest is around 12 hours. Factor in a few extra hours for check-in, security, and landing, and you're looking at nearly a day of travel. High-quality amenities can make that travel time feel like pampering, and first-class flights often come with amenities kits for unmatched comfort.
Flight Deals – Few things are more satisfying than getting a great deal. Unfortunately, getting a great flight deal often meant signing up for expensive credit cards or silly rewards programs — until now. Business Class Experts provide the best flight deals without jumping through hoops, and you decide what features are most important.
Arriving in Budapest is an exciting adventure, and you can land refreshed. However, if you skip out on some amenities, you'll pay first-class rates for premium economy-level service. Business Class Experts can help you navigate the best deals without sacrificing what's most important to you!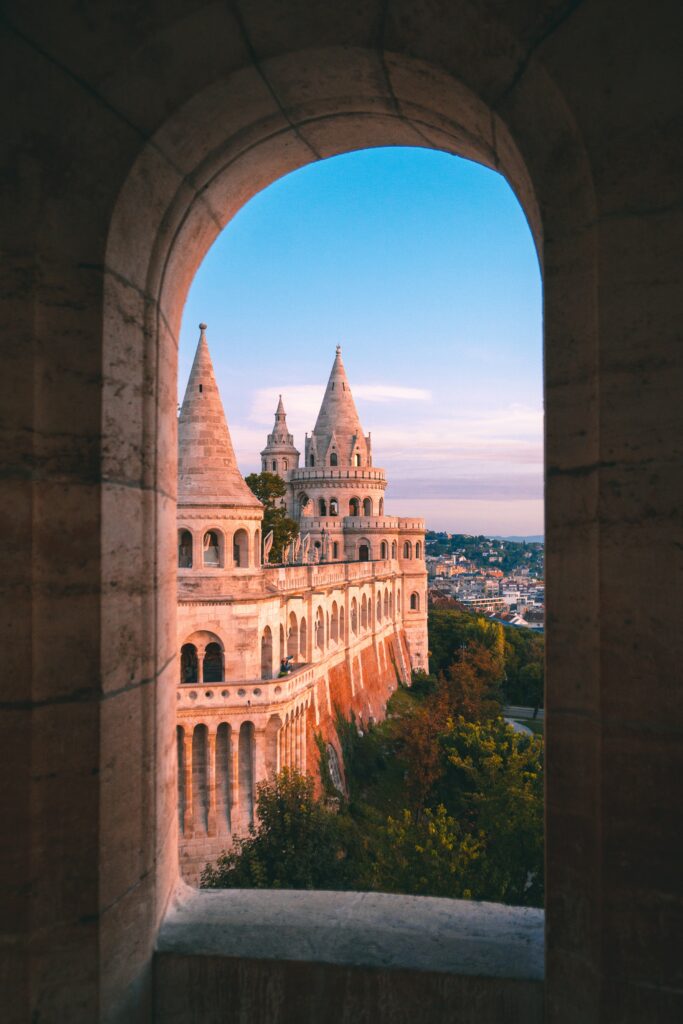 Airlines with First Class Flights to Budapest
Premium European airlines like Lufthansa and British Airways provide some first-class flights to Budapest, but not as frequently from the USA. Instead, other carriers provide world-class experiences found at many airports across the country.
KLM Royal Dutch Airlines
KLM Royal Dutch Airlines doesn't label the highest-tier seats as first-class. Instead, passengers flying with KLM travel in a business class cabin that could easily pass for first-class on lesser airlines. Amsterdam is KLM's hub, but the airline services several destinations, including Budapest.
Business-class aboard a KLM flight provides passengers an elevated experience that starts with a welcome glass of champagne or jus d'Orange. Seats lie flat, and several courses of Dutch-inspired cuisine allow passengers to unwind. The dedicated crew provides exceptional service and gifts passengers collectible houses filled with Dutch Gin at the end of the voyage.

KLM business class flights from the USA to Budapest costs an average of $8,000 but will depend heavily upon departure date and airport. The Air France-KLM credit card provides some discounts, yet you'll want to partner with Business Class Experts to receive the best flight deals. You could save almost 50% and still have access to premium amenities.
Emirates Airlines
Travelers constantly vote Emirates as the most luxurious first-class flight experience in the world. The airline from Dubai certainly supplies its fleet with the highest-quality materials and world-class amenities, especially on the Boeing 777 and Airbus A380 aircraft.
Emirates provides first-class passengers total privacy with private suites comparable to fine hotels. You receive Emirates private collection Bvlgari Amenities Kits, access to private shower spas, and served premium liquors by expert bartenders with your first-class ticket. It's just a fraction of the luxury you can expect on an Emirates flight.
The price of luxury aboard an Emirates first-class flight is steep, and the average ticket costs $8,100 directly through Emirates. More affordable rates are possible when booking with Business Class Experts instead. Plus, you still get the same great benefits like baggage allowances and expedited check-in without the mark-up!
Air France
Air France and KLM partner to produce the best flying experience in Europe. On its own, however, Air France's La Premiére cabin stands out for its luxury, quality materials, and French-inspired cuisine. A supremely decadent lounge awaits passengers with Layovers in Paris, and first-class passengers enjoy lounge access worldwide.
La Premiére is Air France's first-class cabin with dedicated flight crews, massive entertainment systems, and unlimited access to shows, movies, and music. Meals are French classics with modern flair, and each dish pairs with a complimentary glass of fine wine, spirits, or champagne. Passengers enjoy comfort amenities kits that include bathrobes, socks, and slippers.
Air France pushes the Air France-KLM credit cards to provide the best discounts and flights to Budapest range from $5,000 to well over $13,000. Instead of booking direct and gambling on the best price, book with Business Class Experts to guarantee the best first-class rates. You'll gain access to airfare only available to industry insiders, saving you thousands!
United Airlines
United Airlines has its headquarters in Chicago. Many first-class flights to Budapest originate from cities like Denver, Houston, and Newark. Along with Delta, United is one of the oldest and most tenured airlines in first-class service.
United's best cabin is the United Polaris, but it isn't available on every flight to Budapest. Flights without United Polaris fly United First, which still provides complimentary meals, high-quality liquor and spirits, and premier access for check-in, security, and lounges.
Expect to spend between $7,000 and $10,000 for a United First ticket directly through United Airlines. You could almost buy two trips for that price when you book with Business Class Experts.
American Airlines
American Airlines passengers love first-class flights to Hong Kong, Singapore, and Frankfurt. The Flagship First International flights to Budapest are just as good. Hub cities include Philadelphia, Phoenix, and Miami.
Passengers in the Flagship First cabin aboard American Airlines receive five-star service from a dedicated flight crew. Shinola and D.S. & Durga amenities kits join lie-flat seats, fine-dining menus, and Casper sleep sets for ultimate comfort.
American Airlines has the priciest first-class flight to Budapest, with tickets reaching upwards of $15,000. Of course, American Airlines has a whole suite of credit cards to unlock discounts. Still, they don't hold a candle to Business Class Experts' insider access that brings those insane prices to a more reasonable level.
Book Your First Class Flight to Budapest with Business Class Experts
There are several airline options to choose from when planning a trip to Budapest. First-class cabins from major American carriers can cost a fortune when booking direct. Avoid the unnecessary mark-ups and book with Business Class Experts. Business Class Experts have access to the best first-class flight deals, allowing you to travel more, and spend less!