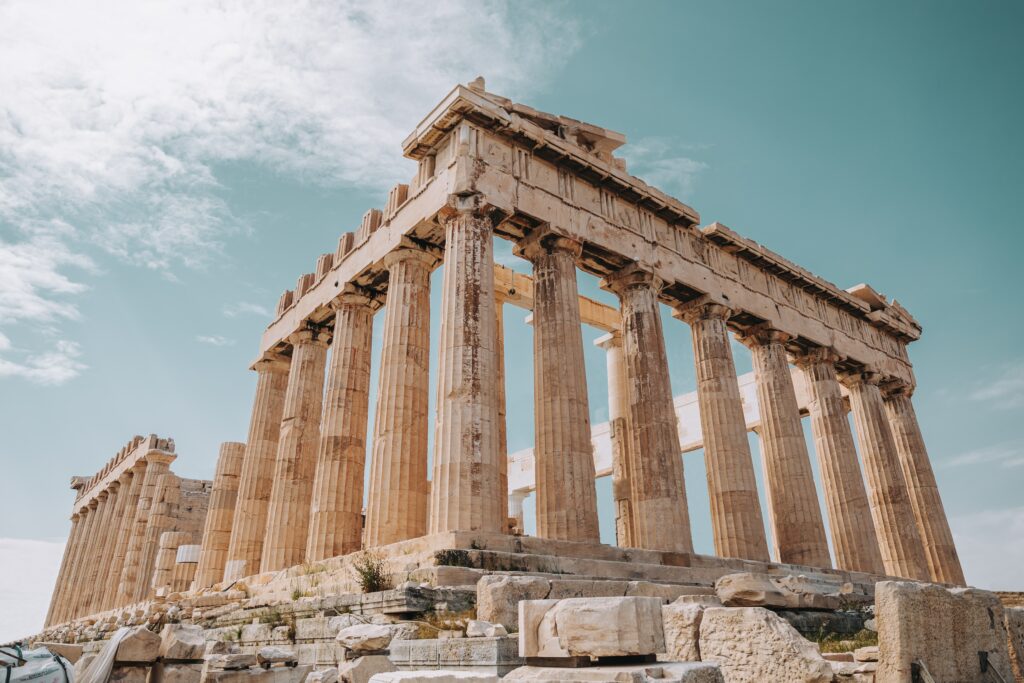 Flying First Class to Athens
Greece continues to inspire millions, though the first attempt at democracy has since crumbled like the monuments of the Acropolis. Uncovering a lifelong love for ancient society starts with a first-class trip to Athens, the heart of Greece.

Many dream of traveling to Athens from the USA, but few manage to make it happen. Fewer take the leap and travel on a first or business class flight. It doesn't have to be a dream any longer, and Business Class Experts can help you find the best discount first class flight deals!
Arranging Your First Class Flight
The first part of planning the adventure of a lifetime is arranging your first-class flight. Several important features distinguish the most luxurious first-class flights from those that feel like premium economy class. Keep in mind these important factors when booking your first-class ticket.
Airport Location – Many significant airports across the USA have first-class flights to Athens. The largest typically have the most regular flights, including from New York's JFK, San Francisco's SFO, Washington, D.C.'s IAD, or even Miami's MIA.
Layovers – Direct flights are the top prize in the airline world, but not every flight to Athens is direct. Stopovers in Frankfurt are common, especially when flying with Swiss Air or Lufthansa. You'll also want to find a sweet spot if a layover is required — not too long, not too short. Enough time to enjoy the lounge without worrying about missing flights.
Round-trip Availability – While non-stop is nice, round–trip is even better. It distracts from the adventure when the first leg is first-class, but the trip home is in economy class. Unless you're planning a multi-city trip, round-trip is vital in arranging your trip to Athens.
Amenities – What good is spending quality money on a first-class ticket if the amenities are subpar? The average flight from the USA to Athens is about 12 and a half hours, you'll want to be comfortable for the day of travel there and back, so only the best amenities will do.
Flight Deals and Discounts – Several airlines allow flyers to rack up miles or points with loyalty programs and credit card rewards. These rewards help reduce some costs and even allow extra bags, but few come close to the discounts achieved when partnering with Business Class Experts.
Spur-of-the-moment trips are excellent too, and Business Class Experts can help you find the best last-minute business class flights. Regardless if you have planned a trip for months or minutes, a trip to Athens is better when you can save some money on the airfare.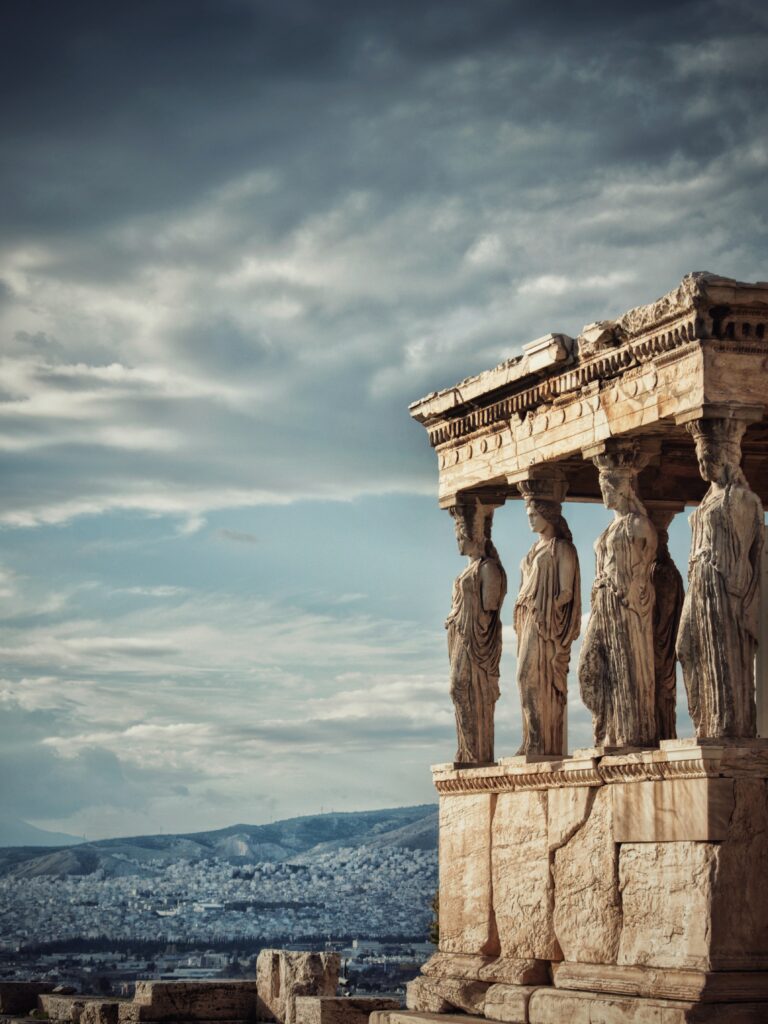 Affordable Airlines to Athens
Athens International ATH is home to Aegean Airlines, but the best first-class flights from the USA will be with airlines from abroad. Take a look at what you can expect when you fly with the best carriers from around the world.
Emirates Airlines
The premier airline of the United Arab Emirates is Emirates Airlines, based in Dubai. Emirates currently operates more than 250 aircraft to 157 destinations across the globe, including Athens.
Flying first-class with Emirates is an experience in its own right. Passengers get total privacy in personal suites with temperature and lighting controls. Each suite has a premium soft leather seat that feels like a Mercedes-Benz and a Byredo skincare kit specifically produced for Emirates first-class cabins.
Expect flights directly from Emirates to cost well over $8,000. Of course, departure date and city will play a massive factor in the final cost, but Business Class Experts has the tools to unlock the best discounts. Flying to Athens with Emirates has never been more affordable.
United Airlines
United Airlines calls Chicago's ORD home and frequently provides flights between some of the USA's largest airports and Athen's ATH. First-class flights to Athens on United commonly depart Newark's EWR and Washington, D.C.'s IAD. Flights from Denver's DEN are also pretty standard.
United Airlines provides quality first-class flights, but the United Polaris is the peak of luxury. United Polaris isn't available on every flight. However, if you find yourself in one of these cabins, expect sleep like never before with cozy pajamas and cooling gel pillows. First-class always provides premium amenities kits and delicious chef-inspired meals regardless of the United cabin.
Booking directly with United Airlines will average $6,000 for first-class tickets. The team at Business Class Experts can provide discounts to shave thousands off that total. Plus, you'll still have excellent access to select your seat and pre-arrange meals if you have dietary restrictions.
American Airlines
The Dallas-Fort Worth airport is the primary airport for American Airlines. American Airlines enjoys being the world's largest airline and frequently travels to premium destinations like Singapore, Sydney, and Madrid. First-class aboard an American Airlines flight is just as premium.
Passengers on American Airlines first-class flights have dedicated check-in and lounge access, including the full-service Spa location in London. Absolutely divine fine-dining menus, fancy beverages, in-flight wi-fi, and lie-flat seats are standard. Travelers also receive D.S. & Durga amenities kits and enjoy a Casper sleep set.
American Airlines has plenty of discount offerings with the AAdvantage program and line of AAdvantage credit cards. Despite the miles and discounts, first-class flights still cost more than $8,000. Business Class Experts can help you find an even better deal on American Airlines flights to Athens.
Delta Airlines
As one of the world's oldest airlines, Delta has plenty of experience providing quality first-class cabins. It has hubs across the USA like New York's JFK, Los Angeles' LAX, and Detroit's DTW. With more than 300 destinations, Athens is just one of the many destinations reached in a first-class seat.
The most deluxe cabin is Delta One. Delta One provides first-class passengers meals fit for restaurants, Someone Somewhere amenities kits with all the essentials, and a dedicated flight attendant crew for on-demand service. Plus, private suites provide the ultimate privacy.
Delta's American Express Skymiles credit card offers a robust introductory miles bonus, but don't expect first-class to come cheap. At an average of about $3,500, Delta Airlines is more affordable than most other first-class flights to Athens. With the help of Business Class Experts, travelers receive even deeper discounts.
Air France
Air France and the SkyTeam Alliance contrast British Airways' Oneworld to great success. Air France and the SkyTeam Alliance outperform the Oneworld Airline Alliance and provide first-class flights to Athens from the USA.
La Premiére cabin is Air France's first-class experience, and it is fit for a king. First-class passengers have private suites complete with a desk lamp, and high-quality materials grace every corner, from the soft leather seats to the tasteful wood finish. You'll have French-inspired meals and fine wines for dinner, and when you're ready to sleep, the suite transforms into a hotel-quality bedroom.
Find the Best Flights with Business Class Experts
Athens is the perfect getaway for everyone. There are historic buildings like the Parthenon and the Acropolis, but there are modern things too, like world-class beaches, fantastic Greek restaurants, and stunning shows. Thanks to Business Class Experts, getting to Athens doesn't have to cost an empire's fortune. Start Planning your trip and discover why Athens is one of the most magical places on Earth!