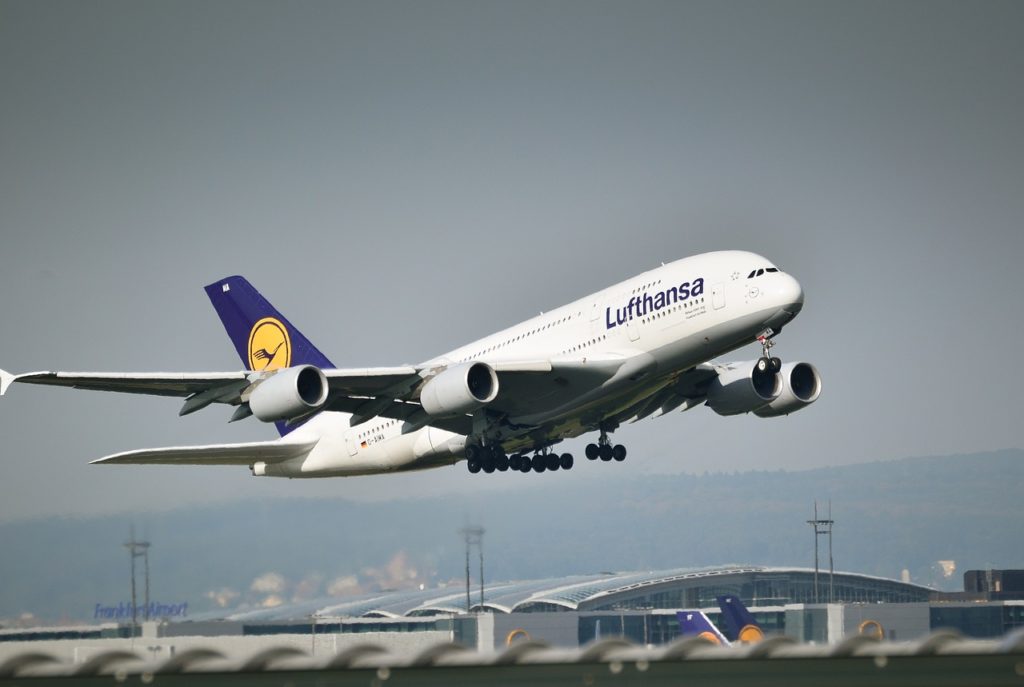 Flying round-trip to more than 200 destinations in 78 countries, Lufthansa is a 5-star airline, certified by Skytrax. Germany's flagship airline, Lufthansa earned this sought-after rating based on the quality of service and hard product benefits, both on the ground and in the air. It makes sense then, that a business class upgrade gets you an even better experience, both at the airport and on board their aircraft. Lufthansa's long-haul flight service is one of the best experiences to be had.
Guaranteed Best Price For Lufthansa Business Class Flights !
Finding a great, low price deal online for Lufthansa business class flights can take a bit of time and dedication. While it's easy enough to filter your searches, you could miss out on a great deal if you do that. When you find a great flight deal online you have to be ready to jump and buy immediately because the prices fluctuate so regularly. Any delay could mean you miss out. However, even the best online deals aren't actually the very best deals available.
Here at Business Class Experts we liaise with the airlines to offer international flight deals that simply aren't available online – or anywhere else. We have access to exclusively low prices on business class flights. We take all the hassle out of finding your ideal flight schedule. Give us a call today and let us pass on these amazing low-cost flight deals which you won't find anywhere else.
How Do You Upgrade to Business Class on Lufthansa?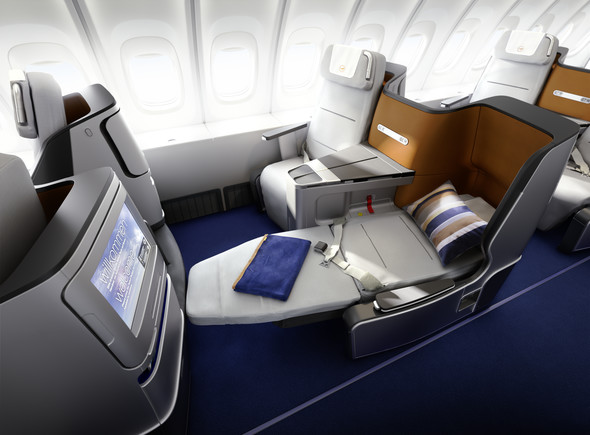 Upgrading your existing Lufthansa economy class or premium economy ticket to a business class ticket is really quite simple. You can upgrade your fare class online up to 6 weeks in advance – right up to 4 hours before your flight – or you can inquire on the day at the airport.
Steps To Upgrade To Lufthansa Business Class Online
Open the Lufthansa site and look for the Miles & More header.
Log in with your Miles and More login data, ie, your frequent flier card number and pin.
In the first box, enter the sponsor. The sponsor is the person named on the card. You then have the option to request upgrades for up to three travelling companions.
On the next page you'll be asked for your flight number, departure airport, destination airport and your ticket number. If you have a paper ticket, your ticket number will be printed at the top of the left-hand side. Otherwise you'll find it in your purchase confirmation email. If you're requesting upgrades for a group, you'll need to enter the data for each group member. Once you've entered all these details, click "GO".
Choose your payment method. You can use your frequent flier air miles or you can select eVouchers. To upgrade a flight between the USA and Europe typically costs around 30,000 air miles.
The following page allows you to review your information and make any changes necessary. At this point the Lufthansa system will notify you whether or not the upgrade is available.
You'll need to agree to the Terms and Conditions of your upgrade, then finalize the purchase by clicking "Perform Upgrade".
Check your email for the upgrade confirmation and new ticket. A new ticket issue isn't always necessary so don't worry if you don't get another one with the new confirmation email.
Steps To Upgrade To Lufthansa Business Class At The Airport
Head to the Lufthansa service desk
Have your paper ticket or electronic confirmation number ready, along with your frequent flier card.
Tell the service desk representative that you'd like a business class upgrade, and present them with your ticket and frequent flier card.
If there are upgrade options immediately available you may be issued with a new ticket right away.
Otherwise you'll be put on a standby upgrade list.
At the departure gate, approach the Lufthansa representative and inform them that you're on the standby upgrade list.
Once the existing business class passengers have boarded, you'll be advised whether or not there are last minute upgrade seats available.
Please Note:
The terms and conditions of your original fare, i.e. the rules for rebooking, refunds and baggage, still stand. The baggage allowance of the originally booked fare still applies. This is found printed on your passenger receipt. If services with an additional charge were booked for the original ticket and those services are included as standard in the new travel class, no refund is possible.
Upgrade costs depend on the route, the flight duration, as well as the dates of travel.
You can pay for Lufthansa upgrades using your credit card, eVouchers or frequent flier miles. A typical free upgrade using miles or points for a flight between the United States and Europe generally costs around 30,000 frequent flier miles.
As an example, to book online using Google, a round trip premium economy class seat between LAX and Rome will cost from around $1,520 with flight dates in June 2021. To upgrade to business class will set you back from around $3,134. Using your frequent flier miles to pay for the upgrade makes a lot of sense, as you're making a cash saving of at least $1,614. Of course, the actual amount you'd save will vary depending on your particular route, travel date and flight duration.
Alternatively, you can make an offer of what you would like to pay for your upgrade, although official acceptance or denial of these offers are only made in the couple of days before travel.
While some airlines accept only a one-level upgrade, for example, economy to premium economy, or premium economy to business class, Lufthansa Airlines does allow passengers to switch from economy seats to business class seats.
Requirements for upgrade
There are certain requirements to upgrade to business class.
There needs to be
Availability in Business Class
A Confirmed reservation
An issued ticket
All flights must be operated by Lufthansa (Lufthansa flight number)
For group upgrades, all passengers travelling under one booking
Booked within a fixed period before the start of the journey. The initial booking is possible between 360 and 10 days before departure. The fixed periods for upgrades vary depending on the destination
When an upgrade isn't possible
Flights for which you have already checked in
For journeys with additional chargeable services already booked but not paid for and the relevant service documents have not been issued.
On journeys for which additional services have already been booked which prohibit an upgrade, such as taking a pet into the aircraft cabin.
Benefits of Flying Business Class on Lufthansa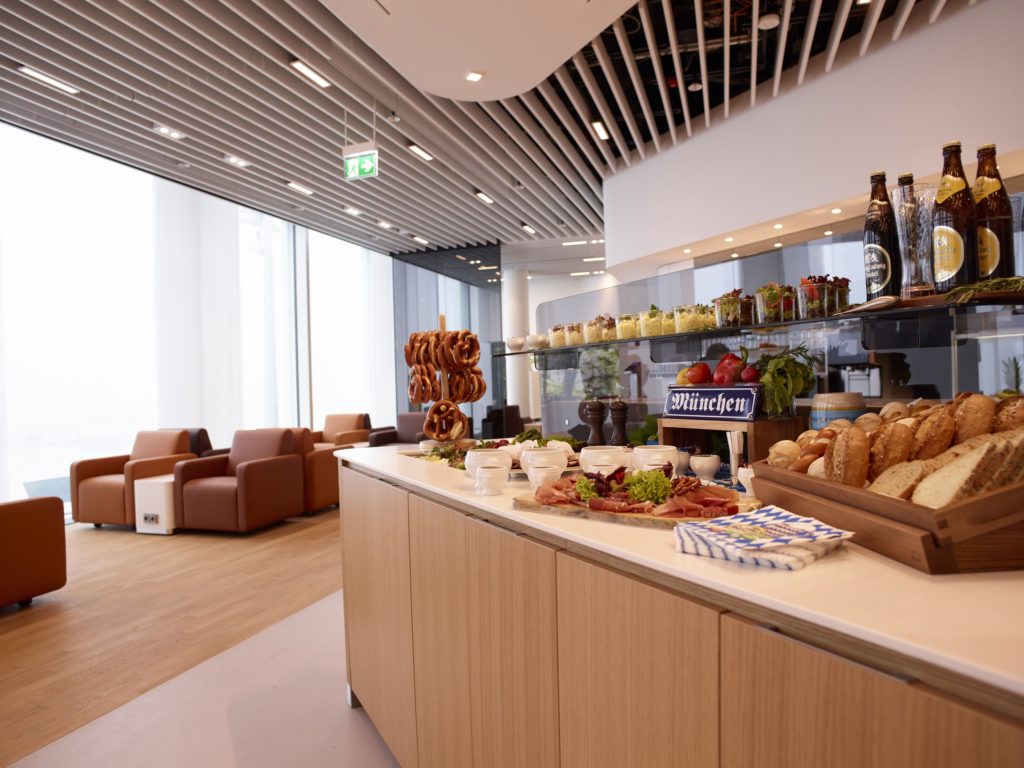 There are many benefits to flying business class with Lufthansa:
Check in
Your check in process is made easier and faster. You can check in online up to 23 hours before departure, and you can choose your preferred seat while checking in.
Baggage allowance
Checked baggage:
Lufthansa's business class baggage allowance is a generous 23 kg.
Dimensions for carry-on baggage: max. 55 x 40 x 23 cm.
Carry on baggage:
You're allowed two items of carry-on baggage with a max. capacity of 8kg each.
Choose between
a trolley case
a compact, foldable baby buggy
a foldable garment bag
Dimensions for foldable garment bags: max. 57 x 54 x 15 cm.
Lounges
Your Lufthansa business class ticket allows you access to the Lufthansa Welcome Lounge (in Frankfurt) and Lufthansa Business Lounges worldwide.
The Lufthansa lounges are zoned for your ultimate comfort:
Reception – Where you'll find staff ready to help you with any travel queries you might have.
Working zone – Where you'll find an office set up with privacy stalls, power sockets and ample charging stations for all your devices. There are even printers available for any last minute paper copies you might need to make before you fly.
Showers – Where you'll find fresh towels, toiletries and hairdryers
Comfort zone – Where you'll find seating areas to suit your needs. Whether you're simply after a comfortable place to read the daily newspapers and magazines supplied or you're after a meal. You can choose between the bistro area for a quick, bar-style snack, or a restaurant style table and chairs for a proper sit-down meal. There's a fully catered buffet available at all times and you can take your plate into the bar if you prefer.
Lufthansa lounges have free Wi-Fi and exclusive views of the terminals so you can watch arriving/departing jets while you wait. For airports with no Lufthansa lounge, your business class or better ticket means welcome – and VIP treatment – at all Star Alliance lounges.
Boarding
With priority boarding you'll be among the first to board your aircraft, so you can get to your seat and get comfortable much faster. Dedicated business class cabin flight attendants will be available to attend your every need.
Business Class Seats
Your seat is fully adjustable for your own personal comfort and has three preset positions;
Each seat is 20 inches wide and comes with around 64 inches of legroom when in the upright seated position. Every seat has access to dedicated storage space.
Entertainment
You've got a 15" personal touch screen entertainment system with access to all the expected entertainment options and you'll have the use of complementary Bose headphones. It's easy to stay entertained on those long-haul flights.
Amenity Kit
Lufthansa business class amenity kits include
Socks
Eye mask
Earplugs
Dental hygiene kit
Korres lotion
Korres lip balm
Food and beverages
Lufthansa's business class restaurant service focuses on high quality, fresh, seasonal menus served on fine china with silverware and stylish glassware. Alongside an award winning wine selection, a great selection of both alcoholic and nonalcoholic beverages are available, all included in the ticket price.
Before you roll the dice on a possible upgrade, give Business Class Experts a call. We offer far deeper discounts than you can find online – up to 70% off. We may even find you a business class seat for less than the price of a premium economy fare, and let you save your points for next time!