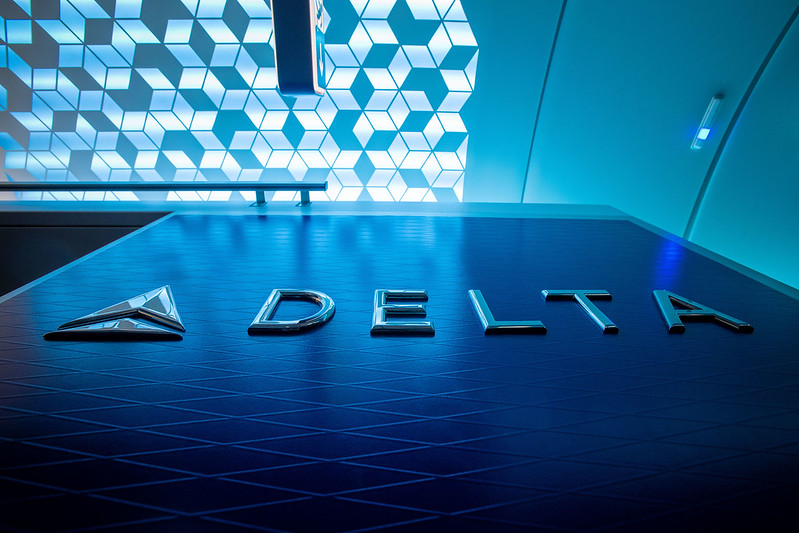 From check in to arrival at your destination, your every need is taken care of by the Delta Airline First Class Staff, on the ground and in the air. Business Class Experts can help you book the lowest price for Delta First Class short-haul domestic flights or longer flights to European destinations such as London, Zurich, or Milan.
Delta Check-In Process
Sky Priority check-in makes the checking-in process easier than ever. You can check-in online at delta.com, using the Fly Delta app, or in person at the airport, up to 24 hours before your flight time.
Online "CHECK-IN" – header at the top of any page of Delta.com, or go to "My Trips" in your Delta account. Enter your confirmation number, your credit card number or your SkyMiles Club member number for access to your itinerary and to save a copy of your eBoarding Pass – you can also print this if you prefer a paper copy.
Fly Delta app – once downloaded you can create a log-in profile, or check-in as a guest. Simply add your confirmation number and you'll be able to access your full itinerary and any relevant trip information. When logged in to the app you'll automatically check-in 24 hours before your flight time. You can see your boarding pass, baggage tracker and more using Today Mode. You can also use the app to apply for a SkyMiles account.
Airport Kiosk – if you get to the airport and have not yet checked in, you can look for the Delta kiosks for a quick and efficient check-in service. Simply follow the user-friendly prompts on the kiosk screen. Enter your SkyMiles number, confirmation number or eTicket number to access your trip and print your boarding pass.
Airport Check-In desk – With your Sky Priority Boarding status, you can join the priority care line to check-in in person and speak to a staff member. Should you have any questions at this point, the Delta airport staff will help you in any way they can.
If you'd rather take care of check-in as soon as you're out of the car, Delta has curbside check-in desks at passenger drop-off points in most US airports. Using the curbside desks you can check-in your baggage as soon as you leave your vehicle, which is pure convenience.
Delta First Class Luggage Allowance
Your checked-in luggage allowance with Delta First Class is a generous 2 x 23kg (70lb) bags.
Your checked-in luggage must not exceed 62 inches (157 cm) (length + width + height)
Carry on luggage is one piece plus one personal item.
Sky Priority expedited baggage handling gets your luggage to you faster, saving you time when you arrive at your destination.
Delta First Class Lounges
Your first class ticket gives you access to the Delta Sky Club Lounges. Relax and enjoy the exceptional service and comfort on offer in these exclusive lounges. Delta Sky Club Lounges offer comfortable seating and ambient lighting to suit each zoned area.
Amenities
Access to every Delta Sky Club Lounge comes with
Free Wi-Fi
Satellite TV
Easily accessible power outlets throughout for charging devices
Current newspapers and magazines
Access to the Delta Sky Club Ambassador for any queries you have or assistance you might need with your travel arrangements and flight information.
Access to workstations and printers
Select locations have showers that are stocked with Malin + Goetz shower products, plush towels, and hair dryers.
Drinks and Dining
Delta Sky Clubs serve fresh and healthy meal service to keep you fuelled for the journey ahead. Items vary by location and time of day and all include
Complimentary snacks and light meals
Complimentary non-alcoholic drinks
Complimentary alcoholic beverages including wine, craft beer and spirits available to passengers aged 21+
Delta Lounge Locations
All major US airports have Delta Sky Club Lounges, and if there isn't one, they partner with other airlines to give continuity of excellent standards and service wherever you are departing from. There's a full and detailed list of all Delta Sky Clubs here.
Delta First Class Features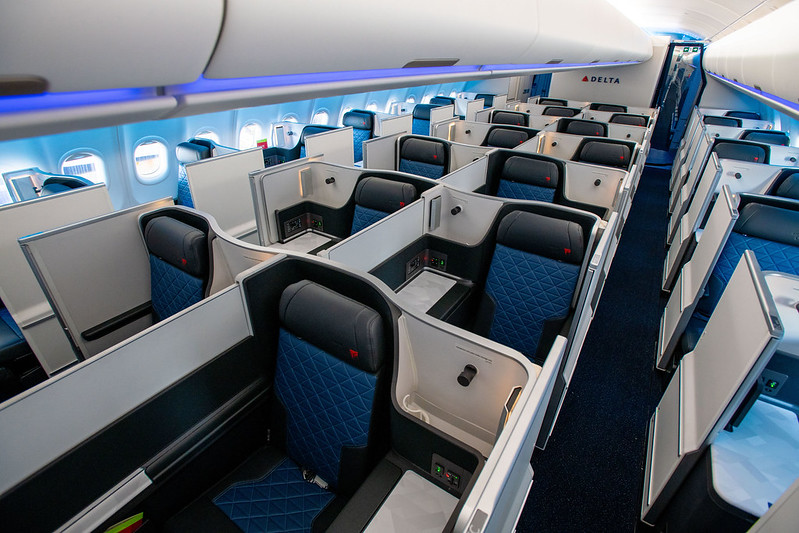 Superior service and legendary Delta comfort are prominent in the first class cabin. With dedicated flight attendants and far fewer passengers to attend compared to basic economy seats, you'll find exceptional service from the moment you arrive on board. Sky Priority Service throughout your journey and extra space during your flight ensure your comfort is paramount.
Delta First Class Seats
Delta's First Class seats are wider than their main cabin economy class or premium select seats by up to three inches and come with up to eight inches extra legroom for more comfort during the flight. Recline in comfort or stretch out using the flat-bed seat setting complete with luxury bedding for a good night's sleep on those long-haul flights.
InFlight Entertainment
Access to Delta Studio lets you enjoy a vast array of flight entertainment, including the latest films, games and TV on your 11-inch seat back monitor or your personal device.
Ergonomically designed headphones by Billboard are supplied on international flights and are available to purchase on selected domestic flights
Delta First Class Amenities
Soft pillow and cozy blanket
Dedicated overhead bin space
Complimentary snacks (complimentary meals on international flights)
Complimentary soft drinks including Starbucks coffee (beer and wine on international flights)
Wi-Fi available to purchase
Tumi amenity kit filled with personal items to make your trip more enjoyable
Delta First Class In-Flight Meals
Depending on the length of your flight you'll enjoy the fine dining experience, with gourmet menus, fine china, and an extensive wine selection served in real crystal. Shorter flights in premium cabins are supplied with hearty, nutritious snacks.
Delta One Suites
Designated as business class, Delta One Suites offer the highest level of privacy and comfort on select long-haul Delta flights. Close the door on your private cubicle, put on your noise-canceling headphones, and sleep or work in peace.
Booking the Cheapest Delta First Class Tickets
Finding the best fares online can be difficult. Prices are changing so often that it can become confusing. The flexibility of departure times and dates can ease a lot of the financial burden that can come with flying first class. At Business Class Experts, we partner with airlines to guarantee the best fares. Give us a call or visit our website today to see how we can help you with your first class travel needs.
Popular Delta First Class Destinations
Wherever you want to visit within the US, you can get there in style and luxury with Delta First Class. Contact Business Class Experts today and we will help you plan your trip according to your needs.