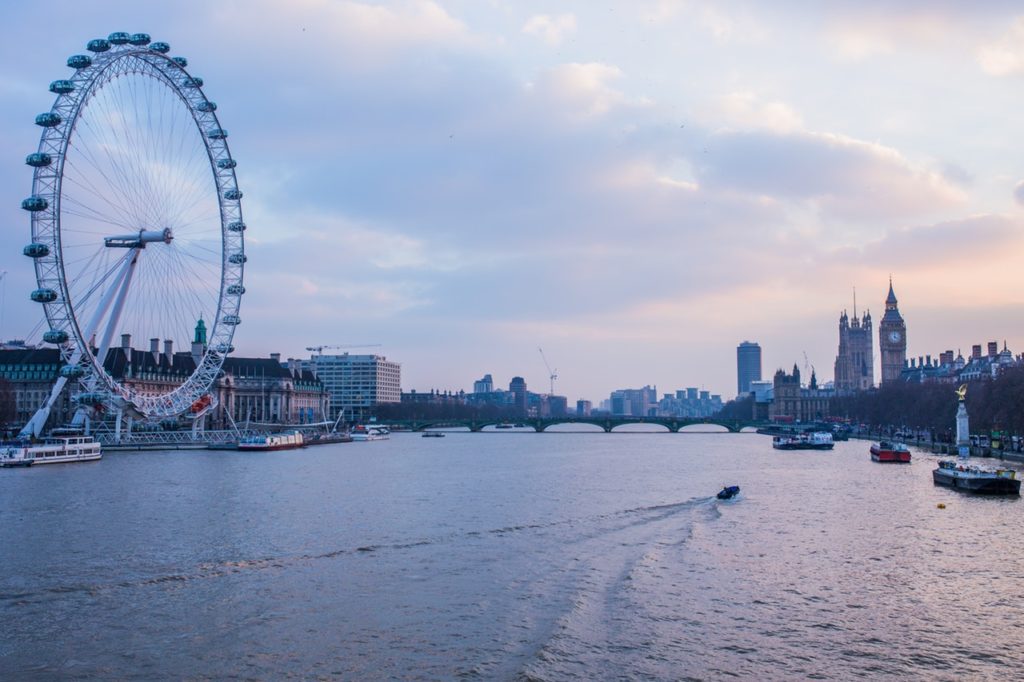 Experiencing London is exciting no matter the purpose of your trip. Traveling like the upper class in style and comfort makes the trip that much more enjoyable. Business class options are becoming easier and cheaper, due to airlines improving their business class seating and amenities. The upgrades to business class ultimately allow passengers to travel in luxury, without having to break the bank on first-class tickets.
There are a variety of airlines that have greatly enhanced their business class experience. Seats that lie down, closing doors for privacy, and in-flight entertainment that can be personally controlled from a phone or smart device, are a few of the improved features that make lengthy flights more enjoyable in business class. Access to airport lounges and the amenities those have to offer is also a big plus.
Finding Business Class Flight Deals From NYC to London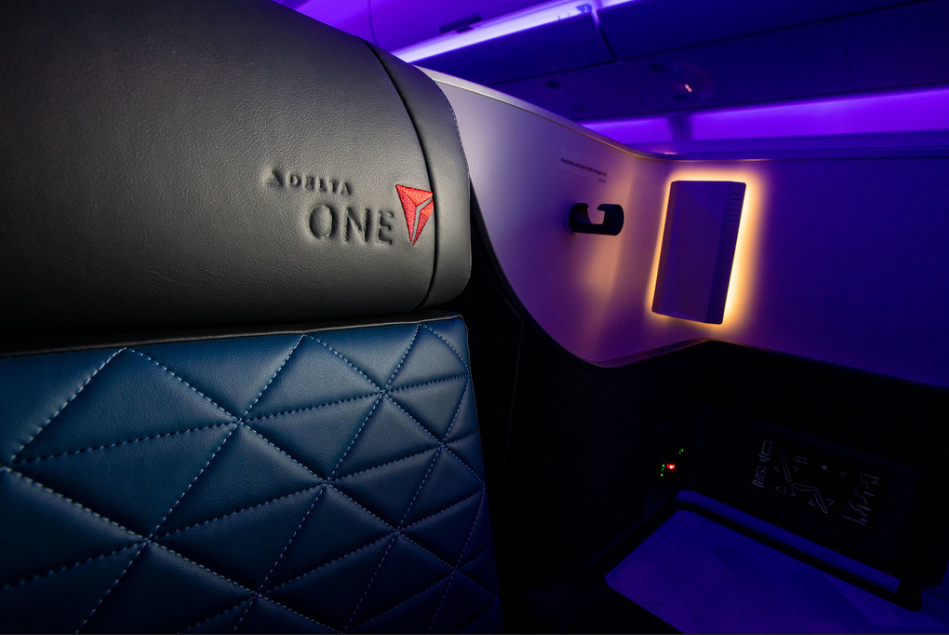 There are many flight options from New York to London, and prices vary depending on departing and arriving airports. We have priced out flights from February 17, 2020 to February 23, 2020, priced 12 weeks in advance.
| | | | |
| --- | --- | --- | --- |
| Airline | Airport | Destination | Price |
| British Airways | John F Kennedy International Airport (JFK) | London Gatwick Airport (LGW) | $3,650 |
| British Airways | John F Kennedy International Airport (JFK) | London City Airport (LCY) | $7,225 |
| British Airways | John F Kennedy International Airport (JFK) | London Heathrow Airport (LHR) | $7,872 |
| Delta Airlines | John F Kennedy International Airport (JFK) | London Heathrow Airport (LHR) | $9,905 |
| Virgin Airways | John F Kennedy International Airport (JFK) | London Heathrow Airport (LHR) | $3,981 |
JFK seems to be the airport to fly out of, with the best prices and more options for non-stop flights. Aer Lingus and British Airways offer flights with stops for as low as $3,644, however, depending on the amount of layover time, a 7-hour flight could turn into an entire day of travel time.
The best flight deals do not always necessarily give you the best deals out there, and when searching for a lengthy flight, you want to make sure you get your money's worth. Doing the research can be exhausting and time-consuming. BusinessClassExperts takes the hassle out of searching and booking for you by working directly with airlines to secure the top deals on flights all over the world.
NYC Business Class Flight Lengths To London
| | | | |
| --- | --- | --- | --- |
| From | To | Flight Time | Direct Flight? |
| New York JFK | London Gatwick LGW | 6hr 50min | Yes |
| New York JFK | London Gatwick LGW | 9hr 25min | No |
| New York JFK | London Gatwick LGW | 21hr 40min | No |
| New York JFK | London City LCY | 7hr 10min | Yes |
| New York JFK | London Heathrow LHR | 6hr 45min | Yes |
Best Times To Fly New York To London
March through May are the best months to really enjoy London. The weather is mild and the parks are lush, green, and blooming. The number of tourists, the prices of flights and hotels reflect the beautiful time of year, however, and it is not the cheapest time to travel to the city. If you are looking for the best time to visit financially, April to May and early September to October are the time to go. September through October is a great time of year to get low flight prices to London.
During the summer you can enjoy things like outdoor cinemas, a variety of gorgeous parks, urban beaches, and live outdoor performances, just to name a few.
Wintertime is also an incredible time. You can visit many Christmas markets, observe beautiful light displays, go on a haunted tour of pubs, ice skate, take part in winter festivals, and so much more. There is always fun to be had in London!
Cheapest Times to Book & Fly NYC to London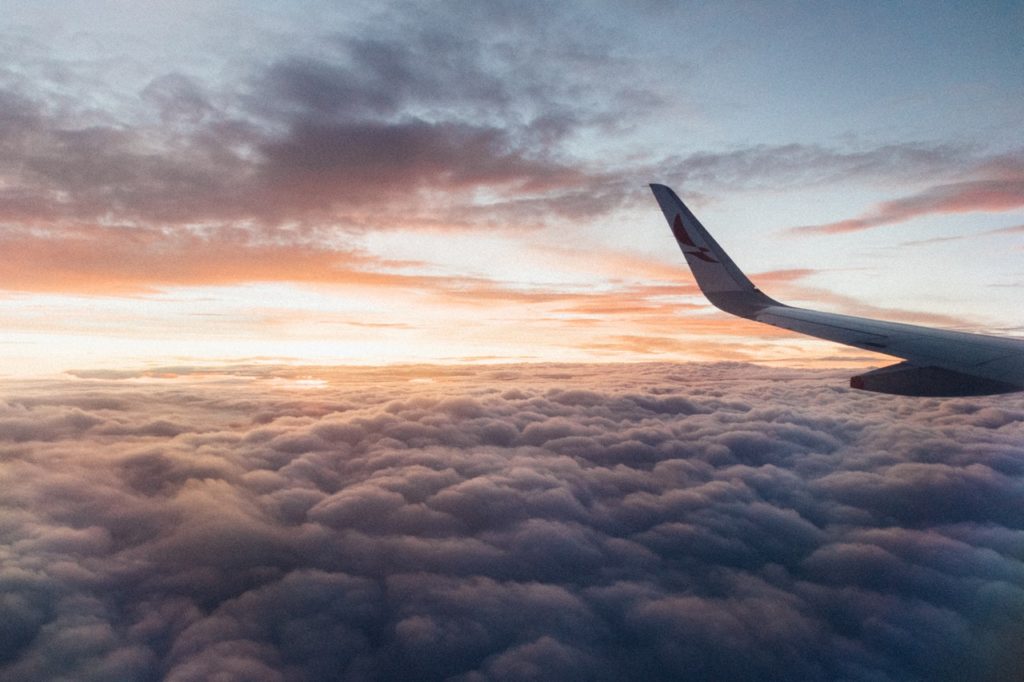 Our research shows that if you want to find the cheapest international flight out of New York City or nearby Newark, you should monitor prices from 5 months in advance to about 3 weeks before you depart. Tips for finding the best flight prices:
9 to 10 weeks in advance is optimal timing.
October is the cheapest month to fly to London from New York.
The cheapest day of the week to fly to and Europe destination from the USA is Wednesday, and Tuesday is the next cheapest travel day.
No matter when you want to take your trip, Business Class Experts can help you find the best price on a New York to London Business Class flight.
The International Flight Business Class Experience
Flying business class is a huge upgrade from flying coach. With a goal in mind to attract the most frequent fliers – business people – airlines have really elevated their game in terms of luxury, room, and services. Some of today's business class bookings can compete with the fanciest first class accommodations!
Business Class Check-In and Lounge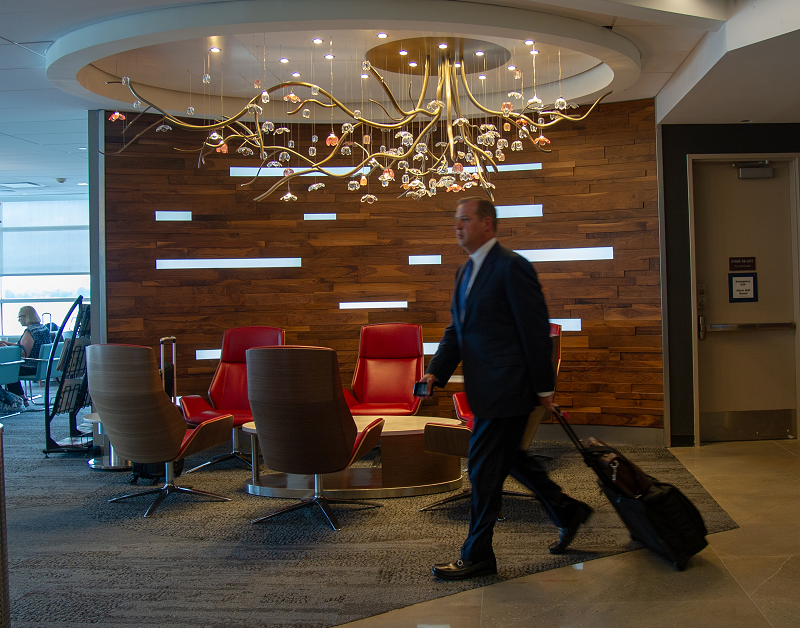 British Airways Lounge
BA international flights fly out of terminal 7 at JFK. The new and improved business lounge features the Quaich Bar (full service), and the BrewDog craft beer room where you can find unique craft beers on tap. There is also a self-serve bar, comfortable couches to relax on, a variety of dining options, WiFi, etc.
Another distinct perk is the Elemis Spa, where you can book a quick, complimentary spa treatment before your flight.
Business class flights leaving Gatwick and Heathrow airports in London offer AirPortr, which allows you to get your bags picked up from a chosen location. The AirPortr + Bag Check-In service, gives you the freedom to commute to the airport luggage-free.
Delta Airlines Lounge
Delta international flights fly out of terminal 4 at JFK. In business class, you will have access to the Delta SkyClub JFK Terminal 4 Near Gate 32 in Concourse B. The lounge amenities include WiFi, showers, flight monitors, TVs, printers, copiers, snacks and drinks. The lounge is a little way from the security check, so it is important to keep track of time when it comes to your boarding time. Delta business class also offers access to the Korean airlines lounge.
Delta offers accelerated check-in and baggage services to their business class passengers, making it easier to get through the airport and on to your destination. With Delta One, you can be one of the first people to board the plane, so you can get settled sooner and get comfy in your lie flat bed!
Best Business Class Airlines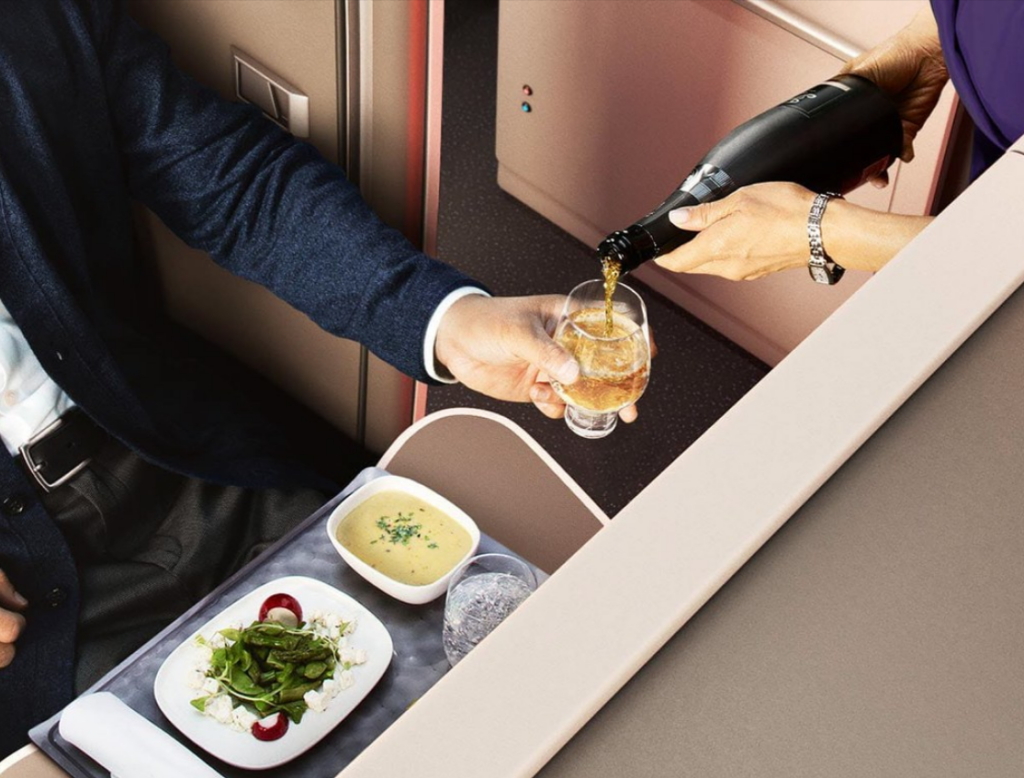 While there are more luxurious airlines, a few have carved out a niche in the business class market, expanding their services, amenities, and cabin layouts to cater expressly to business class fliers. You can try to upgrade to Business Class at the airport, but why risk it?
Delta recently upgraded their business-class seats, suites, cabins, lounges, and amenities.  They also added more routes where business class seats and suites are available.

Seats are 21 inches wide
78 inch lie-flat length.
Power plug with USB.
18-inch, high-resolution in-flight entertainment screen.
Noise-cancelling headphones, but not Bose quality.
Unlimited Wi-Fi for up to 24 hours is $28 to receive.
Keihl's amenities kit with earplugs, hand and body lotion, lip balm, toothpaste and toothbrush, mouthwash, and pen.
Chef-inspired gourmet food options for international flights. Huge variety of menu choices you can pre-order before your flight.
Almost no dress code requirements. Be comfortable…just avoid swimsuits and flip flops.
British Airways opened its Club Suite In March, which is being installed on all 18 of the new A305-1000s in the fleet and on some of the refitted Boeing 777s.

Seats extend to 72 inches in the lie-flat position
Fully adjustable headrest and lumbar support.
Bedding designed by the White Company. including a mattress topper, duvet, and blanket.
Power outlets are available, but may require the use of an adaptor – which may or may not be available on-board for purchase.
10.4-inch monitor with on-demand entertainment.
Noise-cancelling headphones.
Amenity kits include a toothbrush, toothpaste, earplugs, and an eye mask.
Three course meals are available, along with a variety of snacks from the Club Kitchen.
Virgin Atlantic launched its new Upper Class seats in April, joining the airlines taking business class to the next level. These upgrades give First Class a run for the money!

Upper Class seats are 20 inches wide.
Automatic reclining full flat beds stretch to a length of 82 inches.
Luxury bedding with deep mattress pad, and the "thickest pillow in the sky."
18.5 in touchscreen that can be controlled via Bluetooth on your phone.
Plenty of storage space.
Power outlets and USB ports to power all your devices.
Partial privacy door
Bar area, called 'The Loft'
Mile High afternoon tea
Amazing Things to do in London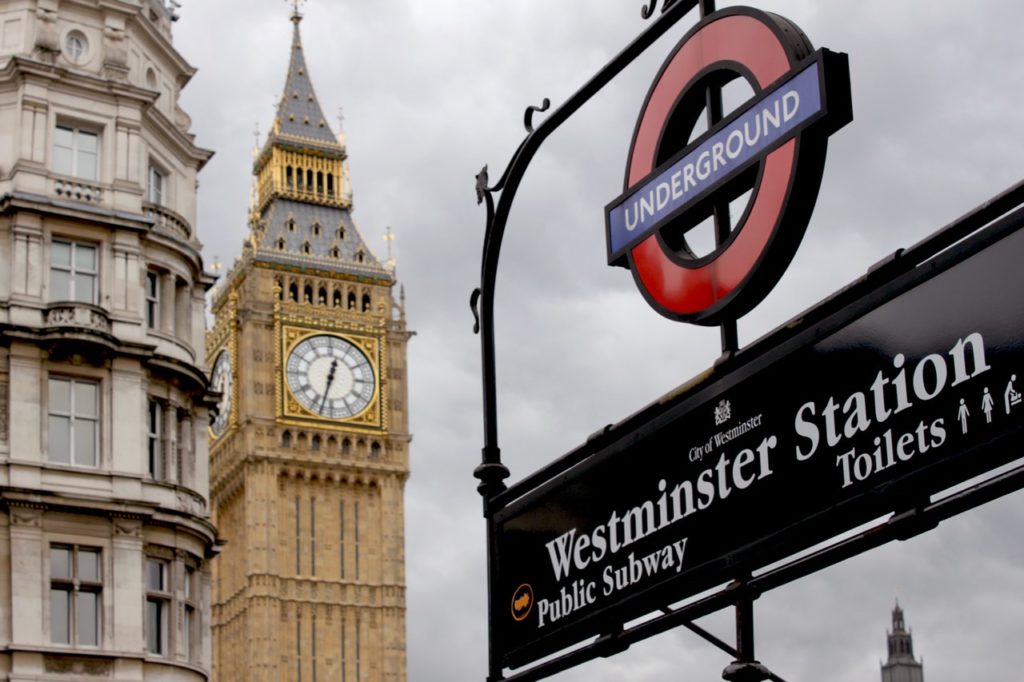 London is a magnificent city filled with things to do and experience. Incredible architecture, lively markets, delicious restaurants, famous museums, trendy shops are a few amongst the many things you can do while visiting the area. Some other fun things that are must-do's in London include:
See Big Ben– One of the most famous landmarks in London, the clock towers over the city, keeping a peaceful eye. Taking in the view of both Big Ben and the Houses of Parliament is not only breathtaking, but it's free to do!
Go Shopping down Oxford Street – All the big chain stores can be located on Oxford Street and there is a lot of shopping to be had! To avoid large crowds, try going on a weekday.
Visit Westminster Abbey – The gothic style church is especially famous because it is where coronations and funerals of the English royal houses are held. Not only is it famous, but it is an impressive structure to view.
Cross the Millennium Bridge– Crossing over the Millenium Bridge is iconic and a must-do in the city of London. From the bridge, you get an incredible and unforgettable view of St. Paul's Cathedral.
Visit Covent Garden -This cozy indoor market features elegant shops and restaurants, and street musicians sometimes perform there, making it an even more unique experience.
Check out Carnaby Street – If you are in London during the holiday season, Carnaby street is an absolute must. The Christmas light display is incredible! There is also a beautiful shopping mall, The Liberty, you should be sure to stop by while there.
Visit Buckingham Palace – What London trip is complete without visiting Buckingham Palace? If you go in the morning around 11, you may also catch the changing of the guards! The famous building is even more impressive to look at in person as it is on TV, and is a must when in town!
Go to museums- There are a variety of amazing museums in the city of London. From the British Museum, to the science museum to the Sherlock Holmes museum, there are plenty of interesting things to see.