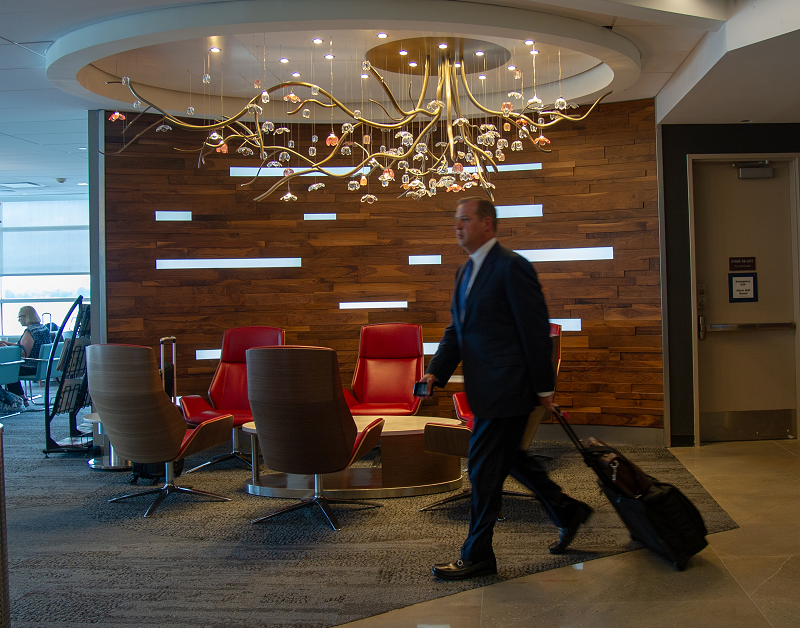 In 2018, Delta Airlines raised the bar for business travel. They introduced "Delta One®" business-class "suites" for international flights, and added premium economy seats and Delta Comfort+.
Delta's Business Class Options
Delta One® – Delta One Suites offer lie-flat seats in a single or double pod configuration with direct aisle access and dividers or a full height door for maximum privacy. Available on select international flights and select domestic flights.
Delta Premium Select – At a lower price point, Delta Premium Select offers wider, deep reclining seats with extra legroom and adjustable, recliner-style foot and leg rest. Available on select long-haul international flights only.
First Class – Once the top standard for Delta luxury, First Class is now in third place. Available on domestic routes and select international flights.
Delta Comfort+® – An extra 4" of legroom over economy seating and deep reclining seats characterize the Delta Comfort+® experience. Available on domestic routes and international flights.
Each upgraded business elite class offers priority boarding, dedicated business class cabins, and additional amenities. If you're looking for the lowest price on Delta Business class tickets, we'll be happy to help!
Delta Comfort+ Features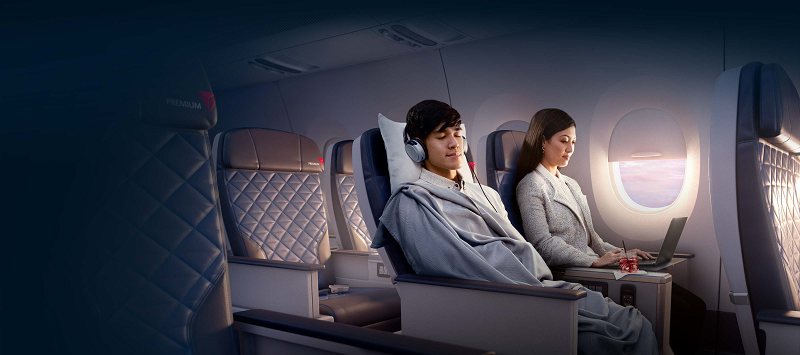 Starting with selecting your seat before check-in, Delta Comfort+ offers complimentary Sky Priority boarding access, so you can find your seat and get yourself settled in sooner. With dedicated bin space overhead, you have a separate place to put your belongings.
Deeper business class seats with extra legroom and up to 50% more recline give you plenty of space during your flight. You'll have a blanket, pillow, headphones and an amenity kit during long haul flights.
Delta Studio on your seat-back screen provides you with all the in-flight entertainment you expect. TV, HBO, SHOWTIME, Wi-fi, music, games and a large library of films are on offer. On some flights, you can even stream using your personal device.
Fresh fruit and other premium snacks and meal service on long haul and select domestic flights give an added touch of luxury. Other perks include complimentary beer, wine, and spirits for those 21+ and Starbucks coffee for all if your flight is more than 350 miles.
Complimentary upgrades to Delta Comfort+ are available if you're a Medallion Member.
Delta First Class Features
Delta first class seats on domestic flights with up to 8 inches of extra legroom with deep, superior seat recline. Most flights have larger, 11 inch screens on the seat-back entertainment systems.
Built-in personal outlets keep all your devices charged. Ergonomic earbuds designed by Billboard are available for first class passengers on most flights.
Your personal belongings are close at hand with dedicated overhead bin space.
Get comfortable with soft pillows and cozy blankets. When you're ready the dedicated first class cabin attendant will bring your choice of fresh, hearty snacks.
Alcoholic and non-alcoholic beverages are available throughout your journey. Depending on the length of your flight, you'll also enjoy the fine dining experience, with gourmet menus, fine china, and an extensive wine selection served in real crystal.
Premium Priority boarding means you get to start relaxing into your journey sooner. Sky Priority expedited baggage handling gets your luggage to you faster when you land, so you save time when you arrive at your destination.
Delta Premium Select Features
Available only on select international flights, Delta's new premium cabin is superior in many ways:
Wider, more comfortable seats
75% more recline than main cabin seats
Adjustable footrest and leg rest – with the extra space to truly enjoy the feature
Dedicated in-cabin flight attendant
Complimentary Starbucks coffee
Select wines, craft beers and premium spirits available for adults 21 and over
Larger screens to enjoy Delta Studio shows and movies
Sky Priority accelerated check-in, security and baggage service, so you can board and settle in sooner
Expedited baggage handling at your destination
TUMI amenity kit, containing Malin+Goetz Travel Essentials, socks, eyeshades, a hand cleansing towelette and more
Plated meals served on Alessi flatware and service ware
Seasonal, regional meal choices
The Ultimate Experience: What it's like to fly Delta One Suites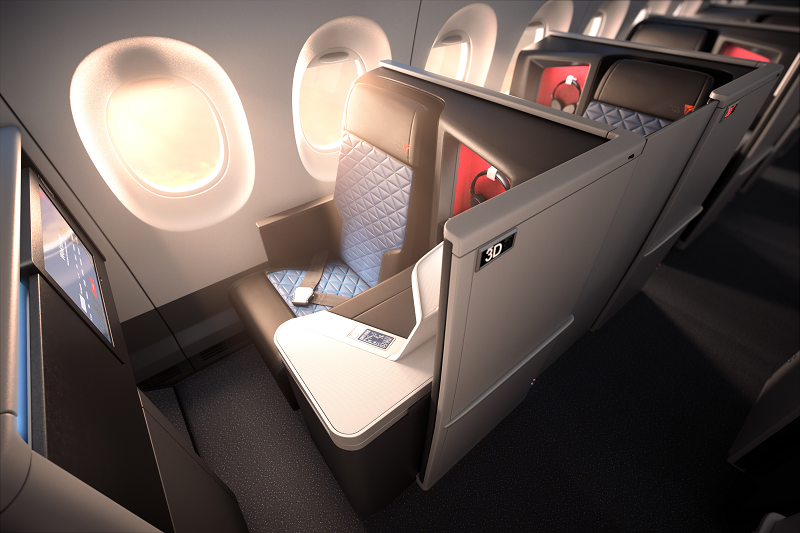 The exclusive Delta One business elite experience is available on select long haul international flights from Detroit (DTW), Atlanta (ATL) and Los Angeles (LAX) to destinations in Europe and Asia.
With direct aisle access for everyone and 180 degree lie-flat beds, you'll be cozy in your Westin Heavenly in-flight bedding. These suites redefine business class air travel. Ultimate comfort, luxury, and privacy are all part of the Delta One suite experience.
Here's what sets Delta One apart:
Sky Club access while you wait for your flight
Sky Priority accelerated check-in, security and baggage handling service
Concierge availability for luggage delivery upon arrival available at select locations  
First to board the plane so you can relax and settle in sooner
Personalized service from a dedicated Delta One cabin attendant
Plated Fine Dining with Chef curated meals
Top-shelf liquor and Sommelier-select wines
Westin Heavenly In-Flight bedding for ultimate comfort
Oversized duvet and down-alternative pillow
Customizable lighting
Personal screens up to 15.4"
USB and plug sockets to keep all your devices charged
Noise-canceling headphones
Full height door
Privacy dividers between centre suites
Premium TUMI amenity kit

Eyeshades
Socks
LE LABO lotion and lip balm
Toothbrush and toothpaste and more essentials
If you're looking to travel in luxury, look no further than Delta. There's something for everyone, and we'll be glad to help you find which option offers you the greatest luxury at the cheapest price.