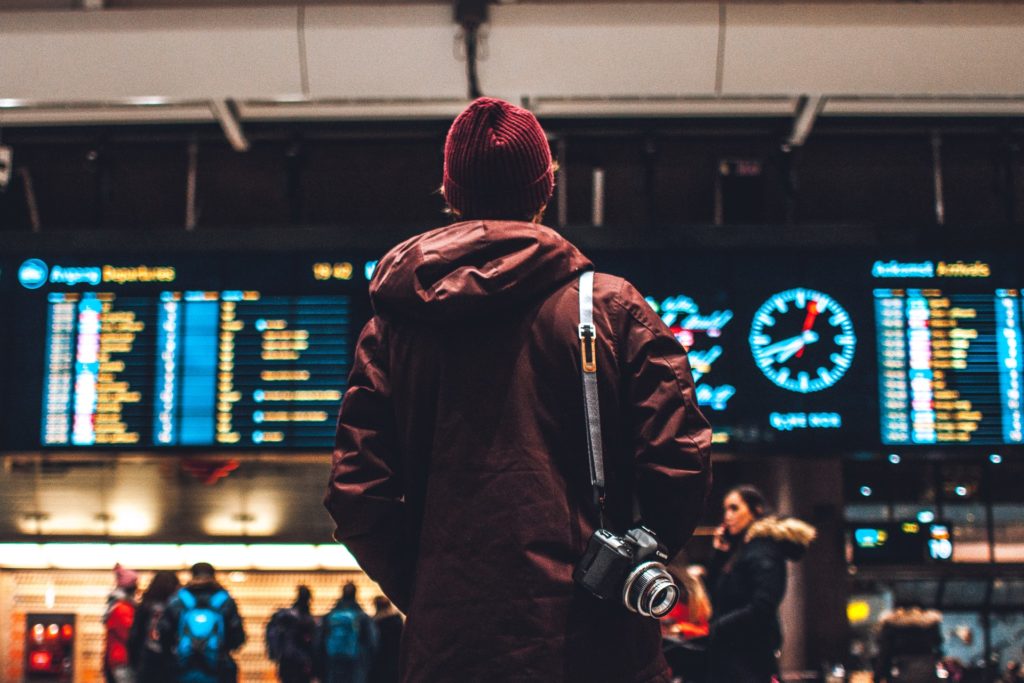 What makes a business airline the best? There's a world of difference between economy class, premium economy, and business class seats, but less distinction from business class booking to the next.
First class service was once the gold standard, but many airlines have dropped first class, opting instead for luxurious business class seats at a far more reasonable price point. And in some cases, it's hard to distinguish between the dreamy extravagance of first class and the plush comfort of the new business class offerings.
As businesses battle it out to offer the most bang for that lucrative business buck, the clear winner is business travelers. You can find a great deal on luxurious business class flights.
When considering what makes an airline the best, we looked at:
Seats and personal space
Cabin layout and number of seats in the business class cabins
Amenities
Quality of service
Menus
Overall experience
Availability: United States airports where you can depart to international destinations
We also factored in the Skytrax World's Best Business Class Awards 2019 – and although there is some crossover, we wanted to showcase airlines with a lot of international destinations, rather than routes that only go to a hub, like Qatar Airways. Fantastic airline, no argument there. You can even book a Qatar Airways Qsuite with a double bed. But Qatar departure cities and destinations are extremely limited. Singapore Airlines, Japan Airlines, Qantas, Etihad Airways, Emirates and other airlines with limited destinations to and from the United States were also skipped, even though they offer the highest levels of luxury and service.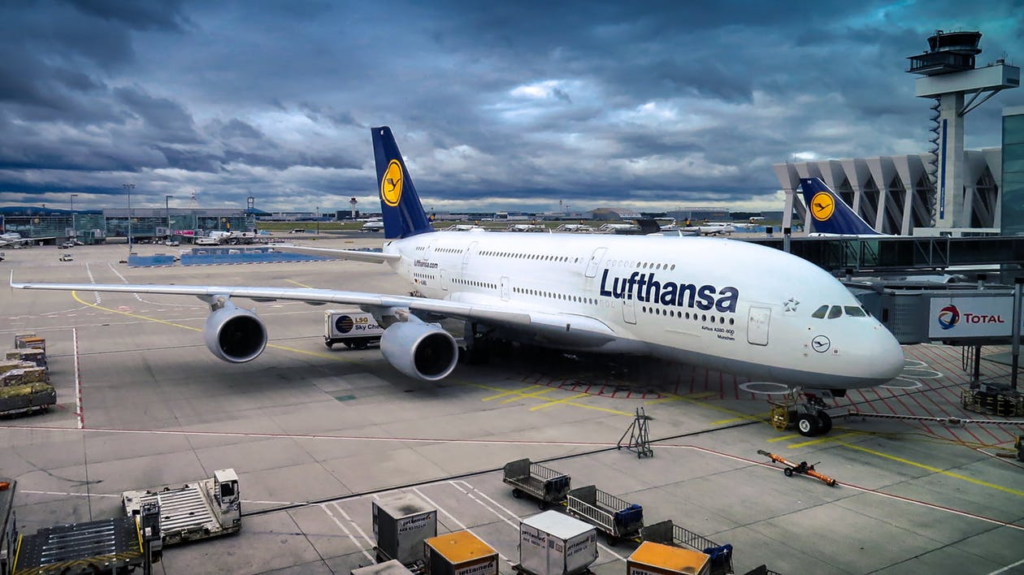 Lufthansa Airlines
The Lufthansa experience is all about comfort and relaxation. They're well known for their outstanding service and luxurious perks.
Seats and personal space
The new Lufthansa business class seats are easily converted into a lie flat bed which is 20" wide and 76" long. There's plenty of dedicated storage space for personal belongings.
Cabin layout and seats in the business class cabins
Cabins are open plan and seats are in a 2-2-2 formation which means direct aisle access isn't always possible.
Amenities
Luxury Jil Sander Navy brand amenity kits include an eye mask, socks, a toothbrush and toothpaste, lip balm, skin cream, headphone covers and ear plugs.
Quality of service
Lufthansa are rightfully proud of their excellent service record. All the staff are chosen for their welcoming, friendly and professional demeanor.
Menus
Seasonal menus are updated every 2 months. They are heavily influenced by customer surveys and feedback is welcomed.
Overall experience
Choosing Lufthansa will ensure you feel relaxed and well looked after throughout your journey. They're listed in the top ten airlines in the SKYTRAX 2019 awards.
Airport lounges
Your business class tickets allow you access to Lufthansa lounges and Star Alliance partner lounges. Whichever you choose, you'll find buffets filled with fresh foods and beverages, and well equipped office areas should you need to work while waiting for your flight.
Lufthansa USA Cities
Lufthansa international flights serve these US cities:
Atlanta
Austin
Boston
Charlotte
Chicago
Dallas
Denver
Detroit
Houston
Miami
Newark
Orlando
Philadelphia
San Diego
San Francisco
Seattle
Tampa
Washington, D.C.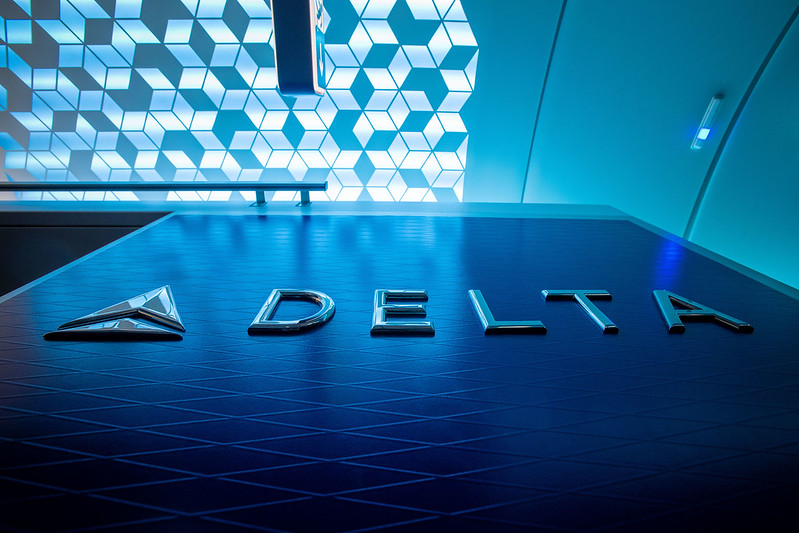 Delta Air Lines
Delta has really raised the bar for business class travel, with a variety of options to choose from. We'll look specifically at Delta One Suites for this article.
Seats and personal space
The 21" wide seat converts to a 78" fully flat bed and comes with closable doors for complete privacy. Ample dedicated bin storage is available for your personal belongings. Your seat is a fully equipped business studio with wifi, outlets, and an armrest desk. The level of comfort and privacy makes Delta One Suites one of the best business class seats available.
Cabin layout and seats in the business class cabins
Every Delta seat has direct aisle access.
Amenities
Delta offers TUMI amenity kits containing eyeshades, socks, dental hygiene kit, LE LABO lotion and LE LABO lip balm.
Quality of service
Delta One's dedicated in-cabin flight attendants are known to be among the very best in the business with exceptional service.
Menus
Chef-curated meals are served on restaurant style tableware and a wide selection
of complimentary beers, wines and spirits are available.
Overall experience
You'll be comfortable and relaxed with first class service and a luxury duvet and pillow.
Airport lounges
Lounges are zoned for comfort. A large variety of fresh food and beverages is available.
Delta Air Lines USA Cities
Delta flies round trip from the USA to 242 destinations:
Atlanta
Cincinnati
Detroit
Minneapolis-St. Paul
Salt Lake City
Boston
Seattle-Tacoma
New York LaGuardia
New York John F. Kennedy
British Airways
BA serves a huge variety of routes connecting the US to Europe and other global destinations
Seats and personal space
With fully adjustable headrest and lumbar support, the wide seats extend into fully flat 183cm (6ft) beds.
Cabin layout and seats in the business class cabins
Direct aisle access from every seat and in the new Club Suite, a door for enhanced privacy. Giving you plenty of room for all of your luggage.
Amenities
Club World offers luxury amenity kits from The White Company's Restore and Relax Spa collections. Each item is specially selected for long haul air travel.
Quality of service
BA is renowned for their wonderful British service and has dedicated flight attendants.
Menus
BA's restaurant style dining experience includes locally sourced, seasonal produce. Catering supplied by DO&CO.
Overall experience
While the hard product may be slightly dated, their service and soft products make the BA business class experience one of the best in the skies.
Airport lounges
British Airways is a oneworld alliance partner with 30 personal departure lounges and over 100 partner lounges worldwide.
British Airways USA Cities
British Airlines flies business class from many major U.S. cities:
Atlanta
Baltimore
Boston
Chicago
Dallas
Denver
Houston
Las Vegas
Los Angeles
Miami
New York City
Newark
Orlando
Philadelphia
Phoenix
San Diego
Seattle
Tampa
Washington D.C.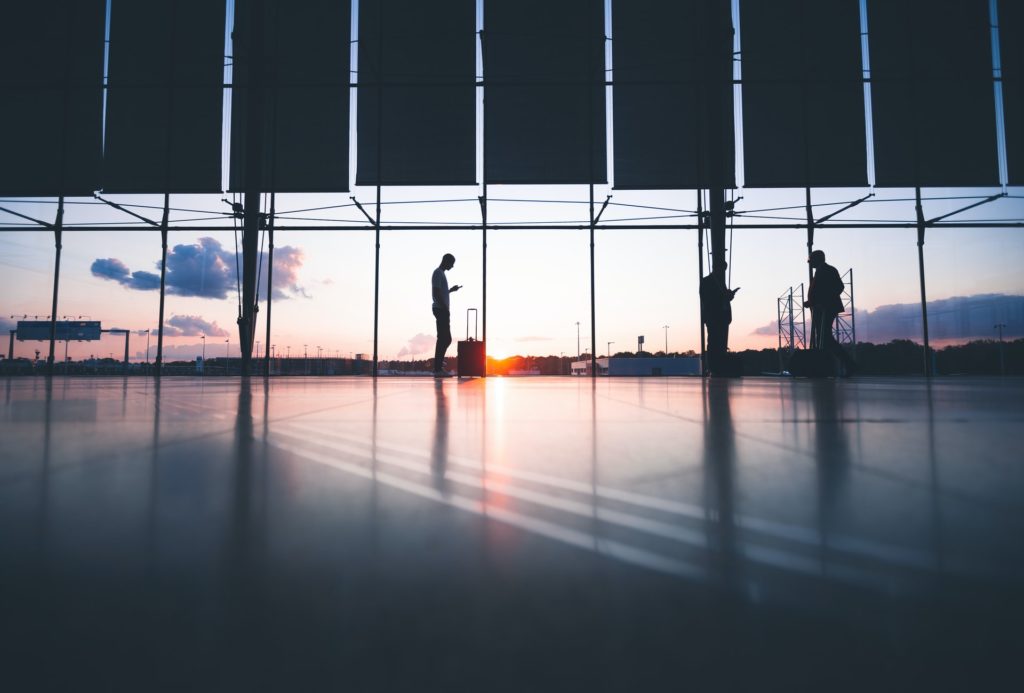 United Airlines
United Airlines have improved their Business class experience to compete with the very best.
Seats and personal space
In the new Polaris Business class decks you'll find private suites with 23" wide seats
which convert to 6'6" lie-flat beds designed for work, relaxation or sleep.
Cabin layout and seats in the business class cabins
Each seat in the five rows of 1-2-1 formation has direct aisle access.
Amenities
Featuring custom products from luxury skincare line Sunday Riley, along with a signature
padded eye mask, earplugs, cozy socks, toothbrush, toothpaste and a tissue pack. Slippers and pajamas are available upon request for long-haul passengers.
Quality of service
United Airlines have recently been awarded a 3-star airline rating from SKYTRAX.
Menus
New menus every month offer a multi-course in-flight dining experience featuring fresh,
seasonal ingredients and bold international flavors.
Overall experience
With a special focus on in-flight sleeping, United Airlines aim to provide an experience which exceeds your needs.
Airport lounges
There are United Polaris lounges at Chicago O'Hare, Houston Intercontinental, Los
Angeles, New York/Newark and San Francisco, with several more coming soon. United
Airlines is a Star Alliance partner for when you're departing from other airports.
United Airlines USA Cities
United is the world's largest airline, flying to 108 international destinations in 73 countries. United Airlines U.S. hubs are located in:
Chicago O'Hare
Denver
Guam
Houston George Bush Intercontinental
Los Angeles
Newark Liberty
San Francisco
Washington Dulles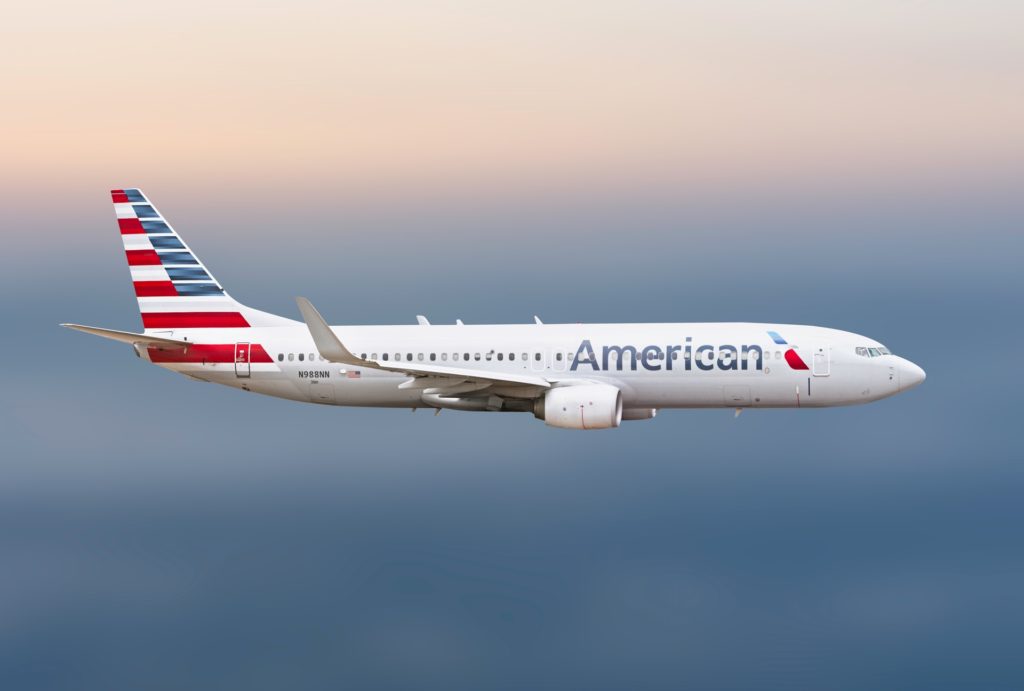 American Airlines
Seats and personal space
The lie-flat seats offer a full 82″ in length. The seat itself is a bit
narrow at 21″ wide, but there is an additional 6.5" width extension for comfortable
sleeping.
Cabin layout and seats in the business class cabins
American Airlines' seats are configured in a reverse herringbone 1-2-1 seat map, which
ensures extra privacy. You can recline and relax in privacy to get some sleep or enjoy in-flight entertainment.
Amenities
Leather Amenity kits designed by This is Ground contain products by skincare and
lifestyle brand Allies of Skin, plus a dental kit, eye mask, socks, earplugs, mouthwash,
pen, tissue pack and mints.
Quality of service
American Airlines has a 3-star rating from SKYTRAX.
Menus
Delicious, healthy snacks and dishes created by elite chefs in association with the James Beard Foundation.
Overall experience
American Airlines concentrate on luxury and personalised service.
Airport lounges
AA is a Oneworld Alliance partner, so you'll be welcomed into luxurious lounges in most
major airports
American Airlines USA Cities
American Airlines flies from every major airport in the US to 95 international destinations in 55 countries.
American Airlines U.S. Hubs:
Charlotte
Chicago–O'Hare
Dallas/Fort Worth
Los Angeles
Miami
New York–LaGuardia
Philadelphia
Phoenix–Sky Harbor
Washington–National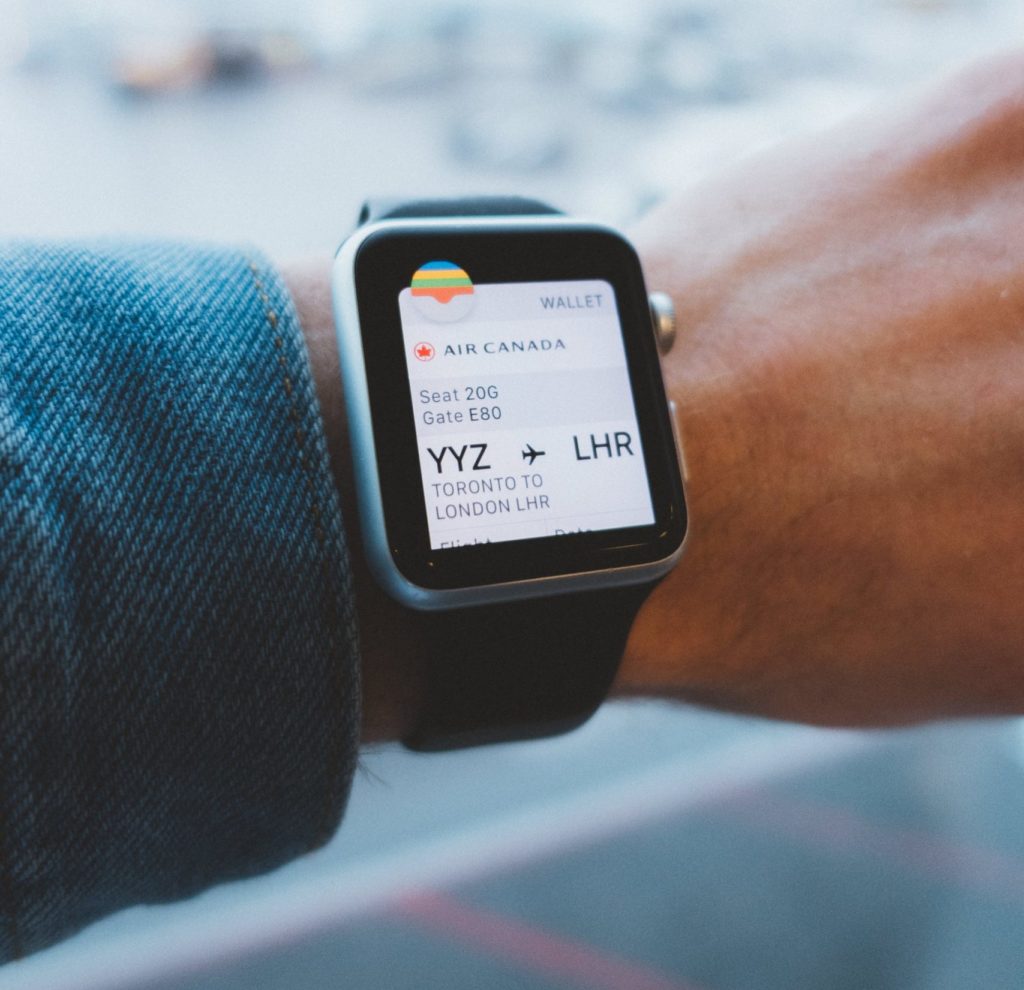 Air Canada
Air Canada has been awarded the Skytrax Best North America Business Class for seven years in a row. Recently, they rebranded from International Business Class to the Air Canada Signature Class. You can get the full experience when flying to and from Africa, Asia, Australia, Europe and South America on Air Canada's Boeing 787 Dreamliner, 777 and 767 aircraft and Airbus A330.
The Air Canada Signature Service begins at the dedicated check in counter. Airport perks include expedited security clearance, priority boarding lanes, and priority baggage handling.
Seats and personal space
Executive or Classic Pods including seats with lumbar support and massage function which convert to fully flat 6'7" beds.
Cabin layout and seats in the business class cabins
Direct aisle access from every seat in a 1-2-1 formation
Amenities
Air Canada supply WANT Les Essentiels amenity kits which contain vitruvi skincare products
Quality of service
Air Canada Signature Service makes things easier for you at every step, from the minute you arrive at the airport.
Menus
Menus vary depending on destination. Award winning chefs use local cuisine to create dishes inspired by international travel. Flexible meal times encourage you to eat whenever you're ready.
Overall experience
Ranked the best airline in North America, you can be sure your overall experience will be top quality with Air Canada.
Airport lounges
Air Canada's exclusive Maple Leaf Lounges are located in 16 airports across Canada, the United States and Europe. At other airports you'll be able to access Star Alliance or contract partner lounges.
Business Class Resources
Business Class Flight Deals