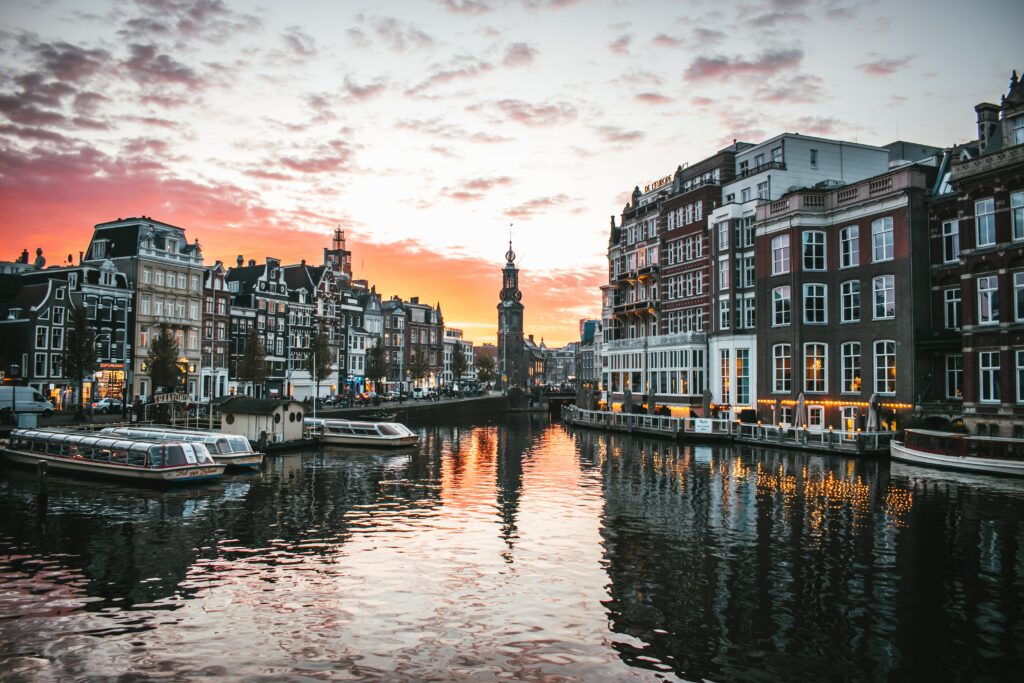 DISCLAIMER: This lifestyle capital on the water is beckoning you. If your flight is long haul and involves travel duration of 10 to 13 hours, then consider booking cheap business class flights. It is highly recommended as your journey will be quite comfortable with most of the airlines offering lie-flat beds. The fliers also get to benefit from various other privileges, such as exclusive check-in facilities, dedicated lounges with plenty of peace and quiet, wi-fi, printing facilities, tea, coffee and more. When it comes to food and drink, you will be offered restaurant-like food along with unlimited complimentary alcoholic beverages. Flying business class is worth your money.
Flying First Class to Amsterdam
30-70% off International Business Class & First Class Airfare
Amsterdam is the capital of the Netherlands and is home to numerous cafes, canals, and tulips. Travelers enjoy venues like the Van Gogh Museum, the Anne Frank House, and the Rijksmuseum. The whole city is alive with culture and has some of the most incredible views anywhere in Europe.
Amsterdam is a popular destination, and cheap first-class tickets are possible with Business Class Experts. Don't let a travel agent suck you into some pricey package with an overpriced car rental! Business-class experts can help you find last-minute flights to Amsterdam or Rotterdam, and you can rest assured you'll be getting the best prices on airfare.
Flying into Amsterdam's Airport Schiphol is the start of a Dutch journey you didn't know was possible. Thanks to several high-quality airlines, traveling to Amsterdam first-class is just as much an adventure. With amenities like lie-flat beds, private suites, premium entertainment with professional-quality audio, and restaurant-quality meals, you'll never want to disembark!
Selecting Your First Class Flight
While the price is obvious, it's far from the only thing to pay attention to when booking a flight to Amsterdam. When you choose your first class flight, there are many factors to consider. Some common things to keep in mind include:
Airport Location – First-class cabins are best on long-haul flights. And depending on the itinerary, a leg of your journey may not offer a first-class cabin. They opt for a slightly upgraded premium economy class instead. Some passengers may not have a choice if a small regional airport is the only option.
Layovers – Layovers are an unfortunate part of life. Still, many airlines use larger Boeing 787 Dreamliners and Airbus A350s to provide nonstop flights to further destinations. Nonstop typically costs more but saves time waiting in airports.
Round-trip Availability – Getting to Amsterdam is only half the battle. Cities like New York and Los Angeles offer the most frequent round-trip flights to Amsterdam. If there isn't round-trip availability, your vacation could leave you stranded or looking for connecting flights.
Flight Deals and Loyalty Programs – Getting the best flight deal or earning rewards miles is an essential factor to weigh when deciding on a first-class flight to Amsterdam. Delta's SkyMiles and American Airlines AAdvantage provide excellent programs for frequent flyers.
Amenities – Not all first-class airlines provide the same amenities. A cheaper airline may not provide the same quality of extras as competitors, and some flights may offer minimal amenities, if any at all. When spending hours inside a metal tube, amenities can make a difference.
First-Class Availability – First-class travel is nice, but some airlines don't offer first-class tickets. Instead, these airlines sell business class tickets. Regardless of the name, many business class cabins are a high-end way to visit Amsterdam.
Flying to Amsterdam from the United States or Asia is a long-haul flight. Flights within Europe are medium-haul and short-haul flights, often with fewer amenities than long-haul flights. Regardless, fight-class flying to Amsterdam is a massive upgrade over economy.
Airlines with First Class Flights to Amsterdam
Some big players in the airline industry provide first-class flights to Amsterdam. While many airlines are European, the United States and the United Arab Emirates have regular flights to the breathtaking Dutch city.
KLM Royal Dutch Airlines
KLM is the national airline of the Netherlands, and the Royal Dutch airline's first-class doesn't disappoint. With hubs worldwide, flights to Amsterdam on KLM offer a chance to explore business class with authentic Dutch food, incredible amenities, and gifted Delft Blue Houses filled with Genever.
British Airways
British Airways takes the luxurious first-class mentality to a whole new level. Personal suites with comfortable lie-back seats, loungewear, and priority boarding from the lounge are just a few of the amenities British Airways offers passengers to Amsterdam. Plus, meals are high-quality, the entertainment graces a 15-inch screen, and the wifi is free!
American Airlines
American Airlines has regular service to Amsterdam from several cities across the United States, including Washington D.C., Chicago, and even Denver. When flying with American Airlines, passengers in first-class receive excellent chef-inspired meals, Shinola and D.S. & Durga amenity kits, and Casper sleep sets.
Air France
Flying with Air France allows passengers the La Premiére experience. La Premiére cabins are private suites with personal living spaces, lie-flat beds, and unforgettable French cuisine. While Air France's business class is luxurious, this genuine first-class experience goes the extra mile in comfort and privacy.
Delta Airlines
Long-haul international flights with Delta Airlines promise passengers a unique experience. Delta One suites divide passengers for privacy and comfort, but it doesn't stop there. The wine lists are excellent, the dining is superb, and the lounges provide a premium pre-flight experience perfect for unwinding before a long flight.
Emirates Airline
Passengers traveling from Abu Dhabi get to experience Emirates' luxurious first-class cabin. First-class features enclosed suites with temperature controls, mood lighting, and leather inspired by a Mercedes S-Class vehicle. The in-suite mini-bar and extensive media options add to the relaxation. Traveler's Choice even voted Emirates' first-class experience the best in the world.
United Airlines
While United Airlines' first-class cabin — known as United Polaris — is more luxurious than business class flights or premium economy, it's less so than the competition. There are no private suites, and meals are run-of-the-mill. United does provide stand-out Saks Fifth Avenue bedding, and pajamas are available upon request.
Virgin Atlantic Airlines
When flying to a unique city like Amsterdam, passengers demand a unique first-class experience. That's where Virgin Atlantic Upper Class excels with the use of vibrant lighting, onboard social spaces, and plenty of entertainment. While Virgin Atlantic offers a compelling first-class flight, the lack of private suites or premium amenity kits leaves it behind some of the competition. Regardless, it's still an excellent flight to Amsterdam.
Lufthansa
Lufthansa receives much applause across Europe for the quality of air service. Traveling to Amsterdam via Lufthansa will provide one of the most professional flights, from the personal assistants in the lounges to the limousine service that chauffeur passengers directly to the aircraft. Plus, first-class passengers enjoy catered meals, quality interior amenities, and excellent flight attendant service.
Find the Best Flights with Business Class Experts
Amsterdam is an incredible Dutch city known for its culture, canals, and coffee shops. Arriving at Schiphol marks the end of a long-haul flight, sometimes with multi-city stops along the way. Luckily, booking first class allows passengers to enjoy European luxury from the departing terminal.
Several airlines provide high-quality first-class cabins filled with amenities like private suites, dedicated flight attendant service, and chef-crafted menus paired with fine wines. Airlines like Emirates and KLM provide stellar amenities kits, perfect for enjoying the extended journey to the Netherlands. Plus, KLM even provides passengers with Delft Blue Houses as a souvenir.
Traveling in such luxury doesn't have to cost an arm and a leg. Planning a trip to Amsterdam flying first class is more affordable with a team like Business Class Experts. Business Class Experts have the tools to unlock the best first-class deals and allow more people to fly in luxury than ever before.