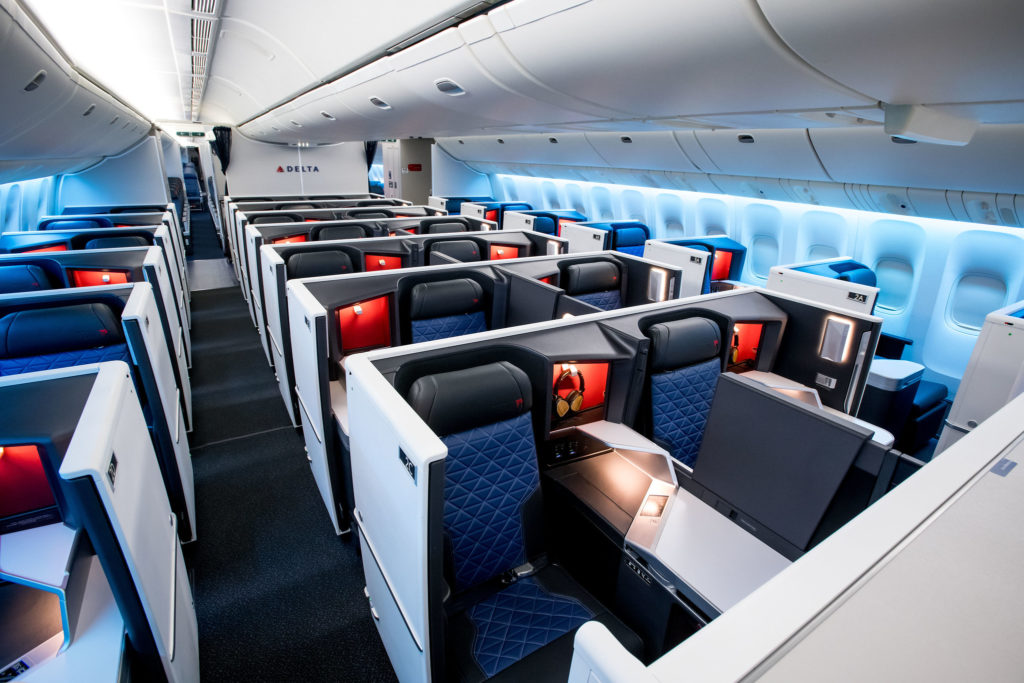 You might still get upgraded for free with luck and a cooperative gate agent, but it's not as common as it once was. Airlines today have a hierarchy of who gets to be on top of the upgrade list, and the most valuable customers naturally get priority. It's both complicated and secretive. If you're a frequent flyer with elite member status, you may know where you stand, but you have no way of knowing whether seats are available or if a member with higher status is on the waitlist.
This should give you a better understanding of the tier system and where you fall in terms of seniority, how you can increase your chances, and one foolproof strategy to guarantee you the lowest price Delta business class ticket.
How To Find Deals on Delta Business Class Flights
The best way to find deals for Business Class Flights with Delta airlines is by searching through Business Class Experts. With discounts available from 30-70% on Business and First Class flights with any airline, to any destination, Business Class Experts are the best choice for cheap flights. Give us a call today and let us help you find the best deals on business class tickets that you won't find anywhere else.
Booking with us means no misunderstanding. When you're booking a round trip flight to London, for example, your trip is likely to begin with a plane change at a hub airport in Atlanta or New York JFK. When we book your flight, you'll know exactly what to expect when you arrive at each leg of your trip. You won't be surprised by fine print that lands you in economy class on a partner airline for some parts of the trip.
Benefits of Delta Business Class
Traveling business class is well worth your while the fare class upgrade. As soon as you check in at the airport, your Delta flight experience is one of luxury. With business class lounges to relax in before departure, and lots of little luxuries on board, traveling business class is a truly rewarding experience. Delta airlines offer four different levels of business class travel, and depending which you choose you will have access to all sorts of different amenities:
Delta Comfort+ – Delta Comfort+ offers an extra 4" of legroom compared to economy seating, as well as deep reclining seats.
First Class – Although first class used to be the most luxurious standard of air travel offered by Delta airlines, it has been eclipsed by Delta One, and is now offered only on limited destinations, to North America and countries nearby, the Caribbean and Central America.
Delta Premium Select – Delta Premium Select offers wider, deep reclining seats with extra legroom and adjustable, recliner-style foot and leg rest.
Delta One – The most luxurious way to travel with Delta, these fantastic suites offer lie-flat seats in a single or double pod. Each seat has direct aisle access as well as dividers or a full height door for maximum privacy.
When you travel business class with Delta airlines the seats with extra legroom and up to 50% more recline mean you have plenty of space during your flight. Delta will provide you with a blanket, pillow, headphones and an amenity kit during long haul flights.
Your seat-back screen comes ready with TV, HBO, SHOWTIME, Wi-fi, music, games and an extensive film library. On certain flights there is even an option to stream using your personal device.
Additionally, on long haul international flights and select domestic flights within the United States, fresh fruit and other premium snacks are offered, in addition to high-quality meal service. Other perks include complimentary beer, wine, and spirits for anyone aged 21 and over, as well as Starbucks coffee for everyone if your flight is more than 350 miles.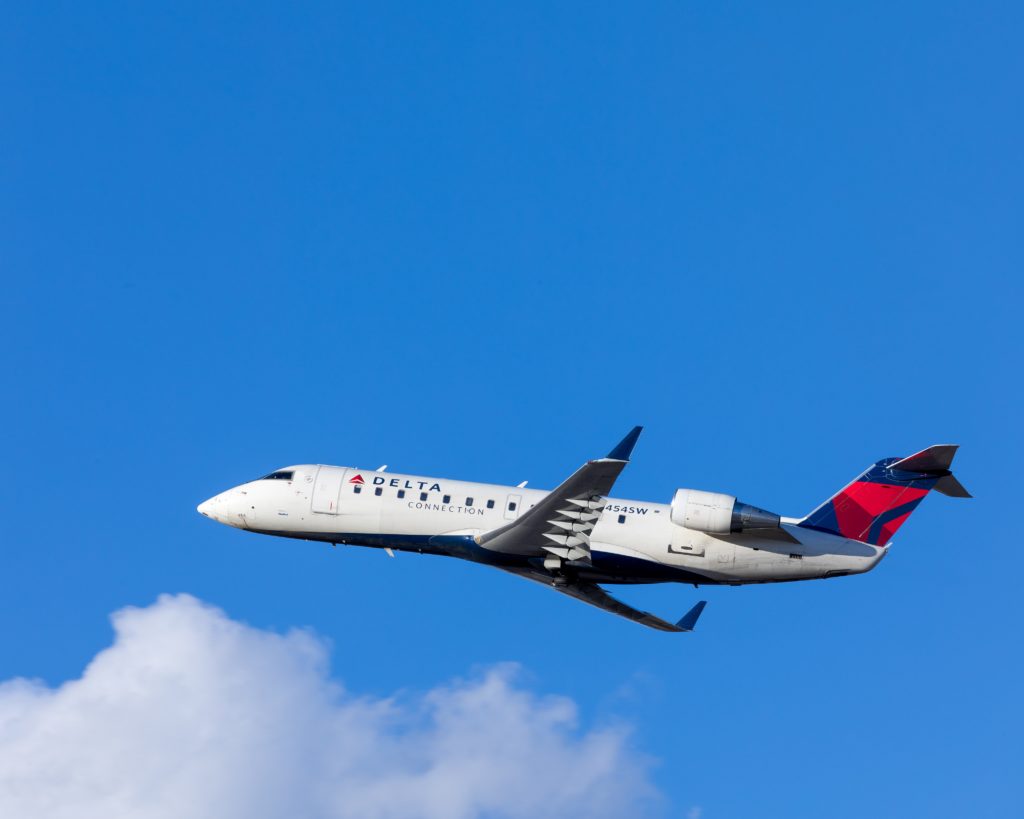 How to Find Out If Upgrade Space is Available
Since Delta doesn't publish their upgrade availability online or through any third-parties, it can be difficult for travelers to find out if there is available space for upgrades on their flights. To make this even more complicated, travelers do not have access to view seat availability on any cabin classes other than the one they are booked for. So if you're booked on an economy class seat, you won't be able to view Comfort+, business or first class seating.
The first step we would recommend when checking for upgrade availability is to go through a dummy booking for the cabin class you are interested in – search for your flight and go through the booking process for a seat in the next class up to see how many seats are still available.
If you are looking for a business class or first class upgrade and many seats are available, there is a good chance that the airline will upgrade travelers. This is not the most accurate method and there's no guarantee of getting a last-minute upgrade, but is a relatively easy way of comparing available seating between flights.
To increase the accuracy of your searches, it is best to check around 24 hours before your departure, but it is important to note that ticket prices tend to increase the closer you get to departure.
Another option would be to search for an award ticket to help you find out if there is upgrade space available. For example, if a search for a business-class award ticket shows available seating, there is a good chance an upgrade will also be available.
Alternatively, you can call Delta directly to determine upgrade availability.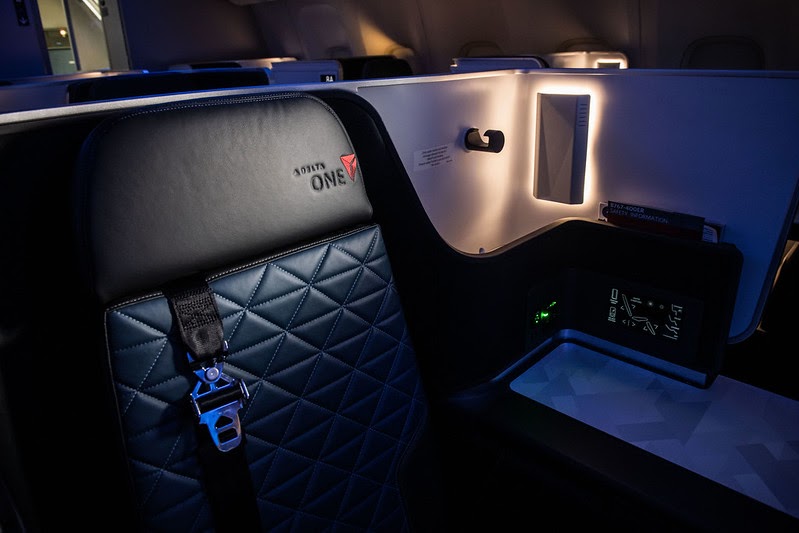 How To Upgrade To Business Class For Free on Delta
Contact Business Class Experts – The easiest way to score a seat upgrade when you fly Delta is by booking with Business Class Experts. We offer much better discounts than you can find online – up to 70% off. There's also the possibility that we can find you business class seats for less than the price of a premium economy ticket, saving you time and money while accruing points along the way. You won't even have to use miles!
Be a Delta Medallion Member – If you are a Delta Medallion member, you are automatically on the upgrade list for first class, Delta One® and Delta Comfort+® seating. The higher your elite member status, the higher your upgrade priority to a premium cabin. Your medallion status will also determine the order in which you are upgraded.
Platinum and Diamond medallion members have a great chance of being granted an automatic upgrade to Comfort+ as soon as they book. Usually Comfort+ seating is filled to capacity on popular routes by departure, but Gold Medallion and Silver Medallion members sometimes receive an offer to upgrade 24 to 72 hours before departure.
Of course, it is important to keep in mind that being eligible for an upgrade does not guarantee you'll get one, even with elite status.
Global Upgrade Certificates – Alternatively, Diamond Medallion Members may use Global Upgrade Certificates to upgrade to Delta One. It's important to note that mileage upgrade award certificates can't be used if you purchased a Basic Economy (E fare) ticket.
Regional Upgrade Certificates – Diamond and Platinum Medallion Members can also use Regional Upgrade Certificates to upgrade on any flight that is eligible for Complimentary Upgrades.
Upgrade using SkyMiles – Any Skymiles member can choose to upgrade their seat using Delta SkyMiles. You can pay with miles during the booking process provided there is availability on your selected flight. If you're a frequent flyer, check your credit card perks. To step up your mileage upgrade game, check out the credit card offers from Delta branded American Express to help you accrue additional points with purchases you can use for mileage upgrades.
Complimentary Companion Upgrade – Passengers traveling on the same reservation as Medallion Elite members are automatically considered for a complimentary companion upgrade.
Talk to a Gate Agent – If there are unsold seats or a business class flyer misses the boarding deadline, you may be able to grab a last-minute seat upgrade even without priority, especially if the main cabin is crowded.
Business Class Flights Scams To Avoid
Avoid mileage brokers – It is against airline rules to buy or sell points and sometimes even against the law. If you're caught using purchased miles you can be guilty of fraud or misconduct, and will lose points as well as reward certificates, member status and more. Overall, it's really not worth the gamble.
Email or text scams – If you receive messages telling you to act urgently, full of grammatical mistakes or for a trip you know you haven't booked, approach with caution. If a legitimate company is contacting you, it will never ask for personal or credit card details or full passwords.
Companies without a legitimate address – If the person contacting you cannot confirm for certain which company they are calling from, do not trust them. Be sure that they are able to provide you with a full address of their company and have details of your transactions to hand.
Delta Air Lines Resources
Want to learn more about flying Delta? Check out these pages to find out everything you want to know: